Lyon Arboretum longtime mission to protect Hawaii plant life, educate visitors endures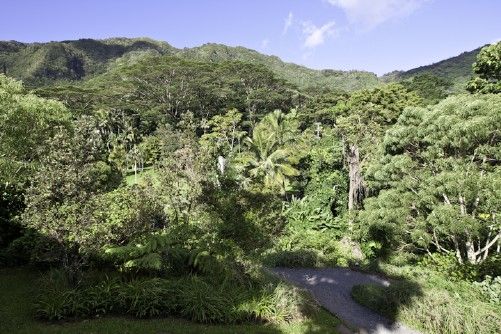 Tucked in the back of lush Manoa Valley on Oahu is the only university-run botanical garden in the United States located in a tropical rainforest.
The Lyon Arboretum, founded in 1918, occupies 200 acres of the Manoa watershed at the base of the majestic Koolau mountain range. A botanical garden and research facility, the arboretum—named after botanist Harold L. Lyon, who planted more than 2,000 tree species on its acreage—focuses on conserving, curating and studying plants in their habitats and sharing them with the community through educational outreach and programming.
If you're looking to spend some time exploring unfettered Hawaii nature, but want to stay near Honolulu, the Lyon Arboretum is for you.
Walking around the arboretum—found in one of the most easily accessible tropical rain forests on the island—you get an immediate sense of place: greenhouses for cultivating plants, cottages where classes are held, hiking trails that end at the photo-ready Aihualama Falls. Lyon Arboretum is all about nurturing nature.
In an area where the average rainfall is 165 inches a year, Lyon Arboretum is able to cultivate an enormous diversity of plants, from heliconia to ginger to the largest palm collection found in any botanical garden. With a world-class collection of more than 5,000 tropical plant species, the arboretum works to preserve and restore Hawaii's tropical forests.
Its mission is critical to Hawaii's native plant population. About 90 percent of the 1,400 plant species native to the Hawaiian Islands are found nowhere else in the world, says Nelli Sugii, director of the Hawaiian Rare Plan Program for Lyon Arboretum.
"Hawaii has the dubious distinction of being the endangered species capital and invasive species capital of the U.S.," says Christopher Dunn, director of Lyon Arboretum. "We have more endangered plants per square mile than anywhere in the US. And almost one-half of all the endangered plants in the U.S. are in Hawaii, but receive less than 5 percent of the total federal funds allocated to species recovery. So the struggle to save our endangered flora is an immense one and will take the efforts of many organizations and individuals to make a difference."
In 1991, Lyon Arboretum started the Hawaiian Rare Plant Program, using micropropagation as a tool for plant generic conservation. The arboretum's micropropagation lab — the only one of its kind — prevents the extinction of native Hawaiian plant species by maintaining plant and seed back collections and propagating plants for use in restoration and reintroduction projects.
To date, the lab has grown about 300 Hawaiian plant taxa—taxonomic groups—using micropropagation techniques. It also houses more than 16,000 individual plants and 160 native plant species, including 67 varieties of taro and 13 varieties of banana.
But that's still less than 50 percent of the species requiring protection.
This month the Hauoli Mau Loa Foundation—a private grant-making foundation—gifted the arboretum $600,000 for improving its micropropogation lab. The new facility will nearly double the size of the existing lab, providing a more efficient working environment to aid in the critical rescue and recovery research being done there.
"If we are to meet the pressing conservation needs of the state and the region, a larger, efficient and updated laboratory is imperative," Dunn says. "The work we are doing at Lyon Arboretum to safeguard as many of rare native plants as possible is the only such program in the state. It is critical that we continue our work. Thus, we are thrilled at the support from the Hau'oli Mau Loa Foundation that will allow us to develop a new conservation laboratory."
Want to visit the Lyon Arboretum? It is open for self-guided tours from 9 a.m. to 4 p.m., Monday through Friday, and 9 a.m. to 3 p.m. on Saturdays. Entry is free, but donations are accepted. A guided tour is offered at 10 a.m., Monday through Friday, for a $5 per person fee; advance reservations are required for guided tours, call (808) 988-0461.
You'll find a list of Lyon Arboretum classes and more information on the arboretum, its gardens and its trail system at www.hawaii.edu/lyonarboretum.
The Lyon Arboretum is located at the end of Manoa Road, in Manoa Valley.