Make a Difference on Your Next Hawaiʻi Vacation
Here are five volunteer experiences that will help the Islands and enrich your travel.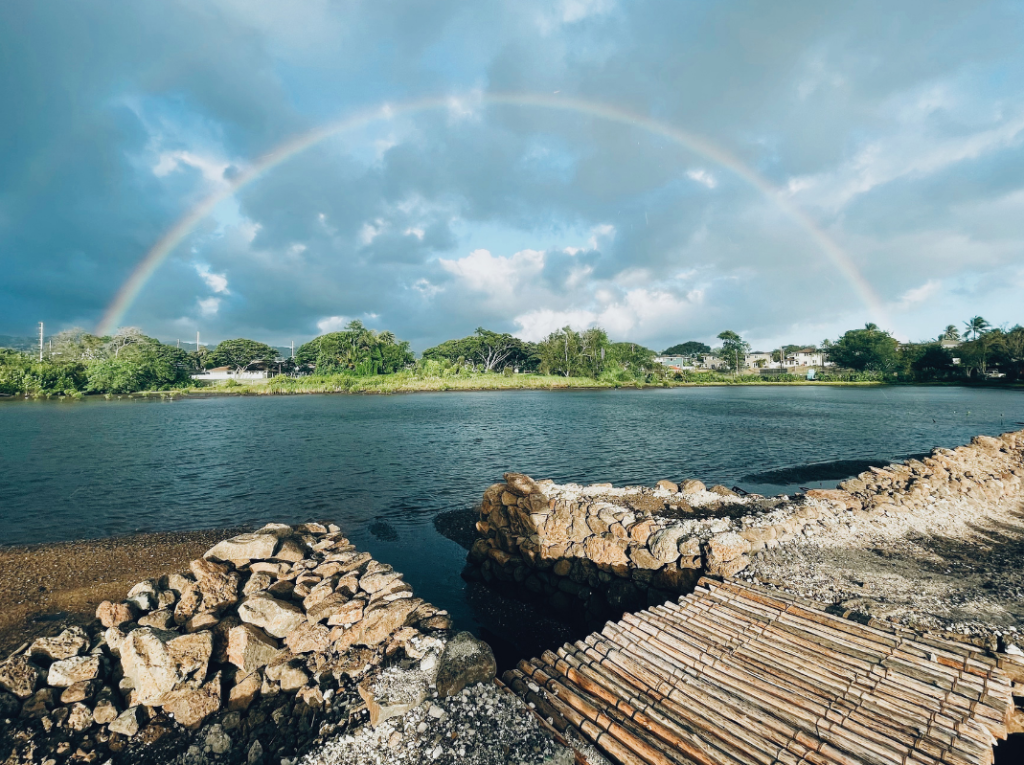 Hawai'i is a place that enables visitors to relax and recharge by enjoying mai tais, sunsets, and beach time. Through the growing voluntourism movement, some people are choosing to reinvest in the islands by spending a few hours of their vacation volunteering. What might seem at first like work that detracts from time off is often an enriching experience that benefits the volunteers and the islands. "We don't really work," says Ekolu Lindsey with Maui Cultural Lands. "Expect not to work, but expect to learn through mālama 'āina."
The concept of mālama ka 'āina, which is a Hawaiian phrase that means to care for and honor the land, is just one example of a Hawaiian principle people can be introduced on a volunteer day. Volunteer opportunities often combine elements of environmental restoration and cultural immersion. They provide a chance for visitors to get off the beaten path, see a piece of Hawai'i few others experience, and learn about the Hawaiian culture.
In other words, giving back on vacation is a win-win-win.
Surfrider Foundation's Net Patrol, Kauaʻi
What to Expect: The Surfrider Foundation is a nonprofit that works to conserve the world's oceans, waves, and beaches. For 15 years, the Kaua'i chapter has organized weekly volunteer trips to collect discarded nets from the island's shorelines. Removing the nets involves cutting, digging, dragging and hauling heavy nets from a rocky coast. The afternoons sometimes require hiking 30 minutes or even taking a boat to a remote location. "It's adventurous," says coordinator Barbara Wiedner. Kids are welcome to join. Parents can text the number on the event page with questions about location and suitability for children.
When: Weekly on Wednesdays from about 3:30 to 6 p.m.
Where: Varies by week.
What to Bring: A reusable water bottle. Close-toed shoes are recommended. Gloves, bags and tools are provided.
How to RSVP: Fill out and submit the waiver on the event page. Send a text to the number on the event page 24 hours before the net patrol meeting to confirm location.
Loko I'a Pā'aiau, Oʻahu
What to Expect: Help restore an ancient Native Hawaiian fishpond, a pool separated by a rock wall from the rest of the ocean where fish would feed and grow. Fishponds provided an ample and sustainable source of food for Hawaiians, but most fell into disarray after the arrival of Western development.
Loko I'a Pā'aiau is a 400-year-old royal Hawaiian fishpond located in Pearl Harbor. Workdays involve a traditional Hawaiian opening protocol, a history of the space and various labors depending on the needs of the week.
When: Large community workdays the first Saturday of each month. Small workdays every Friday from 10 a.m. to 2 p.m.
Where: Access via McGrew Point Military Housing. Parking available near the fishpond entrance gate.
What to Bring: Water, comfortable close-toed shoes, sunscreen and a mask. A hat and bug-spray are optional.
How to RSVP: Email ealapaaiau@gmail.com. First-time attendees will be asked to fill out a waiver upon arrival.
Honokowai Valley Maintenance with Maui Cultural Lands, Maui
View this post on Instagram
What to Expect: In the simplest terms, volunteers are removing weeds from the valley, but the day involves much more than that. Ekolu Lindsey says it's really more of a culturally immersive experience that invites everyone to be grounded in the place and learn why it's important to care for the land. The day begins with an oli—a Hawaiian chant—and involves learning about native plants and concepts including aloha, mālama (to protect), and kōkua (to help). Families and groups are welcome.
When: Every Saturday at 9 a.m.
Where: West Maui, near Lahaina.
What to Bring: "Main thing is to come in with an open mind and wanting to learn," says Lindsey. The second thing is at least two liters of water. Bring lunch and sunscreen. Wear close-toed shoes, a long-sleeved shirt, and long pants that can get dirty.
How to RSVP: Fill out the volunteer waiver and release. To protect vulnerable volunteers, all attendees are required to show proof of COVID-19 vaccination.
Amy B. H. Greenwell Ethnobotanical Garden, Hawaiʻi Island
View this post on Instagram
What to Expect: The Amy B.H. Greenwell garden is a 15-acre botanical garden full of native plants. "It is dedicated to sharing the story of Hawaiian culture and the plants that support it, and conserving the plant resources of traditional Hawaiian culture," says Peter Van Dyke. Volunteer work most often revolves around weeding. Sometimes it involves spreading mulch or fertilizing taro and other crops. All ages welcome.
When: Every Saturday from 9 a.m. to 12:30 p.m.
Where: About 30 minutes south of Kailua-Kona. Meet at 82-6160 Māmalahoa Highway in Captain Cook, across from the Manago Hotel.
What to Bring: Bring water in a reusable water bottle. The garden provides tools and light snacks. A selection of used gloves are available to wear, but the size selection is limited and it's best to bring gloves for children.
How to RSVP: RSVP not necessary. Details about the day's work and rare cancelations will be communicated through the volunteer newsletter.
Malama Hawai'i Program, Statewide
What to Expect: Hotels throughout the state have partnered with the Hawai'i Tourism Authority to reward visitors who spend part of their vacation giving back. Anyone who books a Mālama Hawai'i package at a participating hotel and takes part in the designated volunteer activity will qualify for a special discount.
Details vary based on hotel and volunteer opportunity. Learn more at https://www.gohawaii.com/malama