Makiki Valley Loop Trail offers cool, green escape to Honolulu area ridges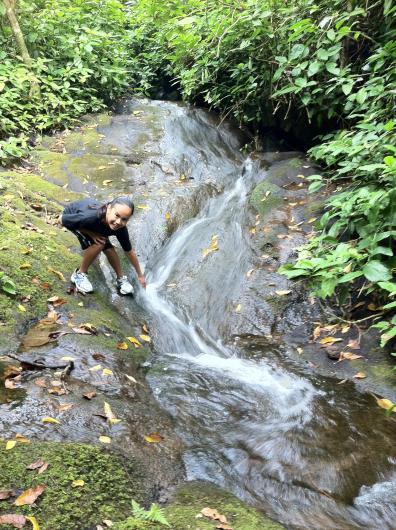 Glossy bursts of Hawaii foliage that greet you at Makiki Valley Loop Trail can be stunning, even for hikers well acquainted with Oahu's lushly landscaped areas.
Visitors from especially arid terrain take note: If, upon entering Makiki Valley State Recreation Area — a 10-minute drive from downtown Honolulu — suddenly your feet feel firmly fixed to the ground as you gape about in all chlorophyll-rich directions, just take a deep breath. Take a swig from your water bottle, maybe. Adjust your eyes to the gazillion shades of green and then push on to the trailhead. You'll be happy you did.
Makiki Valley Loop Trail rambles for about 2.7 miles over three trails: Maunalaha, Makiki Valley Trail and Kaneolole. It features five easy stream crossings — an elevation climb of about 760 feet. The ascent is more gradual when hiking the loop in a clockwise direction. Along the loop, you may meet up with hikers ranging from families with young children shuffling along in sneakers to groups of seasoned runners in high-tech trail shoes designed to quickly grip uneven patches.
The loop — managed through Na Ala Hele, the state's trail and access program — is part of a web of 11 trails in the Makiki/Tantalus area. Hiking time for casual trekkers: 1 1/2 to 2 1/2 hours.
The trailhead is right behind Hawaii Nature Center's headquarters. The 30-year-old nonprofit, each year, offers hands-on environmental education to a total of nearly 25,000 schoolchildren at its facilities in Makiki Valley, 'Iao Valley, Maui and at other field sites. At the loop's trailhead, you'll find: restrooms, a water fountain, benches, and a shoe washing/scrubbing area. Parking is available at the entrance to the recreation area, about a quarter-mile from the trailhead.
Huge Norfolk pines, eucalyptus trees, ironwoods and Koa hardwoods, coffee trees, fruit trees (mountain apple, breadfruit and guava) line the Makiki area paths. Scarlett-tipped ginger, heliconia and shrubs studded with flowers in both subtle pastels and vibrant hues dot the dense canopy.
Take a moment to enjoy the complete absence of automotive traffic and other in-town noise. In addition to the rush of a stream, you may hear a rooster crowing or songbirds, such as the throaty white-rumped shama.
After hiking for about a mile, in either direction from the trailhead, you'll climb to a four-way junction in a ridge area. For an amazing view of Diamond Head, leave the Makiki Valley Loop Trail loop for an easy half-mile trek along Ualakaa Trail.
Back on the loop, the Kaneolole Trail section edges Kanealole Stream — home to critters such as bufo toads and Tahitian prawns. As the trail winds toward the Nature Center, you'll find several blue markers posted next to plants, with each listing their Hawaiian names and details about horticultural history and environmental issues.
Given the frequent rainfall in the area, there are often muddy spots on Makiki Valley Loop Trail. Watch out for slick, mossy ascent areas and seriously gnarly roots covering large sections of the paths.
Finally, don't worry too much about the weather forecast. Most of the loop is covered by the greenery. And if you do get drenched in a downpour, no worries. Cover your head with a hat and keep pushing along in the tropical rain. You'll be happy you did.
For more trail information about hiking trails throughout Hawaii, click here.