Marriott's Spirit of Aloha bus tours the West Coast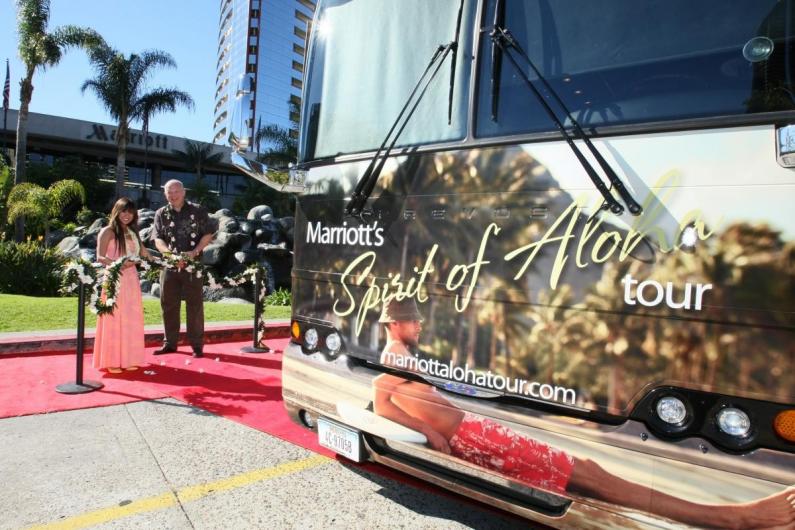 The spirit of aloha is coming to the West Coast by … bus. That's right.
Marriott Resorts Hawaii kicked off its Spirit of Aloha bus tour with a celebration in San Diego yesterday. The company brought in hula dancers, conch shell blowers and musicians to launch its latest campaign designed to encourage West Coast residents to travel to the Hawaiian Islands.
The tour bus will stop at Costco warehouses located in eight major cities in California, Oregon and Washington. The 25-day promotion will allow Marriott's staff to meet with travel wholesalers, travel agencies and meeting planners.
Joining the ride as the tour's spokesperson is Maui resident Camile Velasco, a former Top 10 American Idol finalist of Season 3. Fans can meet Velasco during the Marriott tour. Click here for her schedule.
The Spirit of Aloha tour bus will stay in San Diego until this Thursday. After January 15, you can find the 45-foot-long bus covered with images of Hawaii in the following cities:
• January 16 to 23 Los Angeles and Orange
• January 24 to 31 San Jose, San Francisco and Sacramento
• February 1 to 4 Portland
• February 4 to 6 Seattle
Click here for the complete tour schedule.
"Hawaii is the favorite vacation destination for people living on the West Coast," says Ed Hubennette, vice president for Marriott International (North Asia, Hawaii and the South Pacific). "Our message to them is that a Hawaii vacation is very affordable right now and offers just the right combination of relaxation and fun to rejuvenate and nourish the soul in these challenging times."
Hubennette is right.
You can get Hawaii for less. To learn more, read HAWAII Magazine's "5 Ways to Get More Hawaii for Less," our cover story in the January/February 2009 issue.