Massive waves arrive on Oahu's North Shore. 50-foot surf expected today.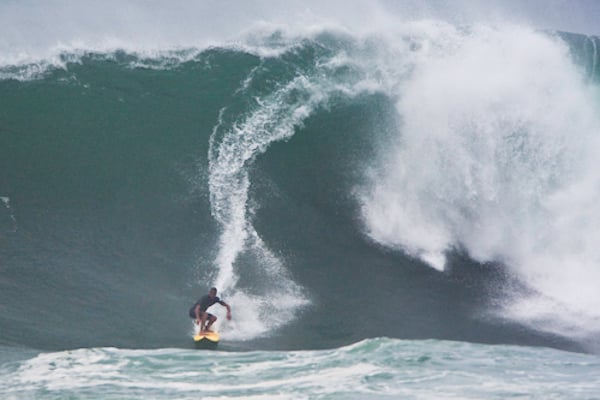 Surf's up on Oahu's North Shore. Way up.
North Shore waves as high as 40 feet had thousands flocking to the area's world-renowned surf breaks yesterday, clogging traffic in both directions of Kamehameha Highway and packing every patch of beach, shoreline or roadside with a view. Wave heights were expected to remain steady or increase on the north and west shores of Oahu, Molokai, and Maui through Wednesday.
Many surfers and surf watchers were already calling this year's inaugural winter swells the biggest Hawaii surf they'd seen in decades. At Maui's north shore Peahi Beach—more ominously known as "Jaws" by big wave riders for its massive winter surf—surfers yesterday boasted of riding swells of up to 50 feet from crest to trough.
Over the weekend, weather forecasters had predicted similar wave heights for the North Shore of Oahu beginning yesterday. But by late Monday morning, wave heights at Sunset Beach and Waimea Bay—two of the most prominent surf spots along the North Shore—was peaking at 20 feet. Waimea Bay swells (pictured here) eventually climbed to 25 to 35 feet Monday afternoon, but were kept from larger heights by choppy waters and strong northerly winds, which tend to break up larger waves.
Today's waves are expected to be bigger. At the time this article was posted, the National Weather Service was forecasting surf along the North Shore of Oahu to continue at heights of 30 to 40 feet with occasional sets to 50 feet on the outer reefs through Tuesday. The NWS expects that large surf on the North Shore will exceed high surf warning levels through Wednesday before slowly diminishing.
No delays or cancellations were announced for continuing contests in the Vans Triple Crown of Surfing. The third jewels in the world-renowned surf contest—the Billabong Pipeline Masters for men at Oahu's Banzai Pipeline and Billabong Pro Maui for women at Honalua Bay—were still set to begin, as scheduled, today.
But one casualty of yesterday's large, yet inconsistent surf was The Quiksilver In Memory of Eddie Aikau Invitational. Organizers of the surf contest, which features an invitation-only guest list of big-name wave riders, had hoped for a Monday start at Waimea Bay on the heels of weekend predictions of massive North Shore surf.
Named after
the famed North Shore surfer and lifeguard
, the Eddie Aikau Invitational requires waves at least 40 feet tall along the face—or front side. The big wave competition has only happened seven times since its inaugural contest in 1985. The last time it was held was in December 2004, when waves at Waimea Bay peaked at 50 feet.
Organizers of the contest—also known as "The Eddie"—remained optimistic through last night. A message on the event's official Web site at the time this article was posted read: "Next call 7:00 a.m. Tuesday HST. Big Swell Coming. EDDIE Would GO!"
Should you decide to "GO" to the North Shore of Oahu to see the massive surf for yourself, allow at least two to three hours of travel time from Waikiki and Honolulu. Traffic on Kamehameha Highway—the North Shore's main thoroughfare—was so slow moving yesterday that some spectators simply parked their cars anywhere there was roadside space and walked the distances to viewing spots.
Roads may also be closed to traffic if wave heights become too large. You can check if roads are open by calling the Hawaii Department of Transportation at (808) 587-2160.
The best distance from which to view the big surf safely once you arrive at the North Shore? It may sound like common sense, but the best advice is not to stand anywhere that's wet. And that goes for whether you watch the waves from the beach or the roadside.
"If it's wet, it's in the ocean's path," says Jim Howe, operations chief of the Ocean Safety and Lifeguard Services Division.
Point taken.