Maui Brewers Festival slated for this weekend in island's central Kahului area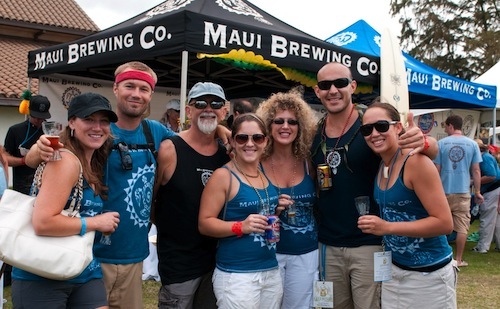 Enjoy a good Hawaii pau hana beer?
The fourth annual Maui Brewers Festival, set for 3 p.m. to 7 p.m. on Saturday at Maui Arts & Cultural Center in Kahului, offers plenty of options. One of the event's organizers, Maui Brewing Company, will be serving up Bikini Blonde Lager, Double Overhead IPA and Liquid Breadfruit among other island-inspired beers. Other brewer offerings range from the gourmet-sounding Stone Smoked Porter with Vanilla Beans to the intense-sounding Shark Attack! port.
In all, beers from 32 craft breweries around Hawaii and elsewhere will be served. Among the well-known breweries are Primo Brewing & Malting Company, Kona Brewing Company, Blue Moon Brewing Company, Redhook Ale Brewery, and Samuel Adams.
Earlier this year, Maui Brewing Co. — Hawaii's largest craft brewery — announced that it's now classified by the national Brewers Association as a "regional craft brewery." The association defines the craft beer industry by four distinct markets: brewpubs, microbreweries, regional craft breweries and contract brewing companies. A regional brewery is a brewery with an annual beer production of between 15,000 and 6,000,000 barrels.
Want to learn about beer-making? The Brew Maui Homebrew Club, will offer festivalgoers information about the brewing process and host its third annual homebrew contest,
The Maui Brewer's Festival, which serves as a fundraiser for the nonprofit Maui Arts & Cultural Center, will also feature ample appetizers from 20 Maui restaurants and plenty of live musical entertainment. The fest's net proceeds will go to arts and cultural programs for students, seniors and the Maui community. Opened in 1994, Maui Arts & Cultural Center is described as a 12-acre "multi-disciplinary complex" — complete with a performing arts center, visual arts gallery and community gathering areas.
Admission is limited to festivalgoers age 21 and older. A general admission ticket fetches eight 4 oz. samples of beer, an event drinking glass, unlimited island-style dishes and parking. A "Happy Hour" package includes early entry at 2 p.m. along with a special opportunity to talk with brewmasters and brewery representatives, reserved parking, an event logo gift, and all of the benefits of general admission. For information about the festival and ticket prices, click here.