Maui Brewing Company hosts benefit for rare bird recovery, debuts "Parrotbill Pub Ale"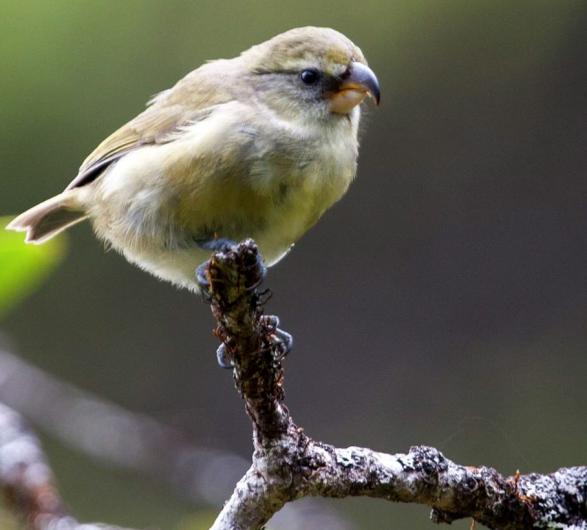 The endangered Maui Parrotbill, or Kiwikiu, found only high in the forests of Haleakala, ranks as the rarest bird on the island. Formerly found in koa forest and at lower elevations on Maui and on Molokai, the species (pictured, right) now resides in Hanawi Natural Area Reserve, Haleakala National Park, and Waikamoi Preserve.
The Maui Forest Bird Recovery Project, which develops and implements efforts to restore habitats, is focused on helping the Parrotbill population, which is now estimated at 500 birds. The nonprofit's research (banding the birds and tracking their territories, pairing and productivity) helps guide state and federal recovery actions.
Is there anything you can do to help? Well, you could pitch in with the purchase of a pint of beer.
At a fundraiser event for the recovery project, slated for Fri., Dec. 30, the Maui Brewing Company will salute the recovery project's efforts with the debut of a special beer, Parrotbill Pub Ale. Between 6 p.m. and midnight, half of the night's pint sales for the English-style bitter will go to the recovery project. The event will also feature live performances of Hawaiian style music infused with jazz and rock, and rock guitar. For more information about the event, click here.
Over the last two years, the Maui Brewing Company, in the Kahana Gateway Shopping Center, just north of Lahaina, has been hosting benefit nights for the bird recovery project.
Due largely to our mid-Pacific isolation and pest species, the Islands have lost more species than any other geographic area on Earth. Biologists and wildlife managers are working to prevent the loss of hundreds of endangered species including plants, invertebrates and animals – including more than 30 birds
Maui Forest Bird Recovery Project was formed in 1997 by the state's Department of Land and Natural Resources and by the U.S. Fish and Wildlife Service to help recover the endangered forest birds of Maui. For more information about the project, click here.