Maui Hawaiian Steel Guitar Festival to get under way on island's west side tomorrow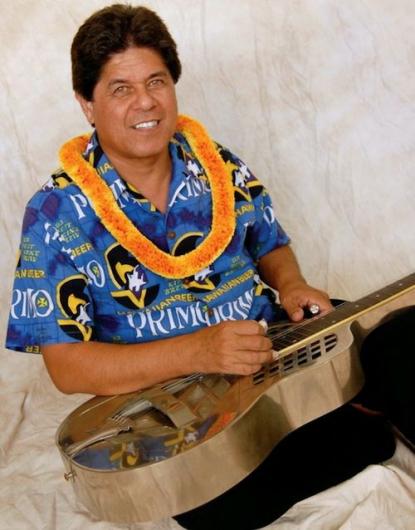 The annual three-day Maui Hawaiian Steel Guitar Festival gets under way tomorrow on the island's west side, at the Kaanapali Beach Hotel. Packed with performances, presentations, instructional workshops and jam session, the free fest will showcase on the only musical instrument thought to be both invented and popularized in Hawaii.
Among the fest's featured Hawaiian steel guitar masters are Alan Akaka, Greg Sardinha (pictured, right), Bobby Ingano, Geri Valdriz, and Ross Ka'a'a. The event is also spotlighting hula and other Hawaiian cultural presenters. On-site presentations include lei-making classes, Hawaiian language lessons and lauhala weaving classes. For more information about the fest and a schedule of musical performances and workshops, click here.
The Hawaiian steel guitar's origins date back to the late 1880s. Legend has it that at that time, a student at Kamehameha School for Boys began experimenting with ways to make different musical sounds on his Spanish guitar.
The story goes that while walking along a road in Honolulu, he noticed a rusty bolt. As he picked it up, the bolt vibrated one of strings on the student's guitar. The student, Joseph Kekuku, liked the accidental tone, which prompted him to later experiment with the back of a pocket knife blade and the back of a steel comb.
According to The Hawaiian Steel Guitar Association, the Hawaiian steel guitar first gained worldwide exposure at the 1914-15 Panama-Pacific International Exposition held in San Francisco, and during the 1920s, Hawaiian steel guitar music was very popular across the United States. By the 1960s, however, the art and technique nearly died out. Since then, various steel guitar musicians have helped to preserve the musical tradition by sharing their skills and knowledge with students. Among those musicians was Country Music Hall of Fame recipient Jerry Byrd, who moved to Hawaii in 1972. Akaka and Sardinha were among Byrd's students.
The fifth annual Maui Hawaiian Steel Guitar Festival is presented by Arts Education for Children Group. The nonprofit based in Lahaina, Maui aims to provide opportunities for artistic and cultural enrichment and restore school music programs and public awareness about the importance of participation in music and the arts. For more information, click here.