Maui hula competition to feature Hawaii, Japan and Mainland dancers this weekend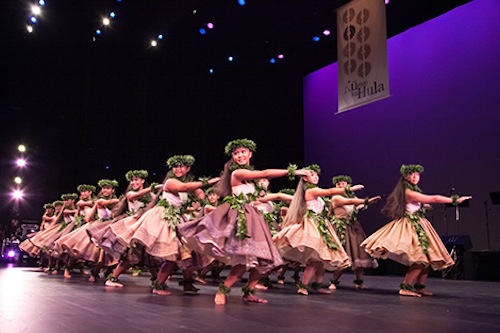 If you love hula, have never experienced first-hand the excitement of a live hula competition and are on Maui this weekend, you're in for a rare treat.
For the past seven years, the Ku Mai Ka Hula International Hula Competition has invited hula halau (troupes) from Hawaii, the Mainland U.S. and Japan to the Valley Isle to compete in a single evening of adult solo and group performances. Dancers and hula halau—winners of hula competitions on the Mainland or internationally—compete in kahiko (traditional hula) and auana (modern hula) styles, in both male and female categories.
The 8th annual edition of Maui's premier hula competition happens at the Maui Arts & Cultural Center's Castle Theater this Saturday, Sept. 14, from 1 to 7 p.m. A preshow performance starts at 11:45 a.m. Food and beverages, and Hawaii made arts and crafts, will be available for purchase during the event.
Entry is $25 for adults, and half-price for children 12 and under.
Prior to Saturday's hula competition, Ku Mai Ka Hula is sponsoring the lecture and demonstration, "Unukupukupu: Dancing Beyond the Veil." Led by Dr. Taupouri Tangaro, associate professor at Hawaii Community College, the lecture will touch on hula traditions anchored in the rituals of Pele, deity of Hawaii volcanoes. The discussion happens on Thurs., Sept. 12, 7:30 p.m. at Maui Arts & Cultural Center's Yokouchi Pavilion. Cost is $13.
For more information about Ku Mai Ka Hula, click here.