Maui Plein Air Painting Invitational's scenic canvas competition starts this week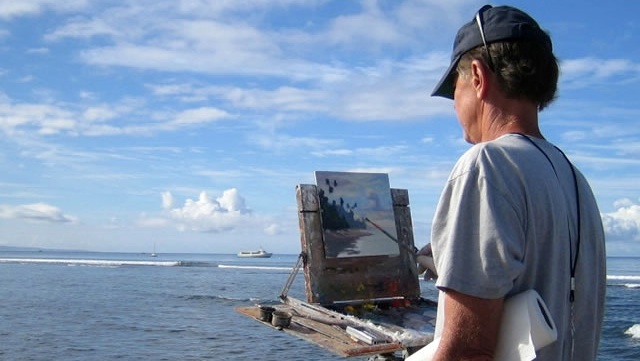 The annual Maui Plein Air Painting Invitational is a weeklong event that features 25 professional plein air (outdoor) painters from throughout Hawaii and the Mainland. During the event, competing painters capture the images of Maui, such as its people, beaches and ocean scenes, verdant mountains and valleys, and historical buildings.
The eighth annual Maui Plein Air Painting Invitational is slated to get under way on Sat., Feb. 16, with canvas competitions in Kapalua and Lahaina. All of the event's activities are open to the public and free.
In a news release issued by organizers, event coordinator Rhonda Pang said, "Each artist has deservedly earned a coveted spot in the world of plein air painting." Pang continued: "Attendees are in for a treat as they watch these artists translate every life using their senses, from sight to sound, from temperature to atmosphere, and then channel these impressions into their vision in paint on canvas. Each piece is one-of-kind and truly amazing!"
Hawaii artists participating in this year's event are: George Allan of Kula, Maui; Pierre Bouret of Hanalei, Kauai; Mark Brown of Honolulu, Oahu; Saim Caglayan of Kilauea, Kauai; Carleton of Lahaina, Maui; Mike Carroll of Lanai City, Lanai; Michael Clements of Kula, Maui; Betty Hay Freeland of Pukalani, Maui; Ronaldo Macedo of Lahaina, Maui; Macario Pascual of Lahaina, Maui; and Jenifer Prince of Princeville, Kauai.

Artists hailing from the Mainland: Ken Auster of Laguna Beach, Calif.; Jacobus Baas of Laguna Beach, Calif.; Colleen Howe Bleinberger of Smithfield, Utah; Gavin Brooks of Owings Mills, Md.; Hiu Lai Chong of Rockville, Md.; Lindy Duncan of Atherton, Calif.; Debra Huse of Newport Beach, Calif.; Thomas Jefferson Kitts of Portland, Ore.; Robert Lemler of Phoenix, Ariz.; Billyo O'Donnell of Eureka, Mo.; Colin Page of Camden, Maine; Mary Pettis of Taylors Falls, Minn.; Scott Prior of Oceanside, Calif.; and Randall Sexton of Vallejo, Calif.
The invitational will begin with a Kick Off Paint Out at D.T. Fleming Beach at Kapalua, noon to 3 p.m. on Saturday. Freshly painted works of art will be displayed for sale at 4 p.m. at Village Galleries in The Ritz-Carlton, Kapalua and throughout the week.
Among the other invitational highlights: the Pioneer Inn Lahaina Harbor Quick Draw, 9 a.m. to 11 a.m. on Fri., Feb. 22. During this annual competition, which attracts hundreds of onlookers, each artist will have just two hours to complete a painting. That evening, three of the best paintings from each artist plus their Quick Draw painting will be unveiled at reception at Village Gallery in Lahaina.
In addition to painting competitions, the invitational event will include art talks, receptions and workshops open to students of all abilities. To check out the event's full schedule, click here.