Maui sea turtles get a birthday party, weeklong fest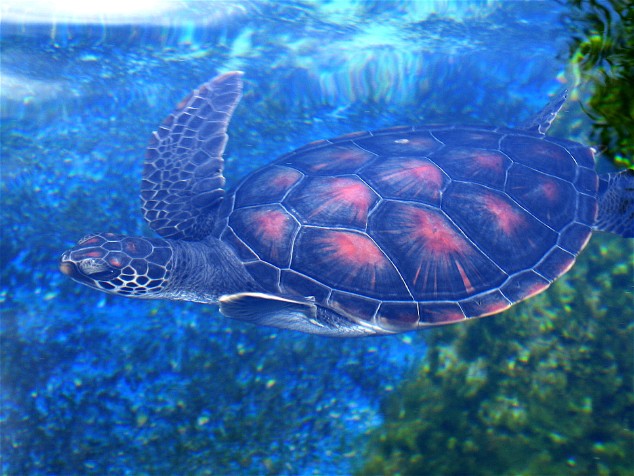 Sea turtles have birthdays, too. It's just that no one celebrates them.
The folks at the Maui Ocean Center aim to change that on Aug. 26 when they throw a birthday bash for their six Hawaiian green sea turtles—Nohea, Leilani, Maluhia, Kuuipo, Kainalu and Alamea. Between 10:30 a.m. to 2 p.m. that day, aquarium visitors will be able to wish the turtles "Hauoli la hanau!" (Hawaiian for "Happy birthday!").
The honu (Hawaiian for "turtle") won't be able to enjoy their birthday cake and ice cream, but you will. Live music is also part of their birthday gift.
The party is a part of Turtle Mania: A "Honu World," the ocean center's weeklong public awareness fest for the endangered sea creature. Turtle Mania runs from Aug. 23 to 29.
There are seven species of sea turtles in the world—five are found in Hawaii: green sea turtles, hawksbill, loggerhead, olive ridley and the leatherback sea turtles. Most of these turtles are endangered, and are protected under the Endangered Species Act of 1973.
Activities throughout Turtle Mania week include special presentations, interactive programs, sea talks and more. There'll also be a "Sea Turtle Encounter" session with a chance to assist in feeding the turtles and tips for raising aquarium turtles. Reservations are highly recommended. Call (808) 270-7089 to sign up.
Can't make it to Maui that week? Set some time aside to hang out at the Maui Ocean Center's Turtle Lagoon on your next Valley Isle visit. This lagoon is one of the aquarium's largest outdoor exhibits. I always enjoy watching the turtles swim at the center when I'm on Maui … just like this little fellow above.