Maui vows not to develop Peahi, the world famous big-wave surf break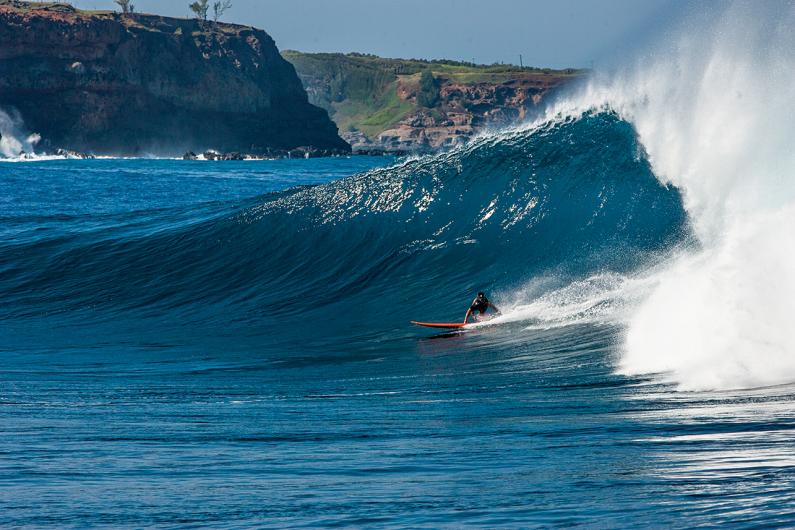 That epic view of Peahi isn't going anywhere. No buildings, no mega supermarket chains—just waves.
Following the approval of a $9.5 million deal on a 267-acre plot of land surrounding Peahi—the famous surf break on Maui's north shore that's also known as Jaws—by Maui County, officials pledge to keep the area from being developed.
For surfers, and spectators who watch these watermen and women charge its jaw-dropping 60 to 80-foot waves from the coast, its a major conservation win. It also holds a deeper meaning for those who have experienced it from the water; many consider it to be a sacred and special place for the surf community.
"There's something about Peahi that magnifies the energy, the swell coupled with the sound echoing in the valley, all these different aspects converge right on that bay there," surfer Mark Healey said to HAWAIʻI Magazine. "It's really hard to explain, unless you go and experience it there yourself. It's an incredible amount of energy. You're incapable of going out there on a big day, whether you're in the line up or in the channel, and not feel like you're a very small part of something big."
The action gained traction as a community request. County council members noticed and rallied to push it through the proper channels. Within the 267-acre land deal, the county bought four lots, reports Hawaii News Now, which includes a heiau (Hawaiian place of worship) and an access easement to the Peahi lookout.
"The development that's been happening in Hawaii is just crazy," Kemper told Surfline. "It literally wouldn't shock me if they were going to put a friggin' Target there or something. Everything is just getting overdeveloped way too fast." Born and raise on north Maui, Kemper won the inaugural Peahi Challenge last year, the first-ever paddle-in Big Wave Tour event at the break.
"At Jaws, no matter what they do with the land, you ain't going to keep me out of the water," Kemeper continued. "But as far as spectating, we need that. I don't think they would've stood a chance to take that from us. They should just keep walking and move along. That's our spot."