Maui Whale Fest freebies: spotting stations, guided hikes, talks with marine life experts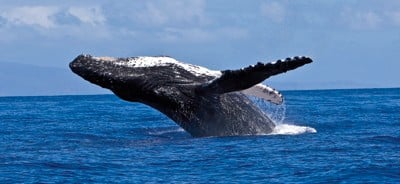 Spending some time on Maui this winter or spring? If so, you'll be on-island during whale-watching season. While we cannot guarantee you'll see leaping humpbacks every time you pick up binoculars, we're sure Pacific Whale Foundation can help boost your whale-spotting counts. The Maui-based nonprofit is hosting a six-month series of events for its 2011-2012 Maui Whale Festival, which began last month and wraps up in mid-May. The list includes paid offerings, such as special cruises, and about a half dozen freebies. Here's some freebie highlights.

Trail of the Whale: Whale Information Station
Starting this week, Pacific Whale Foundation naturalists and volunteers — equipped with binoculars and scopes — are stationed at three locations along Maui's coast to help you locate whales from shores. In addition to sharing spotting techniques, they're manning hands-on displays with models and marine artifacts, and answering visitor questions about whales, geography and natural history. The stations will be open through April 30, 2012. For more information, call (808) 879-2818 or click here.
• Papawai Point — 8 a.m. to 2 p.m., daily. Scenic overlook off Honoapiilani Highway (Route 30), about three miles northwest of Maalaea Harbor.
• Wailea Marriott —7:30 a.m. to 11:30 a.m., Tuesdays and Thursdays. "Ocean Path," in front of the Wailea Marriott, off Wailea Alanui Drive.
• Maui Ocean Club — 7:30 a.m. to 11:30 a.m., Wednesdays and Fridays. "Trail of the Whale" Marine Naturalist Station. The station is located along the oceanfront pedestrian path fronting the Marriot's Maui Ocean Club resort on Kaanapali Beach.
An additional location to view whales is the Hawaiian Islands Humpback Whale National Marine Sanctuary Visitor Center, 726 S. Kihei Road, Kihei. Open 10 a.m. to 3 p.m. Mondays through Fridays, sanctuary staff and volunteers provide free information about whales. Reservations not required.

The
Hawaiian Islands Humpback Whale National Marine Sanctuary
also offers free information on sea turtles, coral reefs, fish and whales at the Grand Wailea Ocean Path, 9 a.m. to 1 p.m. on Wednesdays. In addition, the sanctuary will offer another free information site at the boardwalk at
Whaler's Village in Kaanapali
on Thursdays, 9 a.m. to 1 p.m.
Whale-watching Hikes
Guided 5.5-mile morning hike along the Lahaina Pali Trail, which features spectacular views of the ocean and any whales in the area. Participants must be fit, experienced hikers and older than age 15. Hikes are scheduled for the following Wednesdays: Jan. 25, Feb. 22, March 28, and April 25.
Free transportation to the trail will be provided from Pacific Whale Foundation's Ocean Store in Maalaea. Hikes will be led by a foundation naturalist. Advance reservations required. For more information, call (808) 249-8811 ext. 1 or click here.
Photo Tribute to the Whales
Whale photography exhibit hosted by Pacific Whale Foundation. Open daily, 10 a.m. to 4 p.m., from Jan. 28 to Feb. 29, in Maalaea Harbor Shops, next door to Maui Ocean Center. For more information, call (808) 249-8811 or click here.
Saving Whales Around the World lecture
Greg Kaufman, Pacific Whale Foundation's founder and president, will present Saving Whales Around the World at 6:30 p.m. Feb. 4 at the Wailea Beach Marriott Resort and Spa. Kaufman has studied humpback whales throughout the Pacific for more than three decades and is the co-author of three books and numerous scientific publications about humpback whales.
Kaufman's lecture will feature a visual media presentation about Pacific Whale Foundation's research in Hawaii, Australia and Ecuador. Reservations are encouraged as seats fill up quickly. For information or to make a reservation, call (808) 249-8811 ext. 1 or click here.
Evenings with the Experts
Talks, videos and slide shows by noted marine and whale experts from across the United States. The event will be held at the Westin Kaanapali from 6 p.m. to 8:30 p.m. on Fri., Feb. 10 and Sat., Feb. 11. For more information, click here.
Maui's Parade of Whales/World Whale Day
Maui's Parade of Whales is the official launch of World Whale Day. The parade starts at 9 a.m. in the Kihei area. World Whale Day (formerly known as "Whale Day") is an all-day celebration honors the humpback whales that come to Maui each winter. The celebration, 10 a.m. to 7:30 p.m., spotlights some of Hawaii's top recording stars: Willie K, John Cruz, Lukas Nelson and Promise of the Real, Anuhea, Marty Dread, Hapa and Nuff Sedd. Also, there will be hula and fire dance performances. For more information, click here.
Great Whale Count
On Sat., Feb. 25, count whales with Pacific Whale Foundation's staff, including members of its research and education teams. All training and materials will be provided. For more information about volunteering, volunteer, call the foundation at (808) 249-8811 ext. 1 or click here.
Among the 2011-2012 Maui Whale Festival's paid events: Sunday morning whale photo safari cruises, a "VIP cruise" with Greg Kaufman, the foundation's president and founder, an ocean camp for elementary school kids, a fun run/walk event, and a golf tournament. For more information about these events, click here.
This season's first whale-spotting occurred on Sept. 26 in Honaunau Bay, which edges the Big Island and is within the Humpback Whale National Marine Sanctuary. The sanctuary, which lies within the shallow (less than 600 feet), warm waters surrounding the main Hawaiian Islands, constitutes one of the world's most important humpback whale habitats.
Scientists estimate that there are 20,000 humpback whales in the North Pacific. An estimated 12,000 swim to Hawaii each winter to mate, give birth and nurse their calves in warm Hawaiian waters, where they are protected.
For additional suggestions on shoreline outlooks, check out our HAWAII Magazine's Landlubber's Guide to Whale Watching in the Islands. And don't forget those binoculars.