Maui's Hula O Na Keiki competition an annual showcase for children's hula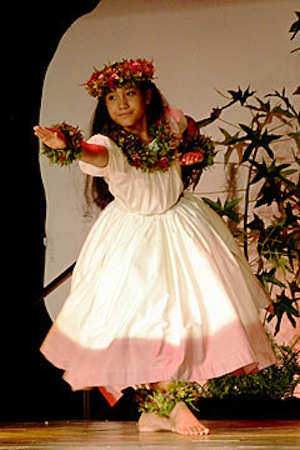 The 23rd annual Hula O Na Keiki hula competition, one of the state's premier children's solo hula contests, happens this weekend on the grounds of the Kanaapali Beach Hotel on Maui.
What started more than two decades ago as a single-day competition has grown to three days of dance contests and an accompanying festival of Hawaiian arts, crafts, food booths, cultural workshops and live music. This year's Hula O Na Keiki is set for Nov. 8 to 10, with hula competition happening on its first two days.
The goal of the Hula O Na Keiki (keiki is Hawaiian for "child) competition is to encourage childhood interest in learning the history of hula as well as the dance, in the process perpetuating the art form and knowledge of Hawaiian culture.
Girls and boys between the ages of 5 and 17 may participate in Hula O Na Keiki competition as soloists or palua (boy-and-girl pairs), performing kahiko (ancient) and auwana (modern) hula styles. Dancers are judged on their style of chanting (each must memorize a chant in the Hawaiian language), interpretation of the dances, cultural appropriateness of costumes and adornments, and interviews with a panel of judges.
The Hula O Na Keiki weekend will also host open-to-the-public workshops in lei-making, lauhala-weaving and oli (chanting), among other arts, on the Kaanapali Beach Hotel grounds.
The competition's awards ceremony will be held at 6 p.m. on Saturday at the Kaanapali Beach Hotel. On Sunday, the hotel's Tiki Terrace will host a celebration champagne brunch with Hawaiian entertainment.