Maui's Star Noodle blends casual, modern ambiance with enticing Asian cuisine and craft cocktails
The Lahaina eatery, featured on "Diners, Drive-Ins and Dives" serves up crowd-pleasing dishes, desserts and drinks.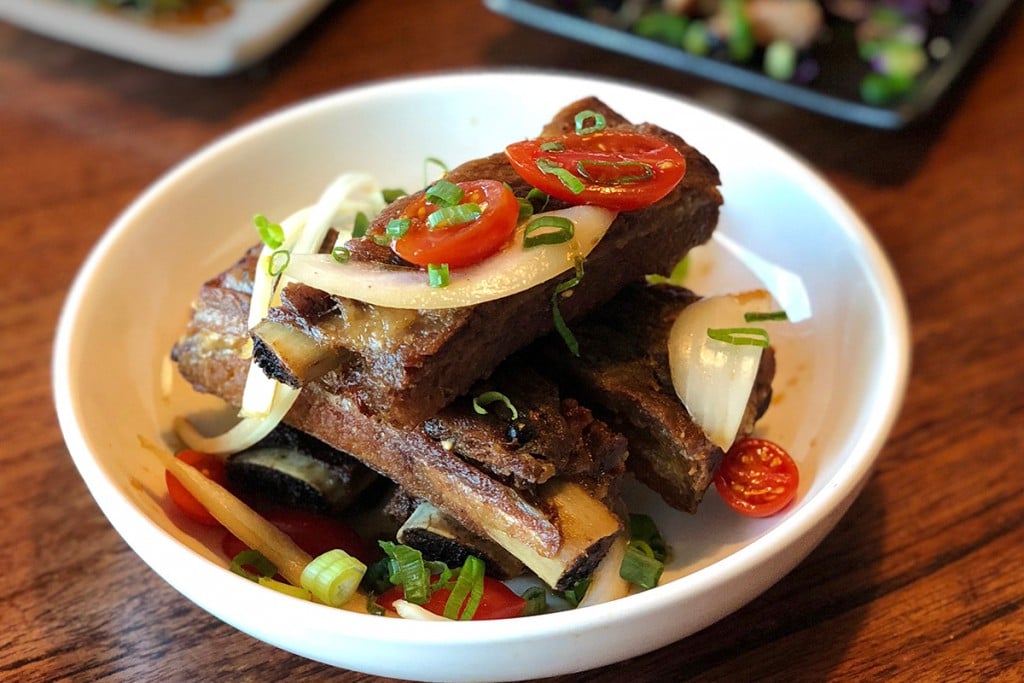 Tucked away at the top of Lahaina Industrial Park at 286 Kupuohi St. in Lahaina, Star Noodle is a casual, cool and modern place to gather for Asian pastas, share plates and craft cocktails.
Executive Chef Abby Ferrer entices with Vietnamese crepes, filled with shrimp, pork, bean sprouts and exotic sauce. Slice into pieces, add mint and basil sprigs, wrap in lettuce leaves and dip in Nuoc Cham sauce. Wow! Ferrer also dazzles with Hapa ramen, a soul-satisfying pork broth brimming with fresh Asian noodles made in-house and presented with roasted pork, bok choy, soft-boiled egg, kamaboko, red miso and bamboo shoots.
Both the crepes and the ramen remain top sellers ever since they were catapulted to Star Noodle-dom on "Diners, Drive-Ins and Dives" with Guy Fieri.
Yet regulars know that Star Noodle is planets apart from being a "dive," with its ocean views, repurposed teak and natural stone, craft dragonfruit cocktails and colossal tempura shrimp.
Part of the Na Hoaloha Ekolu family of famous Maui restaurants that also includes Old Lahaina Luau (voted No. 1 on Maui), Aloha Mixed Plate and Leoda's Kitchen & Pie Shop — Star Noodle has a state-of-the- art kitchen that is the main commissary for all the outlets. General Manager Cooper Guest leads the dynamic team that produces share plates such as pohole "fiddlehead fern" salad with ebi (dried shrimp) and ika (squid) and Chinese broccoli with su-miso sauce, fried garlic and sesame seeds.
"The menu is designed for a more informal 'family-style' dining experience, allowing everyone to get a bite of this or that as the kitchen puts it up and the guests pass the dish around the table," says Guest, who has led teams from Tucson, AZ., to Wailea Resort on Maui.
"I enjoy our hot-and-sour soup because you can personally adjust the flavor of the dish yourself every time that you eat it — depending on how you utilize the Thai basil, garlic, calamansi and bean sprouts," says Guest of his favorites. "I also really like our Lahaina fried soup and steamed pork buns with house hoisin sauce and namasu."
Other crowd-pleasers are adobo pork ribs with garlic, black pepper, vinegar and shoyu; and rib-eye steak in ko-chu butter in a sizzling skillet.
A native of New York, Chef Ferrer has taught at Le Cordon Bleu College of Culinary Arts, and cooked for Iron Chef Masaharu Morimoto and at the MGM Grand in Las Vegas.
"We run special dishes on a regular basis but do not feature a happy hour or special discounts," says Guest. "We price everything with the intention that it should be reasonable for everyone, whether they be kamaaina or visitors."
For desserts, delight in hot malasadas (sugar-coated Portuguese doughnuts), presented with dipping sauces of chocolate, miso caramel and yuzu basil. Or indulge in mango pudding with lumpia crisps.
.Reservations are taken but it's usually booked up a few days in advance.
"We still save some seats in the restaurant for walk-ins. We want everyone to join us whether they planned to eat out or not," adds Guest.
For more details, call (808) 667-5400 or visit www.starnoodle.com.