May Day is Lei Day in Hawaii. Here's where to go for celebrations.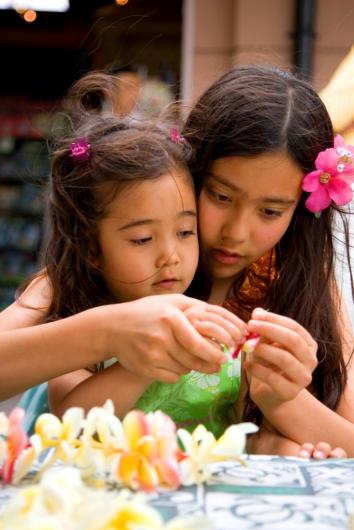 Saturday is May 1—around the world, recognized as May Day, but here in Hawaii also affectionately celebrated as Lei Day.
It's a day ripe with celebrations of Hawaiian culture. You'll find a few more music and hula shows on May Day than other days, popular with both residents and visitors. You'll find office workers heading to work sporting aloha wear and often wearing fresh, fragrant and colorful flower lei. Some Hawaii schools even host May Day celebrations for keiki (children), complete with the selection of a royal court and talent shows.
The origins of Hawaii's celebration of May Day as Lei Day go all the way back to 1927, when Honolulu Star-Bulletin writer Don Blanding advocated the creation of a holiday honoring lei making and the custom of wearing lei. Blanding's co-worker, columnist Grace Tower Warren, suggested May 1st May Day celebrations as ideal for the holiday, crafting what would become the day's much-used tagline "May Day is Lei Day in Hawaii."
Lei Day—or May Day, for that matter—never became an official state holiday. But since the first city Lei Day celebrations were held on May 1, 1928, the custom of wearing aloha wear and lei on the first of May has spread statewide. These days, cultural demonstrations, royal court processions, made in Hawaii craft sales and hula and music shows are all an essential and expected part of May Day in Hawaii.
The largest of the state's celebrations is Honolulu's official city May Day festivities at Waikiki's Kapiolani Park Bandstand, from 9 a.m. to 5:30 p.m. It's free and open to the public.
If you go, don't forget to bring your camera. You'll want it fully charged and ready for the investiture of the 2010 Lei Queen and her court at 10:15 a.m., and to snap photos of some of the finest and most unique examples of lei making you're likely to see, at the annual May Day Lei Contest, open to the public from 12:30 p.m.
Hawaiian lei and craft exhibitions, demonstrations and vendors will be open on the bandstand grounds from 10 a.m. to 3 p.m. Bring keiki along to learn Hawaiian songs, hula, lei making, lauhala weaving and to hear stories at Tutu's Hale (grandmother's house) from 1 to 5 p.m. Grab some lunch from a selection of food booths, and hang out near the bandstand through the afternoon for live Hawaii music and hula halau (hula troupe) performances from 11:30 a.m. to 5:30 p.m.
For a complete schedule of city May Day events at Kapiolani Park, map directions and other info, click here.
Other May Day-only (May 1) events:
• "May Day is Lei Day" at Queens' Marketplace in the Big Island's Waikloa Beach resort area will feature lei making demonstrations, live Hawaii music and hula performances from noon to 6 p.m. The day's events will also feature a May Day lei contest and coronation of a Lei Day queen. Events are free. Click here for more info.
• "May Day Celebration" at the Outrigger Reef on the Beach in Waikiki will host its own coronation of a 2010 Lei Day queen and her court, an employee lei contest and lei making classes and demonstrations. All of it is free and open to the public, from 9 a.m. to 2:30 p.m. Click here for more info.
• "May Day at Halekulani's House Without A Key" will feature an evening of live Hawaii music from The Sunset Serenaders accompanying hula dancer Kanoe Miller's nightly show. Miller will perform hula from five of the main Hawaiian Islands, wearing flower lei specific to each island (ilima for Oahu, lehua for the Big Island, kaunaoa for Lanai, lokelani for Maui and mokihana for Kauai). Show begins at 6 p.m. Click here for more information on the Halekulani resort's House Without A Key.
Post-May Day events:
• The Brothers Cazimero annual May Day concert, still going strong after 30-plus years, is a time-honored Lei Day tradition in its own right. This year's concert happens on May 2 at the Maui Arts & Cultural Center's Castle Theater. Showtime is 7:30 p.m. Click here for details.
• On May 2, lei from May Day festivities are placed on the tombs of alii (Hawaiian royalty) at the Mauna Ala Royal Mausoleum in Nuuanu (9–10: 10 a.m.) and King Lunalilo's tomb at Kawaihao Church in downtown Honolulu (10:15-10:30 a.m.)