Meet a Real-Life Mermaid on Maui
Kealohi Chang, a teacher in Lahaina, moonlights as a mermaid and shares the Hawaiian language and importance of ocean conservation to Island visitors.
Her long brown hair is tucked neatly under a bright green crown of ferns. Her smile is radiant, her expression kind, and her voice confident. Wherever she goes, Kealohi Chang maintains the poise of the hula dancer that she is. But from the waist down, something is different.
Kealohi is a mermaid.
[video:https://www.instagram.com/p/Bw_gNQQHPtk/ align:center]
Her tail, a shimmery silicone wrap of jade and turquoise fish scales, is a showstopper, and on a breezy afternoon during the 27th annual Celebration of the Arts (held last month), a three-day gathering of Hawaiian cultural practitioners at the Ritz-Carlton, Kapalua, all eyes turn to the mermaid as an attendant carries her to the edge of the pool. "Aloha kakou!" she calls out as wide-eyed kids gather around her. For the next half-hour, speaking mostly in Hawaiian, Kealohi teaches them about the ocean and ocean conservation, posting colorful flashcards of marine life like kohola (whale), hee (octopus), and puhi (eel) on the whiteboard next to her. Eventually she dives in, singing songs and telling stories while her eager followers chase her from one side of the pool to the other.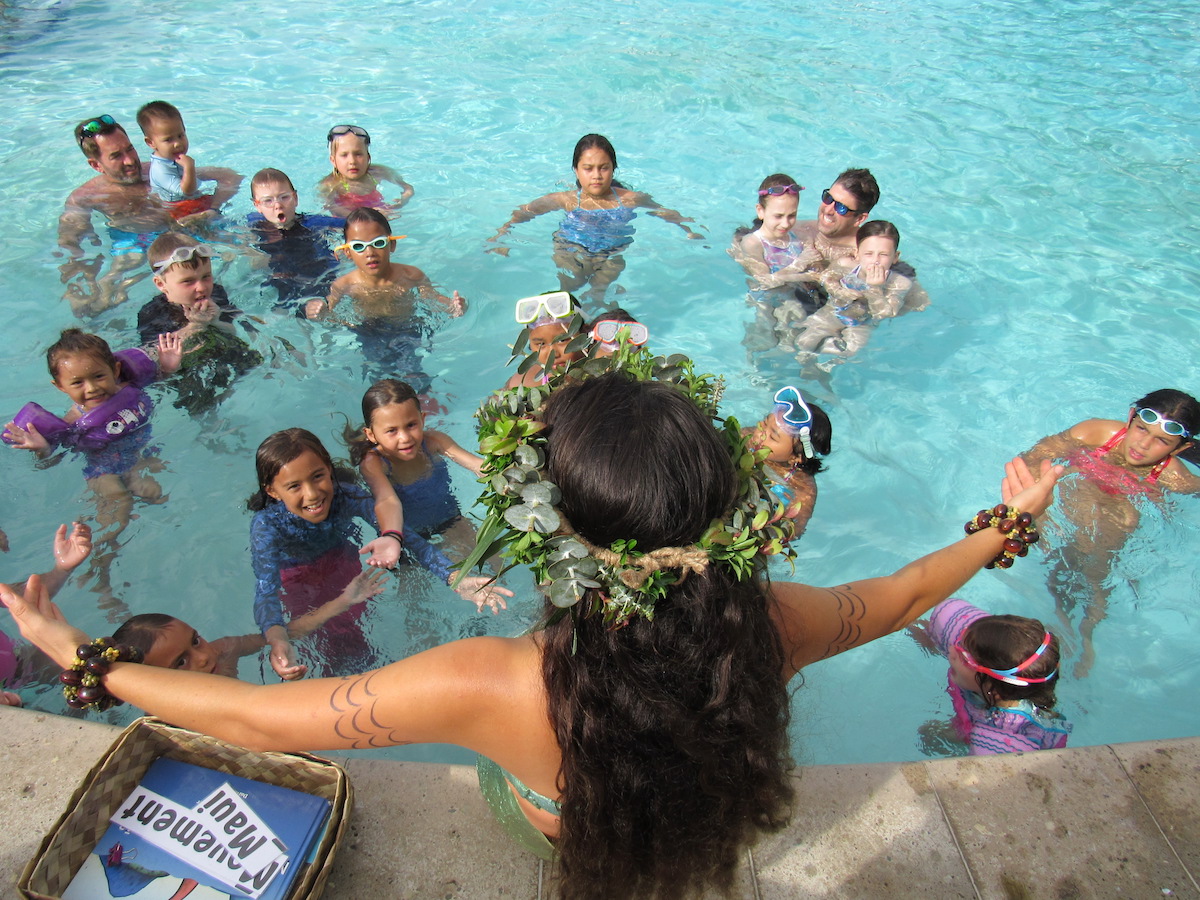 "I relate everything back to the culture," says Kealohi, who works as a teacher at Kula Kaiapuni 'O Princess Nahienaena Maui, a Hawaiian language immersion school in Lahaina. Her efforts to teach kids to olelo Hawaii (Hawaiian language) reflect a common message at this year's Celebration of the Arts about the importance of perpetuating Hawaiian language. "If the Hawaiian language dies in Hawaii," kumu hula Hokulani Holt pointed out during a panel about cultural foundations, "it lives nowhere else in the world."
Besides appearances at birthday parties and community events, Kealohi frequently works with hotels and resorts to teach young visitors about Hawaiian culture. Sometimes she makes a splashy entrance, taking advantage of her waterwoman skills to swim long distances from the sea to shore in her tail in order to "keep the magic alive."
"As a mermaid, they listen to me," Kealohi says, admiring the innocence of youth. "They are our future, so I thought, if I can reach this generation—even just one child—that's good enough for me."
Email Kealohi for events at mermaidmovementmaui@gmail.com and follow her @Mermaid_Movement_Maui.