Meet the next generation of Hawaiian filmmakers
What does an authentic Hawaiian narrative look like on the big screen? Three Honolulu-based filmmakers, with the guidance of the Sundance Institute, hope to show audiences someday in a movie theater near you.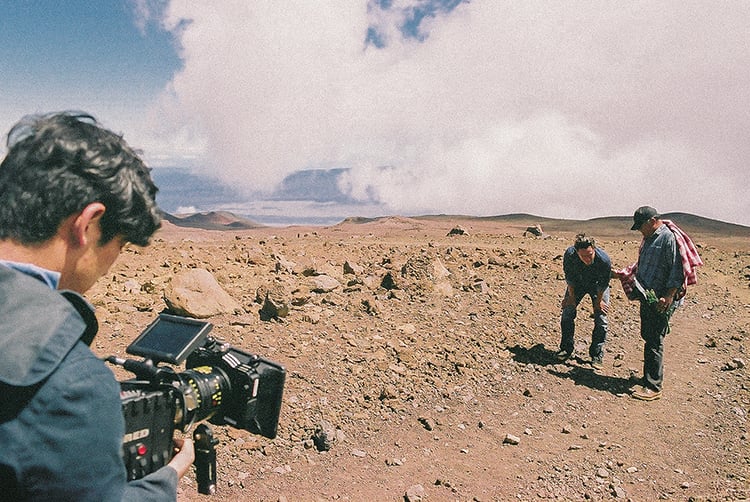 Filmmaker Bryson Kainoa Chun squints at the camera screen. Inside the frame, a young Hawaiian man races from a dilapidated Hilo house in the pouring rain, hops onto a moped clutching an obscured object wrapped in ti leaves and speeds down the gravel road. As the vehicle vanishes from sight, throwing rocks up in its wake, Chun shouts "Cut!" A small, but ardent team of production assistants quickly enters the shot to set it back up again for another take.
This isn't Hilo on Hawaii Island; it's Nanakuli on Oahu. It isn't actually raining, but the work of a water hose creatively jerry-rigged into the branches of a mango tree. And, this also isn't some gritty, rundown house, but a humble Hawaiian homestead property, a home belonging to the family of the filmmaker's wife. It's the makings of his latest movie, but it's about as real as you can get to a version of the Hawaii many call home, and one he hopes to share on screen.
Chun's screenplay, "Piko," which centers around the relationship between a 20-something male and the father of his hapai (pregnant) girlfriend, all Hawaiian characters, was selected by the Sundance Institute to be workshopped in its Native ShortsLab this past summer, an initiative that looks to nurture and highlight indigenous projects told by indigenous people. Held in Honolulu with the Honolulu Museum of Art, this particular lab was unique and a first of its kind—all five participating filmmakers were of Native Hawaiian descent. Without it, "Piko" may not have been able to make the leap from paper to film so quickly. Three months since completing the Native ShortsLab, Chun's already deep in the shooting and post-production process.
"Going through the lab was an amazing experience. More than anything, they gave us the validation that what we had to say mattered," Chun says. "In an industry where so many people will tell you you're not good enough, to have Sundance reach out to support indigenous storytellers is amazing."
Like many of his peers, he's drawn to the medium because of how many people it can potentially touch. As a Native Hawaiian, it also almost comes inherently.
"Indigenous people are natural storytellers. When you look at Hawaii's oral tradition, it's clear that our history, our ideals and hopes and fears, are all presented and passed down through our stories. Today, when it's getting easier to make movies all the time, film is the best way to get your stories out into the world. It can be the great equalizer … a movie so closely mirrors the communal experience of the oral tradition. It brings people together in a way a lot of formats can't."
In Hawaii's filmmaking circles, documentaries tend to thrive in the film festival circuit; narrative features are more difficult to get off the ground. The diversity of scripts given the Sundance seal of approval, however, proves it has nothing to do with a lack of creative material. Of the projects workshopped, there was a character-driven drama, a horror film, a period piece and an animated short; no two selections were alike, yet all found a commonality in being told from a Hawaiian perspective.
"Narrative is really where it's at, it's a completely untapped pool for Hawaiian filmmakers," says Hale Mawae, another Sundance NativeLabs fellow, whose dream is to bring epic Hawaiian moolelo (legends) to the screen someday.
His script, "The Moowahine," reinterprets the stories of Hawaii's moo, lizards known to be tricksters and occasionally violent in Hawaiian lore, but reimagined in the archetypes of a slick, stylized horror film. By blending these models, Mawae attempts to push the boundaries of what a contemporary Hawaiian narrative can look like, saying, "It can be any other film playing at the theater now, but it just so happens the character is Hawaiian, it's a Hawaiian creature, it's set in Hawaii. Everyday people don't really see ourselves in the old folklore of our pasts, so bringing it to life today, for me, on film is a way of surfacing it and helping the story survive in a modern way."
Mawae, who left his birthplace of Kauai and spent years in Los Angeles as a working actor, knows there's a bigger picture behind the scenes for Hawaiian-led narratives: mindful representation.
"When you write for and cast a Hawaiian, you're giving that actor an opportunity to become that character," he says. "That's a big thing for me, there's not a lot of opportunities for actors, especially in Honolulu, to take on a role and run with it."
Mawae expresses this struggle as someone whose previously worked in the casting departments of high-profile Hollywood films shot here in the Islands. He's seen directors regularly choose mainland actors over Hawaii-grown talent for roles that call for a local character, and he's seen the same creative authorities pass on a variety of actors only to choose someone who fits the stereotypical image of Hawaiians traditionally presented in popular culture: overweight, unintelligent, sometimes threatening.
Representation also drives Chun's artistic direction, someone who's "motivated to tell stories rooted in Hawaii because it's time that Native Hawaiians took control of the narrative," he says. "For such a long time, stories coming from Hawaii served the express purpose of bringing in tourists and making Native Hawaiians seem impotent. As cliché as it always sounds, there's really no place on Earth like Hawai'i and in a lot of ways it's our kuleana (responsibilities) as Native Hawaiian artists to represent this place in a way that empowers us."
Amid the contentiousness, Kauai-born filmmaker Kari Noe, who at 20 years old was the youngest creative to be selected for Sundance's Hawaii workshop, wants to use her 3D-animated project, "Kai and Honua," to paint a more optimistic portrayal of her culture.
"If you look at contemporary Hawaiian stories you see a lot about tragedies, movies about Mauna Kea and the conflict there, Nai Aupuni, a lot of stories of Hawaiians being divided and not knowing where to go from where we are now, not knowing how to unite as a people," Noe says. In her film, lava and ocean—seemingly opposing forces of nature—learn they must work together to create our beautiful Islands. "When I write stories, it's with the mindset that, yes, there's a lot of turmoil going on, but also not forgetting about the nice things in our culture, where we live and creating movies that make people happy. I feel like the pool of contemporary stories needs more of a hopeful view."
From the industry connections made and encouragement found in their Native ShortsLab, an informal collective between the artists has formed. Independently, all three articulated a hope that one day Hawaii's entertainment scene will mirror that of New Zealand.
"We look to Maoris for a lot of inspiration in the arts and creativity," Mawae says, citing the groundbreaking 1994 drama "Once Were Warriors" by director Lee Tamahori, the film that put its filmmaking community on the map. "On that film, the producer was Maori, the director was Maori, the writers, the majority of the actors—all Maori. But, at the same time, 20 years ago, they already had Maori television going, Maori soaps and dramas, they're used to seeing themselves on screen, in films and television. We should be at a point where we have our own representation coming out from Hawai'i because there's enough material there. There's no reason Hollywood should be picking up our stories and casting George Clooney as our face."
"There's something about movies that make people pay attention," Chun says, "and, in a world where so many indigenous people feel voiceless, it's the perfect outlet with which to find an audience."
---
Join HAWAIʻI Magazine and The Surfjack Hotel & Swim Club on Thursday, December 1, as we talk with the next generation of Native Hawaiian filmmakers shooting short- and feature-length films in the Islands. More details here.