Mele Mei 2018: A monthlong celebration of Hawaiian music
Your event guide to where to go and who to see during Mele Mei.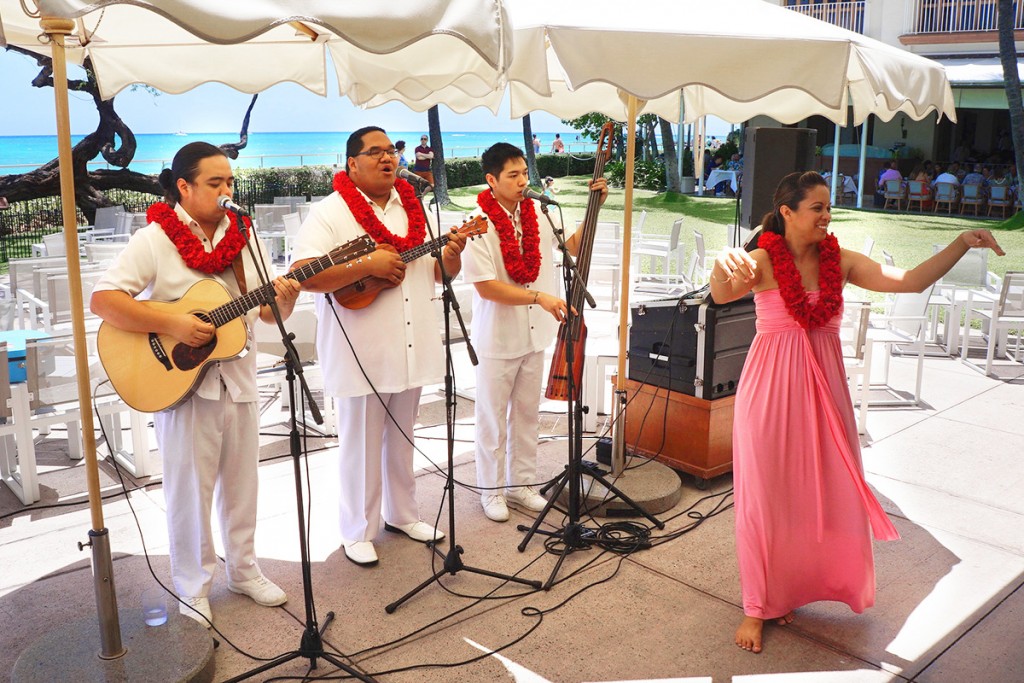 May means that Mele Mei, a monthlong celebration of Hawaii's music culture, is fully underway. And whether you're on Kauai, the Big Island or Oahu, find the local vibrations put out by Hawaii artists at one of the many Mele Mei events. With so many performances going on every weekend, check out our event guide, below, to see which venues on what days are going to be popping with those sweet Hawaiian jams.
OAHU
Mele Mei at Halekulani's House without a Key
A restaurant known for its dedication to Hawaiian culture and nightly performances, Halekulani's House without a Key will have local musicians on earlier in the day during the Mele Mei month. And, although the sun's still out, consider grabbing one of the restaurants classic mai tais to make your afternoon go even smoother. 5/13, 5/20, 5/27, noon to 2:30 p.m., 2199 Kalia Rd., Waikiki, Oahu, halekulani.com.
Mele Mei Kani Ka Pila Grille Concert Series
Already famous for its musical performers, this chill poolside bar and grill will be putting on a concert series during the month of May, featuring artists such as Brother Noland, Maunalua and Kupaoa. 5/13, 5/20, 5/27, 6 to 9 p.m., 2169 Kalia Rd., Waikiki, Oahu, outrigger.com.
Waikiki Shell Ekiden Concert
Leading up to the 2018 Honolulu Ekiden, a long-distance relay running race, Hawaii and Japanese performers unite to put on a show at the Waikiki Shell. Be sure to catch favorites, such as Kalapana, as well as big names from Japan, such as Sunplaza Nakano-Kun, at this bi-cultural event. 5/19, 2805 Monsarrat Ave., Waikiki, Oahu, hnlekiden.org.
41st Annual Na Hoku Hanohano Awards
This is it. Easily the biggest night for fans, followers and artists in Hawaii's music scene, the Na Hoku Hanohano Awards is where the stars shine. Awards, ranging from a broad array of categories, such as song of the year to most promising artist of the year, are given to local musicians. And of course, what's an awards show without an after-party? Stick around and keep the excitement alive as the Hawaii Convention Center keeps its doors open from 10:30 p.m. to 12:30 a.m. 5/19, 4 to 10 p.m., 1801 Kalakaua Ave., Honolulu, Oahu, nahokuhanohano.org.
2018 Honolulu Ekiden & Music at the Kapiolani Bandstand
Both runners and watchers will be graced with live music from Simple Souls, Uheuhene and Manoa DNA. 5/20, 8 to 10:30 a.m., 2882 Kalakaua Ave., Honolulu, Oahu, hnlekiden.org.
MAUI
Mele Mei Ma Maui at the Lahaina Banyan Court Park
Enjoy two full days of music, art and culture at the Lahaina Banyan Court Park. When you're not head bobbing to musical acts and live performers, be sure to take a walk down Front Street to check out what Lahaina's all about. 5/12–5/13, 9 a.m. to 5 p.m., 671 Front St., Lahaina, Maui.
KAUAI
Mele Mei Kauai
Enjoy food, drinks and, of course, live performances, at Kauai's historic Waimea Theater, a circa-1938 theater which screens new films and hosts live events. 5/26, 6:30 to 9 p.m., 9691 Kaumualii Hwy., Waimea, Kauai, waimeatheater.com.
HAWAII ISLAND
Mele Mei Hawaii and Hawaii Songwriters Concert
This one-day event celebrates the art of songwriting. When you're not connecting with local and visiting songwriters, listen to multiple Na Hoku Hanohano Award winner Mark Yamanaka, as he jams out on stage. 5/27, Kahilu Theater, 67-1186 Lindsey Rd., Waimea, Hawaii Island, kahilutheatre.org.
For more information, visit melemei.com.