Merrie Monarch Festival begins tonight. Watch it online.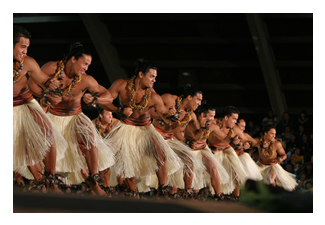 The 46th annual Merrie Monarch Festival kicks off tonight. For many hula halau (troupes), the festival is their Super Bowl. They spend much of the year practicing and preparing for this weekend.
Hundreds of dancers from around the world congregate to Edith Kanakaole Stadium in the Big Island town of Hilo for a weekend filled with arts, music and, of course, hula.
Hawaii TV network KITV will once again stream the hula competition online. If you have access to a TV set in Hawaii, you can, of course, watch the broadcast live on KITV Channel 4. This year's Merrie Monarch will be aired in high-definition, a first for the festival.
Tonight, April 16, is the competition for Miss Aloha Hula 2009.
On Friday night, you can watch kane (men) and wahine (women) halau perform in the kahiko (traditional) competition.
Saturday is the group auana (modern) hula competition. An emotional award ceremony closes the festival that evening.
It's not all hula, however. The festival sponsors an arts-and-crafts fair today through Saturday at Hilo's Afook-Chinen Civic Auditorium. On Saturday morning, the Merrie Monarch Royal Parade marches through downtown Hilo. Except for the hula competition, all events are free and open to the public.
Live coverage begins tonight at 6 p.m., Hawaii Time. That's midnight on the East Coast, 9 p.m. on the West Coast.
Here's the complete schedule (all times HST, add 3 hours for PDT, 6 hours for EDT):
Miss Aloha Hula: Thur., April 16, 6 to 11 p.m.
Hula Kahiko: Fri., April 17, 6 to 11 p.m.
Hula Auana: Sat., April 18, 5:30 p.m. to midnight