Merrie Monarch Festival hula competition begins. Watch it live online.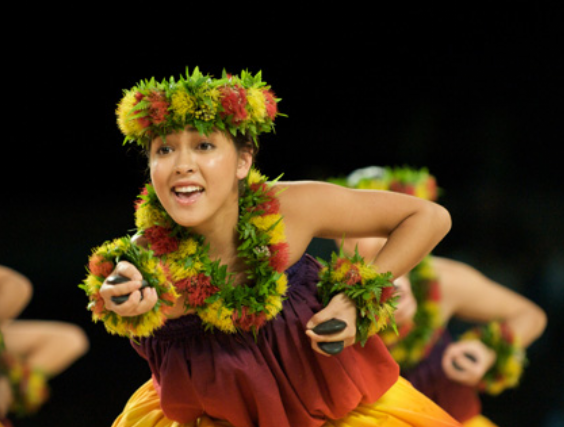 The 47th annual Merrie Monarch Festival kicks off tonight in Hilo. Tickets for the world's premier hula contest are sold out. But hula aficionados who can't make it to the Big Island festival can still watch the competition live from around the world on the web, or in high-definition television here in Hawaii.
Hawaii TV network KFVE will live stream every minute of Merrie Monarch Festival competition from Hilo's Edith Kanakaole Stadium on its website—www.k5thehometeam.com—over the fest's three nights.
Live coverage begins tonight with the Miss Aloha Hula 2010 competition at 6 p.m., Hawaii Standard Time (HST). That's midnight on the East Coast, 9 p.m. on the West Coast.
If you're here in the Islands, tune in to KFVE's high-definition broadcast of all three evenings of competition on channel 5.
Here's the complete Merrie Monarch Festival TV and online broadcast schedule for tonight, Friday and Saturday (all times are HST, add 3 hours for PDT, 6 hours for EDT):
• Miss Aloha Hula
Thurs., April 8
6 p.m. to midnight
• Hula kahiko (traditional hula)
Fri., April 9
6 to 11:30 p.m.
• Hula auana (modern hula) and Merrie Monarch Festival awards presentation
Sat., April 10
6 p.m. to 12:30 a.m.
If you miss the live broadcasts, KFVE will be posting video of all performances on its website the day after each evening's competition.
For the many hula halau (hula groups) arriving in Hilo from across the state and around the world, this year's Merrie Monarch Festival will be bittersweet. The dancers are dedicating their performances to the memory of the festival's two co-founders, George Naope and Dorothy "Auntie Dottie" Thompson.
Naope, 81, long revered in the Hawaiian community as a kumu hula (hula teacher), passed away last year on Oct. 26. Thompson, 88, who had served as the festival's executive director since its beginning, passed away on March 19 after a long illness. Barely a day after Thompson's passing, Rae Fonseca—one of Naope's best-known students and a fest-winning kumu hula in his own right—died suddenly after a hula performance on Oahu. Fonseca was 56.
Organizers quickly decided that the 2010 festival would not only go on as planned, but also honor the lives and teachings of these hula leaders.
The weeklong Merrie Monarch Festival events schedule also includes a Hawaii arts-and-crafts fair at the neighboring Afook-Chinen Civic Auditorium through Saturday, and the Merrie Monarch Royal Parade through downtown Hilo, also on Saturday, at 10:30 a.m..
All festival events, except for the hula competition, are free and open to the public.
For more information, visit the Merrie Monarch Festival's official website at www.merriemonarch.com, or KFVE's festival website at www.k5thehometeam.com.
UPDATE, 4/13/2010: And the winners are:
• Miss Aloha Hula 2010: Mahealani Mika Hirao-Solem of Hula Halau O Kamuela (Kalihi & Waimanalo, Oahu)
• Wahine hula auana (women's modern hula): Halau Kealaokamaile (Wailuku, Maui)
• Kane hula auana (men's modern hula): Ke Kai O Kahiki (Waianae, Oahu)
• Wahine hula kahiko (women's traditional hula): Halau Kealaokamaile (Wailuku, Maui)
• Kane hula kahiko (men's traditional hula): Ke Kai O Kahiki (Waianae, Oahu)
• Wahine overall winner: Halau Kealaokamaile (Wailuku, Maui)
• Kane overall winner: Ke Kai O Kahiki (Waianae, Oahu)
• Merrie Monarch Festival 2010 overall winner: Ke Kai O Kahiki (Waianae, Oahu)