Mix, shake and stir with the pros at the Halekulani's Art of the Cocktail weekend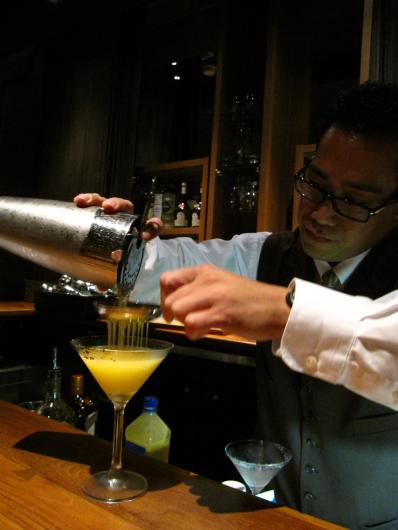 If you enjoy cocktails—and we mean REALLY enjoy cocktails, from taste to how they're crafted—it'll be a weekend of choices at the Halekulani hotel in Waikiki.
Tropical Hawaii cocktails by the Orchid Pool at House Without A Key? Or learn how to craft a few Island cocktails of your own, and other libations, from some of the best mixologists in the world at the Halekulani's first ever "Art of the Cocktail" weekend.
For cocktail fanatics, it's quite a schedule. Events at the Friday through Sunday event include cocktail parties with master mixers crafting their finest original cocktails, learn-how-to-mix master classes, cocktail and home bar discussions and an end-of-the-weekend Bloody Mary Brunch.
Among the cocktail cognoscenti on hand to host the weekend's cocktail parties and classes, chat with attendees and mix up a profusion of exceptional cocktails will be world-renowned master mixologists Dale DeGroff, Julie Reiner, Tony Abou-Ganim and Simon Ford, Halekulani head bartender Tim Rita and Hawaii cocktail consultant Chandra Lam.
On the Halekulani's "Art of the Cocktail" schedule:
Fri., Sept. 17
• Art of the Cocktail Kick-Off Cocktail Party

6-8 p.m.,
Hau Terrace, $125 per person 

Meet and talk story with the mixologists, while sampling their original cocktail creations, alongside appetizers, live jazz and an outdoor view of Diamond Head and the ocean at sunset.
Sat., Sept. 18
• The Evolution of the Cocktail

11 a.m.-noon, Garden Terrace, $40 per person
A panel discussion with 
Dale DeGroff, Julie Reiner, Tony Abou-Ganim and Simon Ford on the current state of the cocktail arts and expectations for the future. These group is opinionated and erudite, so expect a lively discussion.
• Gin: The Noblest Spirit of Them All?
12:15-1:15 p.m., Kalia Room, $40 per person
Simon Ford gives an overview of the history of gin and hosts a tasting of five gins, while Julie Reiner mixes up a few classic and modern gin cocktails.
• Tequila: The Treasured Agave Distillate

1:30-3 p.m., Garden Terrace, $40 per person
Same concept as the gin class above, but with Dale DeGroff and Tony Abou-Ganim talking up the story of tequila, pouring five tequilas for tasting and mixing tequila cocktails. Bonus? Learn how to make the perfect margarita.
• Island to Island

3:30-4:30 p.m., Kalia Room, $40 per person
Julie Reiner and Simon Ford show off cocktail creations utilizing Island ingredients and flavors (he: representing the U.K., she: representing Hawaii) They craft. You taste. As you might expect given the island theme, we're seriously excited about this class.
• Stocking and Tending Your Home Bar 

5-6 p.m., Kiawe Room, $40 per person
Tony Abou-Ganim reveals everything you need to know to make cocktails as great as the pros … in your home—from the bar tools you'll need to ingredients to spirits to mixers and how to use them. At the end of class, you show Tony how much you've learned by mixing up your own mojitos and margaritas.
• Cocktail Palooza

8 p.m.-midnight, Lewers Lounge, menu prices apply
The weekend's full cast of mixologists take turns behind the Lewers Lounge bar to craft their signature cocktails and talk story.
Sun., Sept. 19
• Bloody Mary Brunch

11 a.m.-1 p.m.,
 Hau Terrace
, $75 per person
No pre-mixed Bloody Mary cocktails here. Instead, the Halekulani provides the glassware, spirits and all the ingredients you'd ever need (and a few you may have never thought of) to make your own signature Bloody Mary. The experts will be on hand for guidance. A three-course brunch should further calm any nerves.
Reservations are required for all events, except "Cocktail Palooza"; call the Halekulani at 931-5040 for reservations and more information.
Can't make it to Waikiki this weekend? Just for our HAWAII Magazine readers, we asked three of Art of the Cocktail's master mixologists—each with considerable Hawaii connections—to share recipes for an original cocktail they'll be making at this weekend. You'll find the tasty Island-inspired cocktail recipes—crafted by Dale DeGroff, Julie Reiner and Tim Rita—by clicking on the links below:
• Pacific Swizzle by Julie Reiner
Cheers!
Yuzu Bee
By Dale DeGroff
Consistently praised by his peers as one of the world's finest mixologists, Dale DeGroff previously assisted the Halekulani in recasting all of the resort's cocktail menus with a nod toward natural ingredients, fresh-made syrups and classic preparation. Bonus? He makes the best mai tai you'll ever taste. Dale's Yuzu Bee Cocktail matches a extremely smooth silver tequila with the tart of fresh lime and yuzu, the tempered sweetness of honey syrup and a bite of fresh ginger syrup.
1 1/2 oz. silver tequila (Dale recommends Don Julio Blanco)
3/4 oz. mixture of half lime juice, half yuzu juice
3/4 oz. mixture of half honey syrup, half ginger syrup
1/2 fresh shiso leaf
Grated lime rind
Combine first four ingredients in a Boston shaker, add ice and shake well.
Strain into a chilled cocktail glass.
Garnish with grated lime rind and a thin lime wheel.

Honey syrup recipe:
Dissolve two parts honey into one part pure water.
 

Ginger syrup recipe:
3 cups water, divided
1/2 cup coarsely chopped peeled fresh ginger
1/3 cup fresh lime juice
1 tbsp finely grated lime peel
1/4 cup golden brown sugar
Thoroughly blend 1 cup of water and ginger in blender.
Boil remaining 2 cups of water.
Add ginger-water mixture, lime juice and lime peel to boiling water.
Remove from heat, cover and let steep for one hour.
Add sugar and stir to dissolve. Strain syrup into bowl, and chill until cold
Pacific Swizzle
By Julie Reiner
Hawaii-raised Julie Reiner is one of New York City's most-lauded mixologists and bar owners (Pegu Club, Clover Club, Flatiron Lounge), and a go-to cocktail expert in print and on TV. Her newest lounge, Lani Kai, will bring a welcome slice of Hawaii-style flavors to midtown Manhattan, when it opens at the end of the month. We're already booking a Gotham flight. Her Pacific Swizzle takes some prep work, but rewards with a refreshing commingling of fresh lime juice, lilikoi puree and tea-infused rum over crushed ice that tastes like summer in Hawaii all year long.
2 oz. tea-infused white rum (Julie recommends Flor de Cana 4 year rum)
3/4 oz. simple syrup
1/2 oz. lime juice
1/4 oz. lilikoi (passion fruit) puree, or passion fruit concentrate (or substitute: 3/4 oz. passion fruit juice)
Add ingredients into a collins glass, then add crushed ice.
Swizzle cocktail, add more crushed ice, then swizzle again.
Top glass with crushed ice and garnish with an edible flower.

Tea-infused rum recipe:
1 oz. bag Tazo Passion Tea

10 oz. white rum
Add tea bag to rum in a porous container and let sit for 30 minutes, then remove tea bag and funnel rum back into bottle.
To infuse a full liter bottle of rum, use 4 tea bags. To infuse a 750ml bottle of rum, use 3 tea bags.
Simple syrup:
Combine 1 cup sugar and 1 cup water in a medium saucepan. Bring to a boil, stirring until sugar dissolves.
Island Lava
By Tim Rita
Tim Rita is a fixture at Hawaii and national cocktail competitions, where he has won or placed highly with his inspired original creations. Spend a few hours at the Halekulani's Lewers Lounge with Tim behind the bar and you'll be dazzled by his skills at matching fresh Hawaii-grown produce (pineapple, lilikoi, guava, etc.) with just about any type of spirit. He gets seriously fresh with his Island Lava cocktail, too, combining tequila with the light sweetness of lilikoi syrup, the spice of homemade Hawaiian chili pepper-infused simple syrup and fresh calamansi juice. A black sea salt rim adds a crisp kick to accompany the sip, and if pondered long enough, begins to look a lot like lava rock.
2 oz. reposado tequila
1/2 oz. Cointreau
1 oz. Hawaiian chili pepper-infused simple syrup (or substitute: habanero)
Splash of lilikoi (passion fruit) syrup
3 or 4 calamansi, cut in halves (or substitute: two 1/8 wedges fresh lime)
Black sea salt
Muddle both syrups and calamansi halves in the mixing glass of a Boston shaker.
Add tequila and ice, cover shaker and shake.
Rim edge of a martini glass or old fashioned glass with black sea salt.
Double strain into black sea salt-rimmed glass.
Hawaiian chili pepper-infused simple syrup:
Combine 3/4 cup sugar to 1 cup water in a medium saucepan. Bring to a boil, stirring until sugar dissolves. Add two slightly bruised Hawaiian chili peppers then stir and let cool. Refrigerate for a day or two, tasting occasionally to determine heat. When heat is satisfactory to your taste, strain the syrup into another container, making sure chili peppers and seeds are strained out.