Modern island designs for anyone who loves Maui
Maui Thing's colorful, iconic graphics celebrate its home island, Wailuku hometown and the aloha spirit.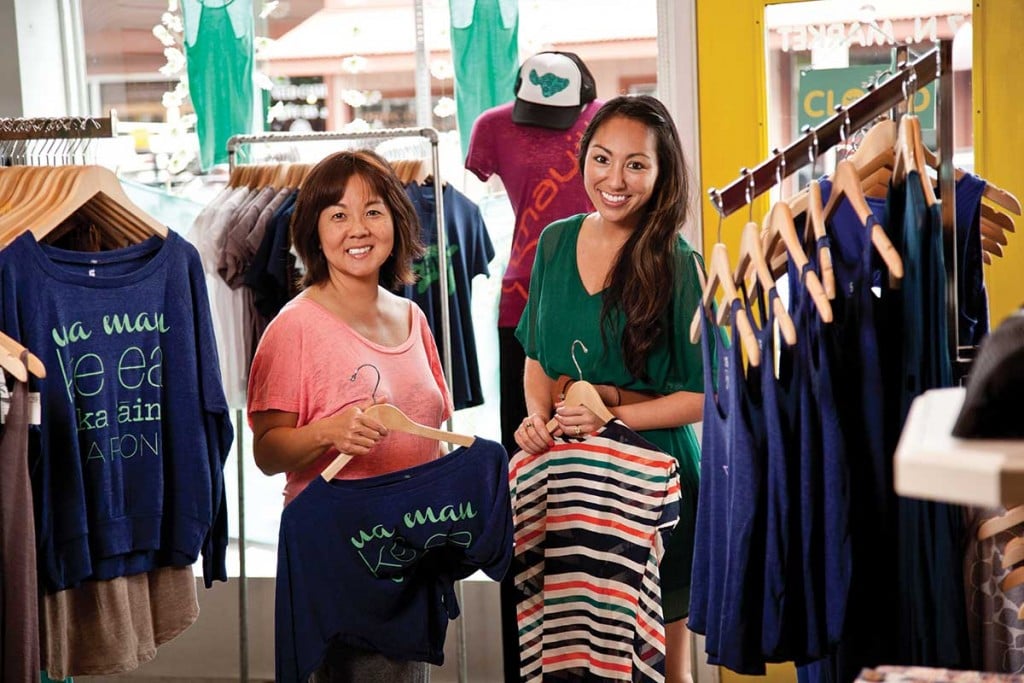 It takes a moment before I see the outline of the island of Maui in the octopus logo of Maui Thing, and then, of course, there it is—I can't not see it anymore.
I'm standing just inside the doorway of the Wailuku-based casualwear company's retail store and the tentacled logo is everywhere, slithering from tank tops to tote bags, ball caps to dresses, evoking the brand's motto of determined positivity, "Stuck on Good." The hidden silhouette is an inside joke for the eagle-eyed, but also a sly call-out to Maui Thing's spiritual muse: the island itself.
Maui Thing has grown from trendy startup to a powerhouse of Island apparel, barely keeping up with demand for its shirts, bags and dresses, all screened with its upbeat slogans and iconic, Maui-infused designs.
"Everything is inspired by something good on Maui," says marketing manager Ashley Takitani, who also contributes a handful of designs to the collection. "It's thoughtful and design-focused. We try to get the message across visually rather than just slapping words on a shirt."
The pohaku (stone) print on a flowy Maui Thing women's top, for example, was taken from a sketch of an ancient rock wall in nearby Iao Valley. A pattern on a men's T-shirt sleeve was designed by a Polynesian tattoo artist next door to the store. Perennial Maui Thing bestsellers include cropped tank-tops emblazoned with Hawaii's state motto (Ua mau ke ea o ka aina i ka pono, or "The life of the land is perpetuated in righteousness"), "Maui Girl" and "Maui Boy" T-shirts, and a children's line featuring images of endangered native wildlife.
If there's a secret to the store's success, it might be that Maui Thing serves up an antidote of inclusion versus the "Locals Only" and "Grown Here Not Flown Here" scowl of other Island-pride logo wear. The designs don't so much sniff, "I'm from Maui," as they proclaim, "I love Maui."
"Our goal is really to show how special Maui is, how wonderful the people are and how our culture is connected to everyone—not just people who grew up in Hawaii, but everyone who loves the aloha spirit," says Maui Thing president Saedene Ota, also the brand's principal designer.
Founded in 2007 by Ota, principal of Maui graphic design firm Sae Design, and Takitani, a longtime family friend, Maui Thing was initially conceived as a fun side project to keep Ota's stable of designers creatively engaged.
But after a year of selling shirts out of the Sae Design office, Ota and Takitani could no longer keep up with demand. The result was the opening of Maui Thing's Wailuku retail store in 2008.
Tucked in a corner building on Market Street, the store is bright, airy and awash with beach-reminiscent color and a casual Island vibe. Surfboards on the walls sport Maui Thing decals. The women modeling the brand's latest collection in photographs are actually family and friends. Ringing up a purchase, retail manager Lesley Cummings suddenly realizes she can't remember where she left her shoes.
"We just walk around barefoot," she laughs, "and sometimes I forget."
While the designers find diverse inspiration from around the island—one print depicts a surfboard fence that's a landmark in the Upcountry Maui town of Haiku—Maui Thing's hometown of Wailuku is where the brand's heart and soul reside. It's where Takitani, Ota, Cummings and most of Maui Thing's designers grew up, and it seems to have a special significance to customers.
"One designer did a shirt of the Wailuku Bridge," Ota says, of a locally well-known overpass. "And it's just so simple. A simple icon with the (Wailuku) zip code. But it's one of our bestsellers for men. They love the shirt, and they just have a deep connection to that bridge."
Nestled in the cool foothills of the West Maui Mountains, Wailuku has been a settlement since ancient times, and the seat of county government since 1905. Today it's not only the center of the island's civic life, it's also ground zero for a movement to revive and celebrate Maui's historic small towns.
A series of recent community workshops gathered ideas on how to revitalize and rebrand the town, and monthly Friday night street parties started by Wailuku merchants on Market Street are now duplicated in the towns of Makawao, Kihei and Lahaina.
Maui Thing jumped on the Wailuku Friday Town Parties bandwagon early. It was the first merchant to sponsor a live band at the parties—held on the first Friday of every month—and hosts regular pop-up concerts in the store after hours. A free, monthly keiki art workshop provides materials and gentle guidance to budding designers.
While the events provide some foot traffic for the store, Takitani says they're more about giving back to the town that has given them so much.
"We're all from Wailuku," she says. "We want to see it grow and thrive. We would be here over anywhere else."
Maui Thing
7 N. Market St., Wailuku, Maui, (808) 249-0215, www.mauithing.com.