Molokai-2-Oahu Paddleboard World Championship's 32-mile races set for Sunday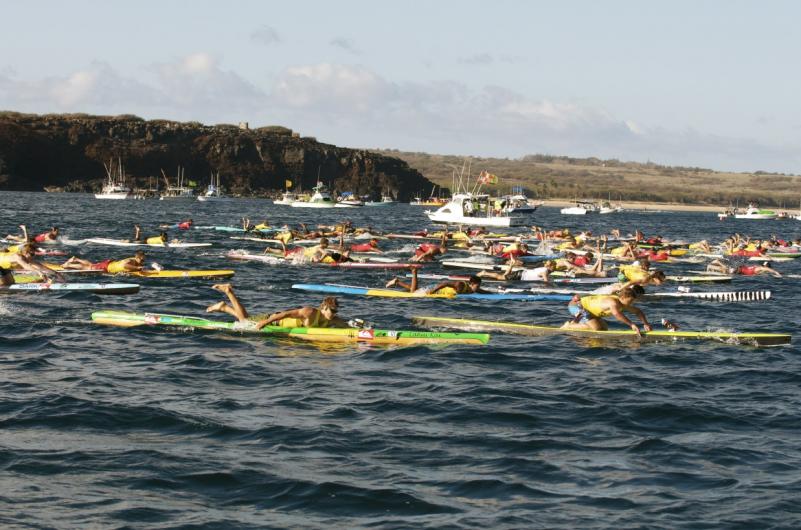 At sunrise his Sunday, July 31, scores of world-class athletes will be stretching and pacing about on a Molokai beach, checking their paddleboard gear and keeping an eye on the weather.
There will be a pre-race pule (prayer) at 7 a.m. Thirty minutes later, the 15th annual Molokai-2-Oahu Paddleboard World Championship (M2O) is expected to get under way. More than 250 athletes on both prone and stand-up paddleboards (SUP) — competing in solo and team races — will attempt the 32-mile, open-ocean crossing of the famously unpredictable Kaiwi Channel, also known as the Molokai Channel.
Facing potentially treacherous currents, powerful swells and a depth of nearly one kilometer, paddlers can ride swells for hundreds of yards in this race. Some of the fastest athletes will complete the crossing in just under five hours.
Competitors will be racing as a solo paddler or as part of a team in either the unlimited class (no size-limit for the board with a movable rudder system) or stock class (12 feet or under for paddleboard, 14 feet or under in SUP with fixed rudder).
The race record for the crossing, from Molokai's Kaluakoi Beach (north shore) to Oahu's Maunalua Bay Beach Park (south shore, near Hawaii Kai), is held by Jamie Mitchell, 34, of Australia. In 2004, he completed the crossing in 4 hours and 45 minutes.
On Sunday, Mitchell (pictured, above – on green-yellow board) will be racing for a record 10th consecutive Molokai-2-Oahu Paddleboard World Championship title in the men's solo prone division. If successful, he will be the first athlete to join surfing legend Kelly Slater as a Quiksilver 10-time world champion.
In a press release issued by the event's organizers, Mitchell said: "The Molokai Channel is my Everest. I've given it 10 years of my life. I've done the preparation, and I'm looking forward to putting it all to work. The Molokai is one of those races where you can't afford to slack off on anything — hydration, nutrition, the course, your fitness, your equipment. You've got to piece it all together and they need to be right on key on the day."
A member of the Quiksilver Waterman Collection team, Mitchell is a multi-discipline ocean athlete who is also involved in the arenas of big-wave riding, stand-up paddling and surfing, and water safety and life-guarding.
Among the women competing, Kauai resident an eight-time Molokai-2-Oahu champion, Kanesa Duncan, made her entry to the race's hall of fame in 2004 by setting the current women's record time on a stock paddleboard, 5 hours and 53 minutes.
Live race updates will be broadcast on Facebook and Twitter. A race day expo will be held near the finish line, 10 a.m. to 4 p.m. on Sunday, at Maunalua Bay Beach Park. For additional information about the event, click here.