Molokai Hoe island-to-island outrigger canoe race happens Sunday. Watch it live online.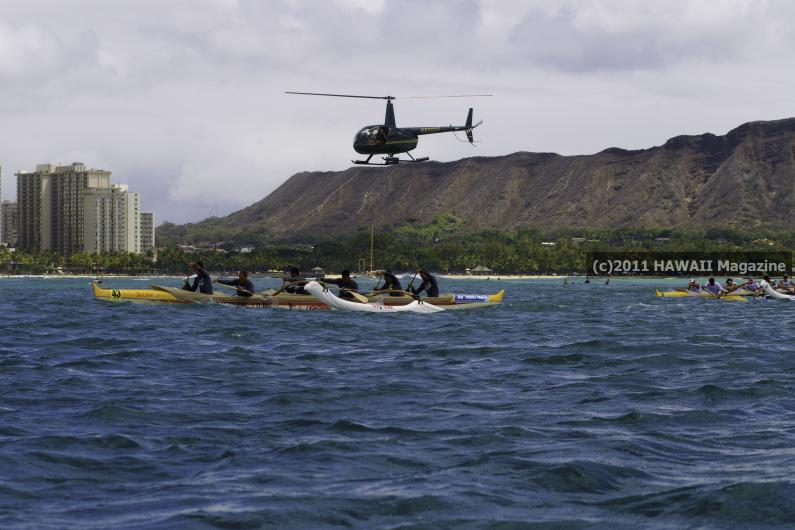 The 26-mile-wide Kaiwi Channel, which separates Molokai and Oahu, is one of Hawai'i's most unpredictable sea passages even in ideal weather conditions.
Trade winds on the channel can be too light or too intense—at times, both on the same day. Strong currents have been known to sweep small watercraft far off course. Toss in swells as high as 30 feet and you've got the perfect recipe for a rough day on the ocean.
Sound like the perfect location for one of the world's most prestigious and challenging open-ocean canoe races? It is.
The Molokai Hoe Molokai-to-Oahu outrigger-canoe race is considered by many competitive paddlers to be their sport's ultimate challenge. Hoe is the Hawaiian word for paddle or the act of paddling. Each October, paddling teams from Hawai'i and around the world—more than 1,000-plus participants in all—haul their single-hulled, six-man canoes to west Molokai's otherwise quiet Hale o Lono Harbor for the 41-mile race to Waikiki's Fort DeRussy Beach.
The Molokai Hoe will hold its 60th competition on Sun., Oct. 9. If you're on Molokai, you can watch its dramatic start at 8 a.m. from Hale o Lono Harbor. On Oahu that day? Head down to Waikiki's Fort DeRussy Beach midday to see which canoe reaches the beach first. If you're not on either island on Sunday, catch some of the best views of the Molokai Hoe—on the water, and in the air—streaming online at www.molokaihoe.com.
"If you're an Ironman, you do Kona," says five-time Molokai Hoe finisher and U.S. Men's Kayak Sprint National Team member Patrick Dolan, name-checking the famed granddaddy of triathlons, annually held the same weekend as the Hoe. "If you're an outrigger paddler, you've got to do the Molokai Hoe."

The first Molokai Hoe was held in 1952 with just three canoes in competition, each with six men paddling the full length of the race. Six decades later, it remains a men-only event despite increases in annual Molokai Hoe participants and paddling's growing worldwide popularity as a sport. A women's Kaiwi Channel race, the Na Wahine o ke Kai, established in 1979, is held annually two weeks before the Molokai Hoe.
Interestingly enough, other requirements are few. With divisions for novices and seasoned pros, the Molokai Hoe does not require paddlers to complete qualifying races before entering.
Year-round training and preparation, however, is highly advised. Shorter distance-training races are held from March through August. Paddlers often train in the water two to three times a week, while on other days adding running and weightlifting to the mix.
With the open-ocean portion of the race largely inaccessible to most spectators, Molokai Hoe fans typically gather at Hale o Lono Harbor for the competition's start and along O'ahu's southeast shore to catch its finish. The canoes depart en masse from Molokai at 8 a.m., each with six paddlers completing an intense 20- to 30-minute sprint before switching places with paddlers waiting on an escort boat. The switch, known as an "ocean change," repeats several times until canoes reach the finish line.
The ocean change is one of the most dangerous parts of the race. Radically shifting ocean swells coupled with the wakes of hundreds of other canoes and escort boats can limit paddlers' sight lines and make it extremely difficult to complete the switch.
"The first change is absolute chaos," Dolan says. "Last year, (Kauai native) Luke Evslin got cut up by a motor prop." The expert paddler had jumped from his escort boat just as a wave hit it, sending the boat over him. The propeller struck his back, deeply severing his skin and nearly killing him. He has since recovered.
As paddlers adjust to the day's conditions, subsequent change-ups are considerably less chaotic.
Some four hours after start time, the first wave of canoes passes spectators on Oahu as they move past Hanauma Bay, Diamond Head and Waikiki toward the finish line. Crews take anywhere from 4.5 hours to eight hours to complete the race. Last year's winning team, Shell Va'a from Tahiti, finished in 4 hours, 38 minutes, 50 seconds.
Competitive crews typically save their biggest adrenaline rush for the finish line. Because the canoes steer varying routes on the Kaiwi Channel, paddlers often see rivals for the first time on the race's final stretch. That's when, Dolan says, the "burn" really starts setting in.
"Diamond Head is where a lot of the race begins," he says. "It's a grind to the finish for the last few miles. By the end, you're dying tired."
But what an end it is. At the finish line, paddlers are greeted by hula dancers and cheering crowds. "There's so many people on the beach," says Peter Caldwell, a multirace finisher and author of the book, Molokai-Oahu: Through the Years, a history of the Molokai Hoe. "We get lei and food. Everybody has stories." Not to mention, even more respect for the race's rugged, unpredictable Kaiwi Channel venue, which most paddlers concur no one ever really conquers.
Says Caldwell, "The ocean and channel are way stronger and more powerful than you are. You are at the mercy of the ocean and the conditions each time you're out there."