More catching up with HawaiiMagazine.com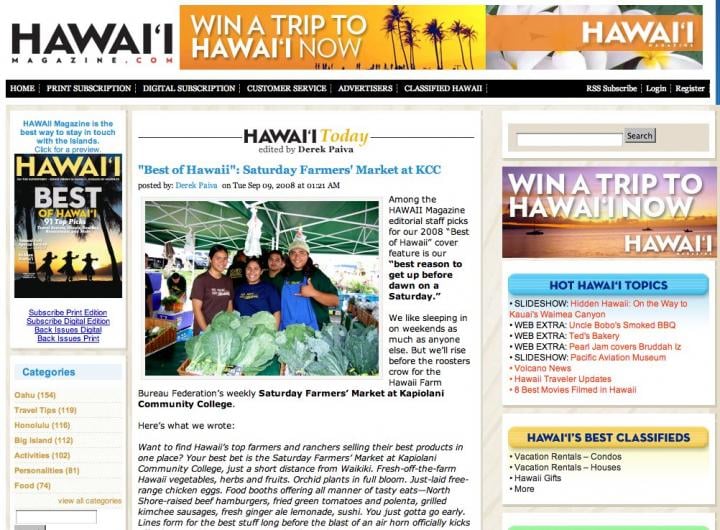 It's time to catch up with our Web posts again!
Whether you're new to
HawaiiMaga-
zine.com or one of our regular visitors, we know how it is. Sometimes you miss two, or even a whole week's worth, of our daily posts while they're still on the homepage.
A couple months back, we brought some of our best posts of 2008 back to the homepage—as links—for our readers who may have missed them. That first "best of " post proved such a hit, we decided to catch you up again—this time with our favorite posts since then.
We've put together more than 375 posts in total so far this year—all of 'em still here at HawaiiMagazine.com. Short features on Hawaii's people, places, and products. Travel tips. Videos. Slideshows. Lists. And countless updates on all of the activity at Kilauea volcano.
You could click "next entries" at the bottom of the home page, or search by month using the "Hawaii Today Archives" links in the left column.
But let's make it easy. Click the links below to catch up with HawaiiMagazine.com's favorite recent posts:
Lava lake revealed roiling below Kilauea volcano
8 Tips for sun protection in Hawaii
The Great HAWAII Magazine POG-Off!
Hidden Hawaii: On the way to Waimea Canyon
Searching for Hawaii's coconut pies
VIDEO: Ash burst at Kilauea volcano plume
Hundreds show up for "Lost" casting. I audition, sort of.
Exploring the Pacific Aviation Museum at Pearl Harbor
Char's Chopsticks: Uncle Bobo's Smoked BBQ
It's still Obama-rama in Hawaii
Library luau cheers 50 years of Hawaii statehood, 365 days too early
Road trip: Driving to North Kohala and back
Hawaii's explosive new beaches. Hold the surfboard. Bring a camera.