Musical group, The Rough Riders, conclude national tour at Hawaii Theatre on Friday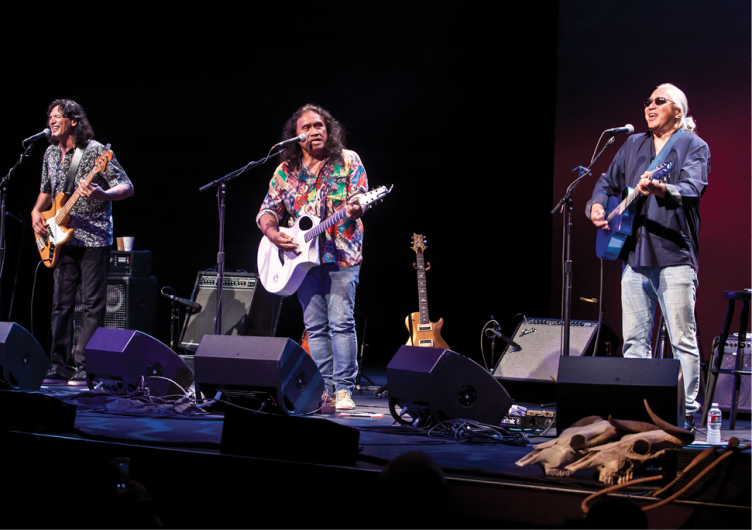 The Rough Riders, comprised of legendary Hawaiian singer/songwriters Henry Kapono, John Cruz and Brother Noland, are concluding their "We Ride" tour at the iconic Hawaii Theatre on Oahu this Friday. The trio has decades of recording and performing experience, spanning musical genres of Jawaiian (Jamaican-Hawaiian), folk, slack-key, rock 'n' roll and jazz, while entertaining multiple generations with a huge catalog of classics. All three of these artists are Na Hoku Hanohano award winners and play different styles of music, so nobody knew if The Rough Riders would work when they first formed the group earlier this year.
"We didn't play any music for the first couple of months when we got together," says Henry Kapono. "We sat down, talked to each other, got to know each other and then a couple of months later we picked up the guitars and started playing … You know, you got to make that inside connection before you can start doing anything outside and I think it worked really well."
You can hear The Rough Riders' connection in "Waimanalo Blues," the first single off their self-titled, six track EP. It's a modern, Mumford and Sons sounding approach to a classic Hawaiian song originally written by Liko Martin.
"I know Liko Martin and it's a great song," explains Kapono. "It's a classic, you know? But I just wanted to do it a little different because it's a new time and new age and I wanted to push it. I like to push stuff forward, it's what I do with my music."
While The Rough Riders music is moving forward, the group's name is a nod to the past. According to Kapono, the band's name is a tribute to the legendary paniolo (Hawaiian cowboys) that shocked the world in 1908 by winning titles in the world championship of rodeo in Cheyenne, Wyoming.
With no future gigs booked yet, Friday night at Hawaii Theatre may be the last time for awhile to see The Rough Riders perform. They play some of each individual artists' past hits at their show, but the new music they're making is something uniquely Hawaiian and contemporary that is worth hearing live.
"It's amazing," admits Kapono, "we're putting out some stuff that we don't really know how good it is, but it feels good and people love it."