National Park entry fees to be waived tomorrow to mark National Public Lands Day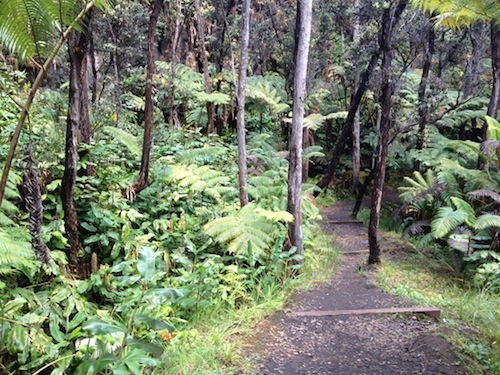 Entrance fees at nearly 400 national parks, including Hawaii Volcanoes National Park located on Big Island, will waive entrance fees in recognition of National Public Lands Day on Sat., Sept. 29. The nationwide event is recognized as the largest single-day volunteer effort supporting public lands. 

In addition to free admission, the Hawaii Volcanoes National Park will host two volunteer projects and a guided hike of a new trail in the Kahuku area. Here are some highlights.
• Save Halemaumau Trail — Park rangers, with the help of volunteer workers, will attempt to remove the intrusive kahili ginger plant (pictured, below) from the parks historic Halemaumaa Trail (pictured, above). Work will get under way at 10 a.m. and continue through late afternoon. For more information about meeting places, or what to pack click here.
• Kipuka Aki
hi Stewardship — Volunteers are invited to help protect the forest by pulling non-native invasive plants. Participants must be fit enough to take on a challenging 1.5 mile hike through fallen trees, lava rocks, and slippery terrain. Work will start at 10 a.m. and continue into late afternoon in the Kahuku section of the park. For more information about stewardship click here.
• Guided hike of new Palm Trail — A guided hike of Kahuku's new Palm Trail is set to start at 9:30 a.m. The relatively easy 2.6-mile loop will take hikers through scenic pastures to some of the best panoramic views Kahuku has to offer. For more information about the hike, click here.
Hawaii boasts a total of eight national parks, with five on the Big Island and one on Maui, Molokai and Oahu, respectively. Three regularly charge admission: Hawaii Volcanoes, Haleakala National Park on Maui and Puuhonua o Honaunau National Historical Park on the Big Island. Admission is always free at the other five: Ala Kahakai National Historic Trail (Big Island), Kaloko-Honokohau National Historic Park (Kailua-Kona, Big Island), Puukohola Heiau (Kawaihae, Big Island), Kalaupapa National Historical Park (Molokai), and World War II Valor in the Pacific National Monument (Pearl Harbor, Oahu).
In all, there are 397 national parks, which include: national historical parks, national historic sites, national historic trails, national monuments, and, yes, national parks. For more information on special offerings at parks nationwide, click here.