New farmers' market in Haleiwa aims to be Oahu's first to go "all-green"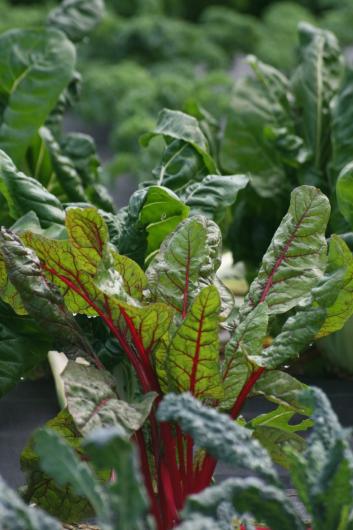 The thought of waking up early on a Sunday and heading to the quaint Oahu north shore town of Haleiwa generally holds serious appeal only for surfers and beachgoers. Starting this weekend, you can add fresh produce devotees to the mix.
The Haleiwa Farmers' Market is set to debut this Sunday morning, April 5, at 9 a.m. When a conch shell is blown signaling the market is open for business, patrons will be treated to some of the freshest locally grown produce from the North Shore and around Oahu.
More than 40 vendors representing many of Oahu's farms and business will be there. A market café, educational demonstrations, kids' booth, musical acts and a performance by a local hula halau should keep people well fed and entertained.
Still, what separates this farmers' market from others here is its singular commitment to the environment. Striving to be Oahu's first completely green farmers' market, it will be completely solar-powered and absent of non-renewable materials. Vendors will use bio-compostable plates and utensils, which are later composted back into the Earth. Leftover produce and food will be given to area farms to feed livestock.
The market encourages a BYOSB—bring your own shopping bag—policy. However, free bags will be provided to the first 500 customers at the opening day celebration.
"I think we are doing something very unique," says co-manager Annie Suite of the market's focus on sustainability.
The market is the brainchild of Suite and Pamela Boyar. Boyar is no stranger to running a farmers' market. She founded the Sunset Valley Farmers' Market in Austin, Texas, which was recognized during her tenure one of the top farmers' markets in the country by Audubon and Eating Well magazines. Boyar was named Farmers' Market Director of the Year from the North American Farm Direct Marketing Association in 2005.
A resident of Haleiwa since 2006, Boyar long desired to open a farmers' market showcasing the North Shore's produce and goods. Boyar's and Suite's hard work—along with the efforts of dozens of Oahu's farmers—finally takes center stage this Sunday.
Haleiwa Farmers' Market will be open every Sunday at 9 a.m. You'll find it at the traffic signal where old Kamehameha Highway (Haleiwa's two-lane main drag) and Haleiwa Bypass Road intersect. Parking is free. For more information call (808) 388-9696, or click here.
Want a farmers market closer to Honolulu? The Saturday Farmers' Market at Kapiolani Community College isn't all-green. But it was our HAWAII Magazine 2008 BEST OF HAWAII choice for "best reason to get up before dawn on a Saturday." Click here to read about it and view a slideshow.