New Kauai boutique hotel opens with deals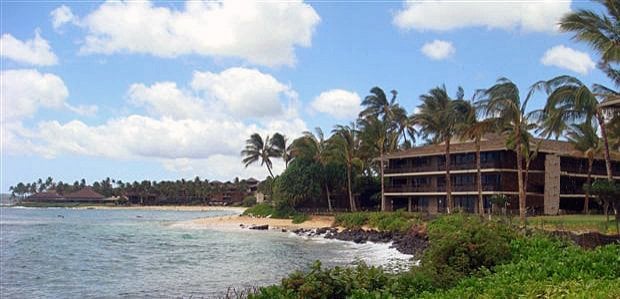 The site of the one of the oldest hotels on Kauai, the Poipu Beach Hotel, officially resumed business this week as a boutique hotel: the Koa Kea Hotel & Resort. There are grand opening specials, see below.
Koa kea, or white coral, is a symbol of rebirth in Hawaiian mythology—a fitting name for a property that slipped into relative obscurity during the last 17 years.
In 1992, the Poipu Beach Hotel closed following the devastation of Hurricane Iniki. It was one of three Poipu hotels to shut down due to the hurricane, along with the Sheraton Kauai and the Stouffer Waiohai.
The Sheraton Kauai reopened in 1997. The Stouffer was transformed into time-share resort Marriott Waiohai Beach Club in 2004.
The Poipu Beach Hotel, however, sat abandoned, until Florida-based CTF Hotels purchased the property with the intent of upgrading the space. Even then, delays in renovation and permit processing pushed back the hotel's opening.
The hotel—part of the Preferred Hotels & Resorts collection—has 121 rooms and suites with HD cable television and high speed internet, among other amenities. Normal rates start at $395 nightly.


But here's the good news: To celebrate the opening, the hotel is offering a special $299 a night rate for garden-view rooms. Guests can also receive a free upgrade to the next room category by paying the standard rate. For example, purchasing a garden-view room will automatically qualify you for a partial ocean-view room. For more information click here, or call (877) 806-2288.
The hotel also boasts a spa that uses natural Island ingredients such as seaweed, pineapple and red Kauai clay. While the hotel's new restaurant, Red Salt, is generating serious buzz, largely due to the leadership of Executive Chef Ronnie Sanchez, formerly of Michelin-star winning restaurant El Bulli.