New Kauai burger joint offers all the latest Japanese food crazes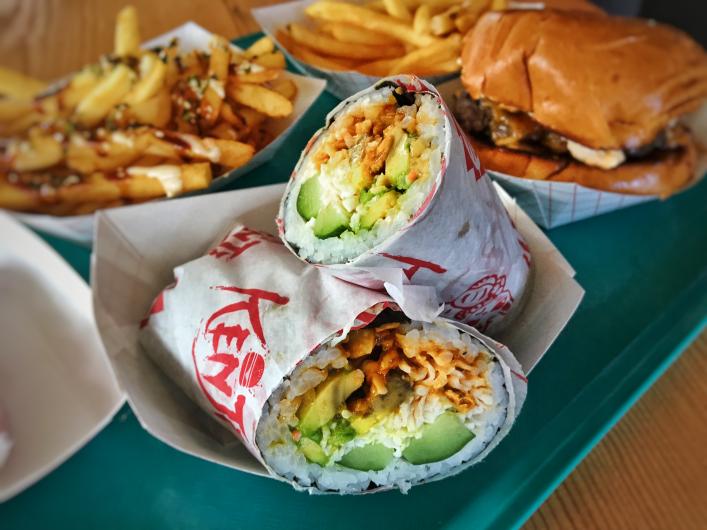 Kauai's got a new burger joint like you've never experienced before in Kenji Burger.
From shave ice and musubi to the customary removal of slippahs before entering a home, so many of Hawaii's cherished foods and traditions originated from Japan. Add another to the list: a sandwich of grass-fed beef served on a taro brioche sweet bun and generously drizzled in teriyaki and ponzu aioli. It's like Hawaii meets Japan, and together they crash your favorite burger joint.
The Kenji Burger is the signature menu item at Kauai's new Japanese-influenced grill by the same name. Located about 10 minutes east of Lihue Airport, the self-seating restaurant skillfully combines the comfort and convenience of American fast food with the zestful flavorings of Japan—plus a few artful Hawaiian touches.
Kenji Burger's other selections of handcrafted burgers include more ingredients common to Japanese kitchens, such as shimeji mushroom and pickled ginger. And, of course, there is pineapple slaw, because it wouldn't be Hawaii without some sort of pineapple infusion.
"Every burger that we have has some kind of Japanese twist to it," says Kenji Burger owner Erik Tanigawa. "That's something that Kauai never had. But we also stay true to Hawaii by using local beef and pineapple."
Of course, Kenji Burger offers more than just burgers. There are rice bowls featuring chicken katsu or misoyaki fish ($7–8), furikake fries ($4) and what Tanigawa calls The Lucky Cat Drink: A lychee-flavored Japanese soda decorated with a maneki-neko (the quintessential Japanese symbol of good fortune), which comes in the form of a caricature of a cat with one raised paw. According to Tanigawa, Kenji Burger is Hawaii's only vendor of this unique soda import.
Kenji Burger also offers its own take on one of the latest Japanese food crazes to take over America: the sushi-rito. If you're unfamiliar, the sushi-burrito compound is just as you'd imagine—a giant, burrito-sized sushi roll. Quite literally, it is the two foods combined.
"It's like the Mexican burrito meets Japan, and it's perfect for lunch on the beach," Tanigawa says.
Kenji Burger's sushi burritos come stuffed with shrimp tempura, crab meat, spicy tuna, cucumber, avocado and a secret sauce. Or, for vegetarians and vegetable lovers, there's a sushi burrito filled with nothing but fresh, seasonal vegetables.
---
Kenji Burger is open from 11 a.m. to 8 p.m. Monday through Saturday. The restaurant, which celebrated its grand opening in August, is centrally located off Kuhio Highway in Kapaa, across the street from Foodland. Indoor and outdoor patio seating is available.