New Maui restaurant from Hawaii Regional Cuisine pioneer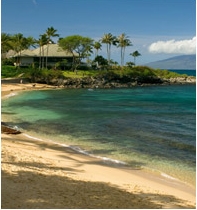 "It was a location we couldn't pass up," says Hawaii chef and restaurateur Peter Merriman of the new Kapalua Merriman's.
The location is the Bay Club of the old Kapalua Bay Hotel, now gone, making way for the Ritz-Carlton Club and Residences, still under construction.
It was always a perfect restaurant location, out on the point of Maui's Kapalua Bay, surrounded by palm trees, tiki torches and ocean on three sides. You can sit in the open air dining room or (on a day when Kapalua is less windy than usual) outside by the ocean.
Merriman is well known for his Big Island Merriman's in the ranching town of Waimea, and for his insistence on eating local.
Try the beet salad. Don't like beets? These are grown less than a mile from the restaurant on an organic farm, topped with Surfing Goat Dairy goat cheese, from the slopes of Haleakala. They will change your mind.
Look for Maui-grown beef and lamb, mahimahi caught only by trolling, and butter-poached Big Island lobster.
For more on Merriman (right) and his insights into Island cuisine, see HAWAII Magazine's annual Food and Drink issue, out in July. (Haven't gotten around to subscribing yet? Click here and don't miss this delicious issue.)