New news from Kilauea: "Never been seen before"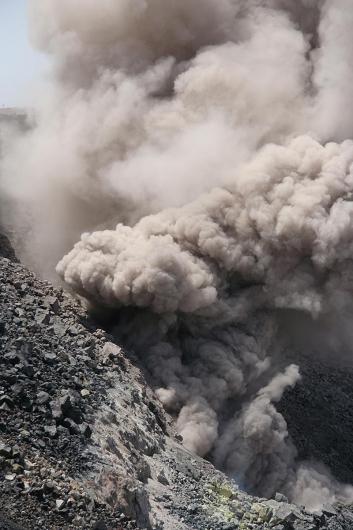 We always knew Hawaii volcanoes were unprecedented.
Hawaiian Volcano Observatory geologists have been analyzing the steam and gas plume that's been gushing from Halemaumau crater at the summit of Kilauea since March 11th.
They've found something they didn't expect: the H2O in their test tubes is not from ground water. It's been released from the molten subterranean magma itself.
They're calling it "juvenile water," and it's never been seen before anywhere on the planet, says Jim Kauahikaua, chief scientist.
There was more good gas news, released today at a press briefing on the edge of the crater.

Levels of toxic sulfur dioxide at the summit are six to ten times greater than before the eruption—bad news for anyone downwind, especially anyone with respiratory problems.

The good news? Sulfur dioxide reacts with sunlight and the atmosphere and soon breaks down. So all those folks living on the Kona Coast have little to be concerned about. Sure, they can see the haze—and that's no fun. But they can breathe a sigh of relief that there's little SO2 in the air.
In addition, there's cultural fallout from the on-going summit eruption. The annual Merrie Monarch Hula Festival—the world's most prestigious hula competition—begins in four days and lasts for a week.

Traditionally, each hula halau (troupe) visits the rim of Halemaumau to honor fire goddess Pele. That won't be possible this year.
So the staff at Hawaii Volcanoes National Park is making other arrangements for the dancers. "We're going to have other areas where they can come and be escorted by park rangers," said park superintendent Cindy Orlando today.
Hawaii County mayor Harry Kim added that his staff is doing likewise down at the coast, where dancers will come to pay their respects next to the flowing lava still entering the sea.