New Sherbet Shop in Honolulu is All About Local Flavors
Asato Family Shop specializes in frozen treats that spark childhood memories of growing up in Hawaii.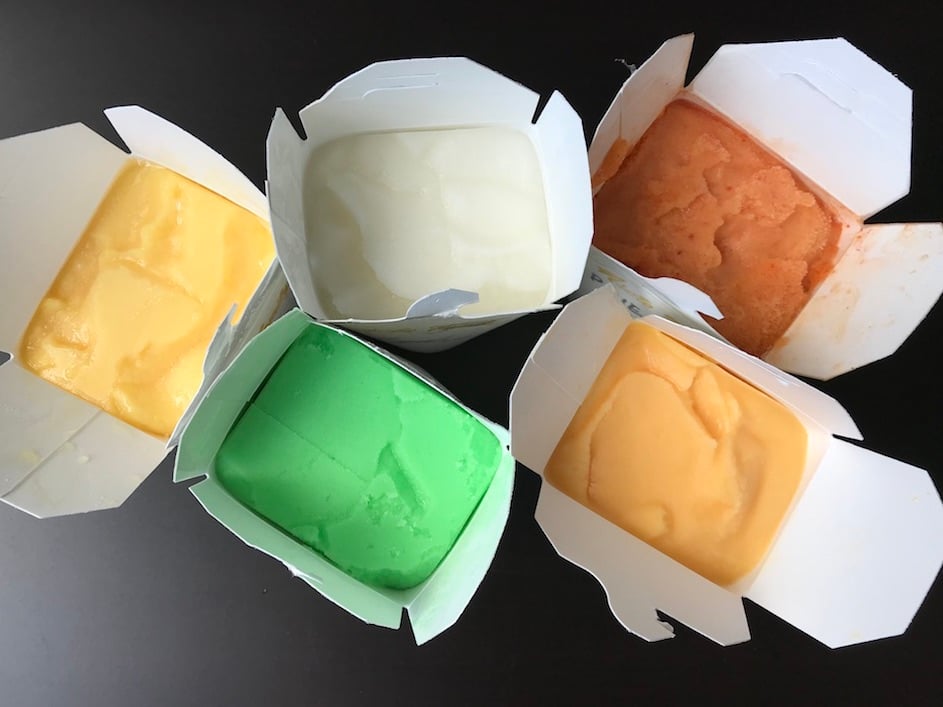 If you grew up in Hawaii, you'll instantly remember these flavors. And if you didn't, you'll instantly love them.
Asato Family Shop, which opened a new brick-and-mortar shop near Downtown Honolulu last month, is all about nostalgic flavors of sherbet.
Owner Neale Asato, who has worked in various kitchens in Honolulu and ran the cafeteria at the John A. Burns School of Medicine, draws flavor inspiration from his childhood in the Islands. He frequented Maui's Tasaka Guri-Guri as a kid, enthralled (like many of us) by the creamy texture of this frozen treat, a cross between sherbet and ice cream.
SEE ALSO: Cool Down with These Sweet Hawaii Treats
He spent more than five years perfecting the flavors and textures of his sherbet and sorbet, launching his line of frozen deliciousness last year. His sherbets are available by monthly subscription—$36 for 6 pints—or, twice a week, at the shop's new retail space in Downtown Honolulu. On any given day, you'll find sherbet in flavors many of us remember from childhood: lychee-flavor Calpico (a Japanese milk drink), Green River, White Rabbit candy, pickled mango and honey lemon peel.
Asato almost always has classic strawberry, pineapple and Green River flavors available but rotates the others. In recent months, he has served peppermint hot chocolate, mango, Pink Starburst, matcha, s'mores, passion orange, yuzu (a Japanese citrus), grilled pineapple, calamansi mojito, chocolate gummy bears and, most recently, raspberry truffle. He's come up with more than 40 flavors in total so far.Our favorite, though, is the Li Hing Float, a blend of strawberry sherbet and vanilla ice cream flavored with li hing powder (a salty dried plum), reminiscent of the li hing Icee floats we grew up devouring from crack seed stores. It's sweet, tart, creamy, salty perfection.
View this post on Instagram
Asato Family Shop is celebrating the grand opening of its Honolulu location on Feb. 17 with a release of new flavors likely to spark more tasty memories. We can't wait.
1306 Pali Highway, Honolulu, 10 a.m. to 2 p.m. Sundays, 11 a.m. to 1 p.m. Wednesdays, asatofamilyshop.com