New trailer for Hawaii-filmed "The Descendants" packed with enticing Island images. Watch it here.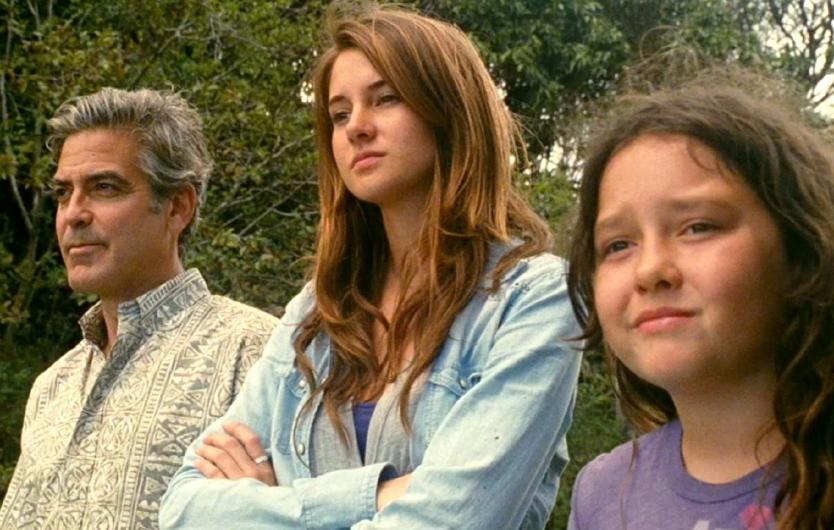 In the just-released movie trailer for The Descendants, you'll see a flustered-looking George Clooney running in slippahs down a damp residential street in a leafy Oahu neighborhood.
Other Hawaii scenery tucked into the 2:15-minute clip range from glimpses of canoes gliding along the Ala Wai Canal near Waikiki and South Kohala's lava fields on the Big Island to stretches of sandy beaches edging Kauai's Hanalei Bay.
Several weeks of filming for the dramedy starring Clooney (
pictured, above and below
) and directed by Alexander Payne (
Sideways
), wrapped up on Oahu and Kauai
about a year ago
. So, we had been wondering when it would turn up on the big screen. According to Fox Searchlight Pictures, which released the trailer today, the film is slated to open in movie theaters on Dec. 16.
Spoiler alert: A few plot details about the film are disclosed in the next few paragraphs.
Based on the best-selling novel by Hawaii writer Kaui Hart Hemmings, The Descendants follows the story of Matt King (Clooney) — a wealthy landowner, husband and father of two girls — who is forced to reexamine his life and relationships in the after his wife is severely injured in a boating accident near Wakiki.
A descendant of a 19th-century Hawaiian princess and a haole (Caucasian) banker, King struggles to deal with his wife's grave comatose condition while also learning that she had been having an affair.
In the film, King's home is in Nuuanu, a 15-minute car ride from Waikiki. Part of the storyline involves King, and his daughters, traveling to Kauai to find his wife's lover.
Shailene Woodley (The Secret Life of the American Teenager, ABC television series) and Amara Miller (both pictured, top photo) star as King's daughters. The film also features Beau Bridges, Robert Forster, Michael Ontkean and Judy Greer. Payne was nominated for an Oscar for directing Sideways, which won the 2005 Oscar and Golden Globe for best screenplay.
Check out the new trailer and let us know what you think of The Descendants, based on it. Click on the frame below to watch the clip. Then sound off with a comment on our HAWAII Magazine Facebook page.