NFL Pro Bowl returning to Hawaii in 2011, 2012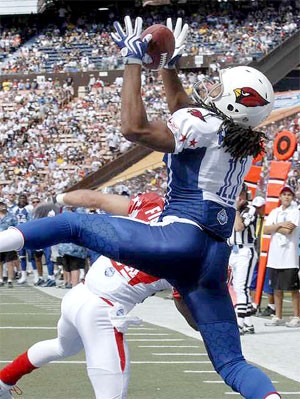 After weeks of suspense and heated negotiation between Hawaii tourism officials and the National Football League, the Pro Bowl will return to the warm winter weather of Hawaii after all.
The Hawaii Tourism Authority (HTA) voted this morning to accept the NFL's latest offer to bring the Pro Bowl back to Oahu in 2011 and 2012.
The HTA vote was 9-1 in favor of bringing the game back. The board will pay the NFL $4 million annually for the rights to host the annual all-star game at Aloha Stadium.
In December, the NFL announced that the Pro Bowl would be leaving Hawaii in 2010 for Dolphin Stadium in Miami, Fla., site of next year's Super Bowl—the first time in 30 years that the game would not be played here.
HTA and NFL officials have been negotiating since that decision was made to bring the game back to the Islands. Both sides had been deadlocked on terms of the deal.
Last week, the HTA rejected an NFL proposal similar to the one approved today. The NFL turned down HTA's proposal to rework the deal. But both sides were compelled to reach an agreement, facing mounting pressure from Hawaii state government officials, residents, fans and even NFL players who want the Pro Bowl to remain in Hawaii.
The NFL also agreed today to consider returning the Pro Bowl game to the Sunday after the Super Bowl, the date the all-star game has traditionally been played. Along with the move to Miami, the 2010 Pro Bowl is scheduled for the week before the Super Bowl. The NFL hopes that doing so will revive waning national interest in the game.
A big reason Hawaii state government officials want the game to remain here? Money, and lots of it. Last month's Pro Bowl generated $28.6 million in spending and $2.9 million in taxes for the state in tough economic times.
The game has attracted sellout crowds annually for its entire 30-year run in Hawaii.