Nine Endangered Species In Hawaiʻi Likely Extinct
The U.S. Fish and Wildlife Service proposes listing 23 species as extinct, including nine from the Islands.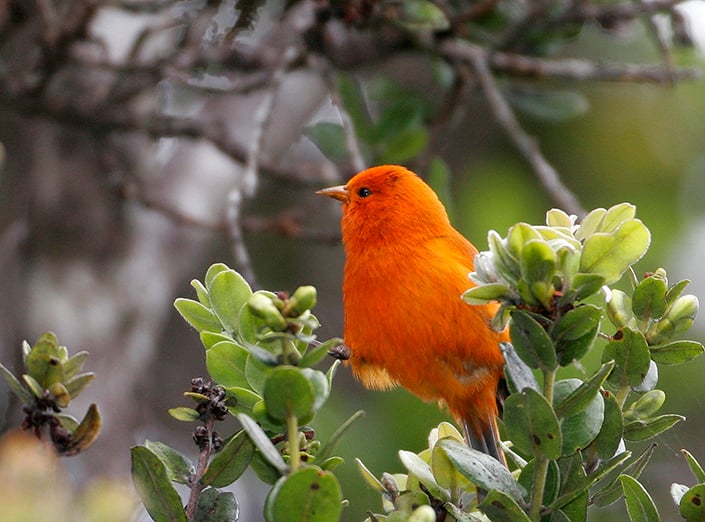 Hawaiʻi has long been considered the endangered species capital of the world, as the Islands are home to hundreds of endangered and threatened plants and animals.
On Wednesday, the U.S. Fish and Wildlife Service proposed delisting nine more Hawaiʻi species from the Endangered Species Act—meaning, wildlife officials will stop searching for them.
The nine—eight birds and one plant—are:
Kauaʻi ʻakialoa, a Hawaiian honeycreeper with a long, curved bill that lived on Kauaʻi
Kauaʻi nukupuʻu, an insect-eating Hawaiian honeycreeper from Kauaʻi
Kauaʻi ʻōʻō, a forest bird with a sweet, bell-like call, endemic to Kauaʻi (see video below)
Kāmaʻo, a large thrush, small and endemic to Kauaʻi
Maui ʻākepa, a dusty-green Hawaiian honeycreeper with a slight quivering whistle
Maui nukupuʻu, a Hawaiian honeycreeper that lived in high-elevations forest in Eastern Maui
Kākāwahie, a scarlet-red honeycreeper found on Molokaʻi
Poʻouli, or black-faced honeycreeper, endemic to Maui and lived in the wetter, easternmost part of the island
Phyllostegia glabra var. lanaiensis, a species of flowering plant in the mint family that was last seen on Lānaʻi in 1914
While there are several factors behind the disappearance of the federally protected 23 species on the list—which includes Arkansas' ivory-billed woodpecker, little Mariana fruit bat from Guam and the flat pigtoe, a freshwater mussel found in southeastern U.S.—wildlife experts point to climate change—a warming planet—as a major cause.
Many of these species were likely extinct, or almost so, by the time the Endangered Species Act passed in 1973.
Since the passage of the act, 54 species in the U.S. have been removed from the endangered list because their populations recovered, while another 48 have improved enough to move from endangered to threatened, including the nēnē, or Hawaiian goose. So far, 11 listed species have been declared extinct.
The wildlife service will accept public comment for the next 60 days and a final judgment will be published on Dec. 29.