Oahu's bus system introduces 1-day passes
TheBus ditches transfer slips, good news for riders who want to see more of the island.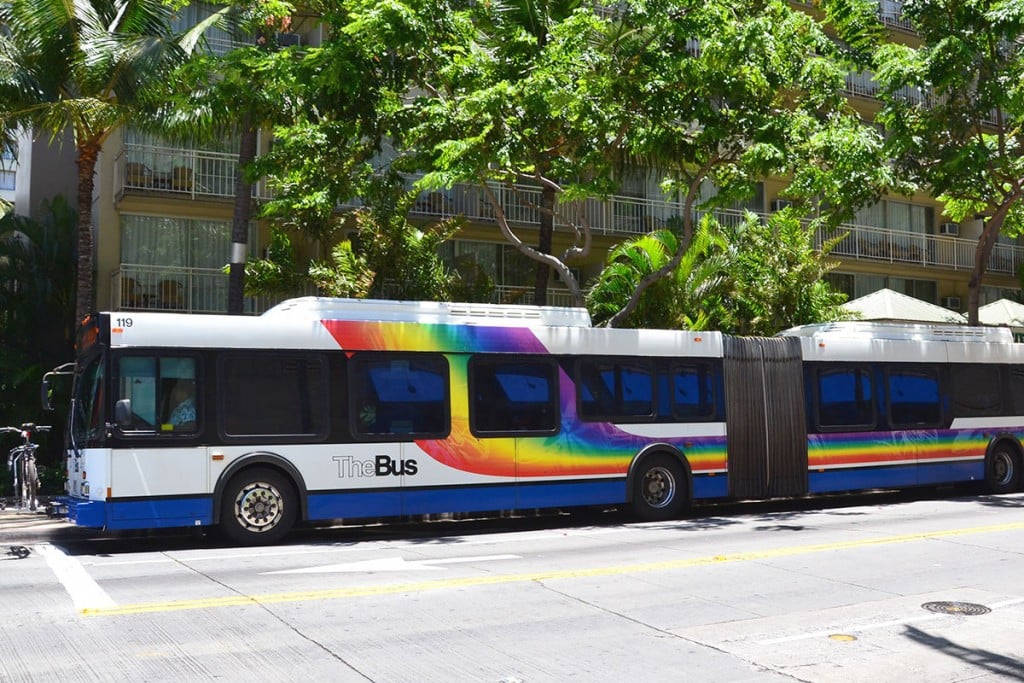 Remember transfer slips? Those torn pieces of paper allowing you to jump on another bus, free of charge. Well, they are now a thing of the past. As of October 1, TheBus on Oahu discontinued those multicolored tickets and introduced a 1-day pass. If you're looking to ride the bus without transferring, prices will remain the same, $2.50 for adults and $1.25 for children.
If you're planning to catch multiple busses in one day, however, the 1-day pass costs $5 for adults and $2.50 for children and can be bought on TheBus. This pass will allow commuters to take unlimited rides for a 27-hour period: From midnight of the current day to 2:59 a.m. the following day.
Although riders who only need to transfer once may feel miffed, no longer having to deal with your transfer ticket expiring in two hours is a blessing. It's a golden ticket if you're looking to explore Oahu on public transit.
Here are just a few ways you can use the new 1-day pass to experience Oahu with your own public chauffeur.
North Shore Bound
The drive down to the North Shore, filled with expansive pineapples fields and views of the North Pacific, can be a wonderful experience. However, stop-and-go traffic and constant road work can be a pain. If you want to see the sights without the hassle of driving, just catch the 52 northward from Downtown or Ala Moana Center. Be sure to stop at some of the towns on the way to the North Shore. The route makes its way through Mililani, which has a friendly farmers market every Sunday, and Pearl City, home to Pearlridge Center, one of Oahu's largest malls. You can take this bus all the way to Haleiwa, the North Shore's famous surfer town.
Take it Downtown
Depending on where you are, a variety of busses (2, 19, 4) will take you down to Honolulu's hustle-and-bustle downtown district, where parking is scarce and paid lots might drain your wallet. On your way down, you'll get to see some of Oahu's modern and historic architecture, as well as the skyscrapers in the financial district. Once you've arrived, acquaint yourself with the many chic cafés that have found their home in downtown Honolulu, like Brue, Aroma Caffe and Kai Coffee. If a day of bussing has left you hungry, wait for a table at The Pig & The Lady or drop by Storto's Downtown for a quick grab-and-go sub.
Diamond Head + Waikiki + Kahala Coast = 22
If you're looking to see Oahu's south shore, look no further than the 22 bus route, also called the "Beach Bus." Starting at the Ala Moana end of Waikiki, this route serves as the optimal way to jump from one end of Kalakaua Avenue to the other, avoiding the sweltering heat and long walks. If you stay on the 22, it will take you along Diamond Head cliffs, where you can make your way down to Diamond Head Beach Park for a quick jump in the water. Finally, the 22 will mosey down Kahala Coast, showing snippets of picturesque coastlines between grand houses and gated communities. Explore Kahala Mall or ride through Hawaii Kai all the way out to Hanauma Bay (closed on Tuesdays), Sandy Beach and Sea Life Park.
For more information, bus schedules and routes, visit thebus.org.