Oahu's Nisshodo Candy Store is the Spot for Handcrafted Japanese Sweets
The tiny store has crafted its locally famous Japanese confections since the 1920s.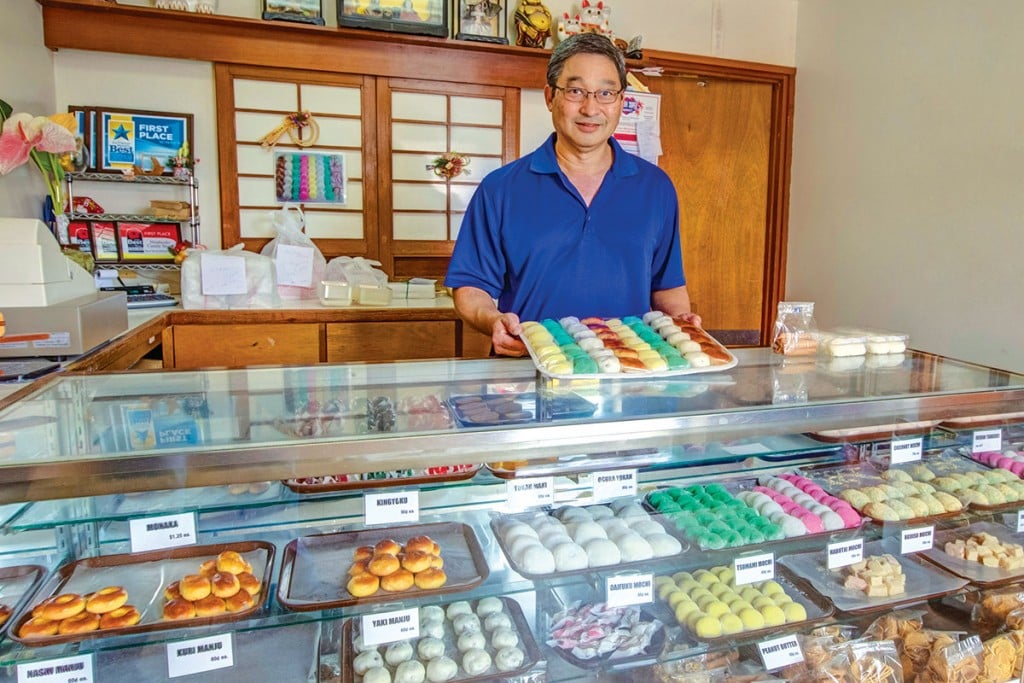 The phone in Mike Hirao's office is ringing off the hook. He doesn't answer it.
"I bet this person wants chichi dango," he says, eyeing the noisy phone.
It's 3 p.m. on a Thursday. Nisshodo Candy Store has been open since 7 a.m. The shop is an hour from closing. And the Japanese mochi dessert Hirao speaks of, made from a sweet rice flour known as mochiko, is sold out for the day. Again.
Tucked away in a warehouse in the urban Honolulu commercial and residential neighborhood of Kalihi, Nisshodo Candy Store creates and sells one of the most sought-after versions of the soft, sugary, pink-and-white treat. Can't make it to the tiny, 90-year-old candy store early enough in the day, or place your order ahead of arrival? No chichi dango for you, my friend.
"We sell out of chichi dango pretty much every day," says Hirao, 62, a retired banker and third-generation owner of the family-run candy store.
Workers at Nisshodo Candy Store craft chichi dango and other traditional Japanese candies and confections the same way the Hirao family has for decades: largely by hand. The store has maintained its loyal, multigenerational Oahu customer base, and demand for its candies, by sticking to that tradition. Nisshodo's chichi dango recipe and method of preparing it predates the history of the shop itself.
On a visit to his hometown of Hiroshima a century ago, Asataro Hirao, Mike's grandfather, learned how to make chichi dango from a local candy maker. Upon returning to Honolulu, Asataro began crafting his own recipe for the treat using local ingredients. A few ingredients have since been substituted as companies have gone out of business over the years, but Asataro Hirao's chichi dango recipe remains basically the same.
Chichi dango is made daily at Nisshodo Candy Store. Other popular mochiko rice-flour confections include those filled with sweet azuki bean paste, such as manju (for which the flour is kneaded into dough and baked) and mochi (with the flour pounded into a chewy paste), made from scratch weekly.
Nisshodo does a steady business every day. But the store is annually at its busiest in the days before March 3, when Girl's Day is celebrated statewide.
"That's when our production triples, or more," says Hirao, of the shop's candy orders. "Right now, we're at the point where we can't produce it fast enough."
Girl's Day, or Hinamatsuri, is a centuries-old day of celebration on which Hawaii families of Japanese descent pray for the happiness and prosperity of their female members—daughters, mothers, grandmothers and so on. The celebration was first brought to Hawaii by Japanese contract laborers who arrived in the Islands in the late 19th century to work on sugar and pineapple plantations.
Girl's Day celebrations include the custom of setting up elaborate, multitiered doll displays called hina-ningyo—figurine collections begun for daughters at birth, originally symbolizing Old World feminine values such as tidiness and docility. More common in modern Hawaii Girl's Day celebrations, however, is the serving of traditional holiday foods—in particular, hishi mochi, a three-layer, diamond-shaped mochi dessert colored white (for purity and the color of winter snow), pink (representing spring flowers and energy) and green (exemplifying summer and fertility).
While Hinamatsuri in Japan has been replaced with Children's Day on May 5—traditionally, Boy's Day—Girl's Day continues to be celebrated in Hawaii, albeit more with sweet mochi and other confections than doll collections.
On Girl's Day, Nisshodo Candy Store still makes lots of celebratory hishi mochi and ramps up its usual chichi dango, mochi and manju production, filling orders received as early as January. By the end of February, Hirao stops taking Girl's Day mochi and chichi dango orders entirely.
"We don't want to kill ourselves," he says, laughing.
A few processes related to creating Nisshodo's chichi dango have changed over the decades. The Japan-made vertical mixer, in use since Nisshodo first opened for business was recently replaced. A few other parts of the process have been mechanized, too. And about half of the shop's confections are now sold to third-party Honolulu retailers such as Shirokiya and Marukai Wholesale Mart as opposed to Nisshodo's walk-in customers.
Still, Nisshodo Candy store largely operates in much the same way it did when Asataro Hirao opened shop, producing thousands of pieces of colorful chichi dango, mochi and tasty manju daily with just shy of a dozen workers. Every now and again, Hirao still sneaks some chichi dango from the workers for himself.
"Only the mistakes," he says with a smile.
Since opening, Nisshodo Candy Store has moved twice, survived dock strikes and hurricanes, and weathered economic storms, but business remains strong.
"We've been fortunate. We have loyal customers," says Mike Hirao. "It's mostly been word of mouth. But, after 90 years, people kind of know you're around."
To Hirao, the chichi dango and other traditional Japanese confections his family's store produces are more than just sweet treats.
"More than anything else, they are part of the Japanese culture," he says. "They bind people together … It's important to continue the tradition."
Nisshodo Candy Store
1095 Dillingham Blvd., Suite I-5, (808) 847-1244, nisshodomochicandy.com.