Of gods and plate lunches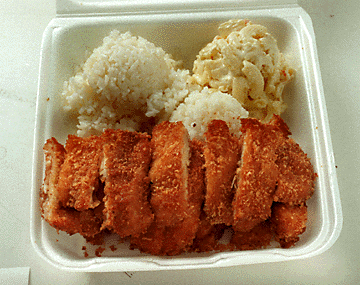 It raised our eyebrows.
The Corvallis, Ore., Gazette-Times published a piece called "The Buzz: Holy Hawaii!" Its reporter, Jake Tenpas, was just back from a trip to Maui and the Big Island.
Tenpas took it upon himself to make up a few new Hawaiian gods. Lokikapi, who sneaks giant cockroaches into your bedding. Wakiluau, patron diety of macaroni salad. Mamamana, goddess of sea turtles. And Papalui, the god of traffic congestion and ridiculously low speed limits.
On the phone, we asked the reporter if he'd gotten any grief for the piece. "No," he said. "Did you call to give me any?"
We pointed out it's at least bad manners, if not outright insensitivity, to play light and loose with Hawaiian culture. And mentioned how much trouble Celebrity Cruises found itself in, when it ran an ad of King Kamehameha's statue holding a champagne glass. "I can see that," said Tenpas.
Others might, but we didn't give him much grief at all. He said he meant well, and had gotten his introduction to "real Hawaiian culture" at his favorite restaurant in Corvallis, called Local Boyz—where he orders No. 23, the sweet and spicy chicken plate with rice and macaroni salad.
You can read Jake's piece here. But don't say we didn't warn you.