Oiwi Film Festival showcases cinema of indigenous Hawaiian filmmakers, Nov. 8-13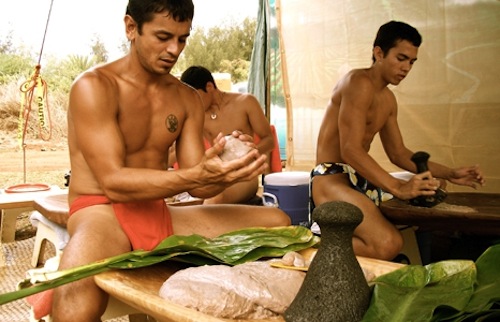 In 2010, Hawaii flimmaker Ann Marie Kirk launched the Oiwi Film Festival as a venue for indigenous Hawaiian filmmakers to showcase their work.
Three years later, the festival has become a vital annual event for local filmmakers and aficionados of their work, celebrating Hawaii's burgeoning film culture while providing a platform to tell cinematic stories from a Hawaiian perspective.
The fourth annual edition of Oiwi Film Festival kicks off this Fri., Nov. 8, running through Wed., Nov. 13 at the Honolulu Museum of Art's Doris Duke Theatre.
The opening night of this year's festival will feature the debut screening of E Haku Inoa: How to Weave a Name, a documentary by filmmaker Christen Hepuakoa Marquez about her quest to discover the history of her lengthy Hawaiian name, as given to her by her schizophrenic mother. Opening night festivities preceding the screening will include live music, a Hawaiian food buffet and docent-led zip tours of the exhibitions Ponoiwi: An Installation by Kapulani Landgraff and Jean Charlot: Hawaiian Drummers, both in the Honolulu Museum of Art's newly reinstalled Arts of Hawaii Gallery.
Still from
Let's Play Music: Slack Key with Cyril Pahinui & Friends
Other films set for screenings during the six-day festival include Let's Play Music: Slack Key with Cyril Pahinui & Friends, which follows the slack-key guitar virtuoso (and son of pioneering Hawaii musician/vocalist Gabby Pahinui) as he reminisces about his lineage and the future of ki hoalu (slack-key) music; and Kalo Culture, an intimate documentary about the pounding of kalo (taro) and how it transforms a family. The fest will also feature a Short Film Showcase on Nov. 12 and 13, and a panel discussion Hawaiian Storytelling from a Hawaiian Perspective, on Nov. 10.
Tickets for the Oiwi Film Festival's Nov. 8 opening night reception are $35 for general public, $30 for museum members. The ticket price includes the buffet, screening and zip-tours. Tickets for individual film screenings throughout the festival schedule at Doris Duke Theatre vary. Admission to the Hawaiian Storytelling panel discussion is free.