How to Make the Most Your One Day on Maui
Your guide to where to eat, what beaches to visit and how to relax on the Valley Isle with just 24 hours.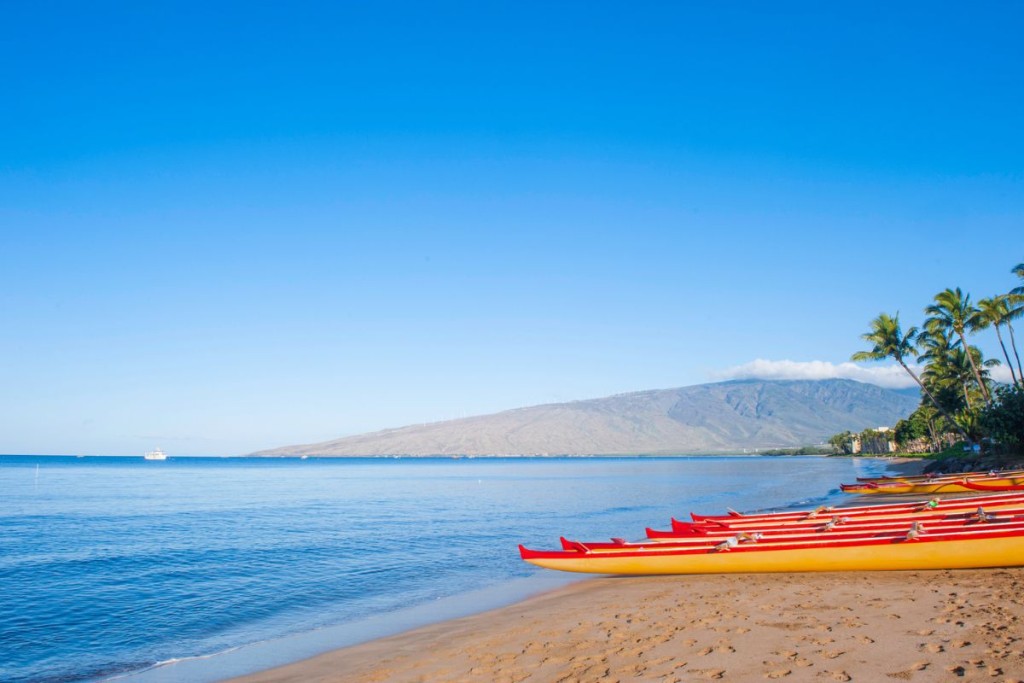 From pristine beaches and verdant rainforests to renown restaurants and all the hidden gems in between, there's a week's worth of exploring on Maui. But sometimes, you just fall short on time. So, for those with only a day to spend on the Valley Isle, here are a few pointers and recommendations to experience the most of Maui in 24 hours.
The first tip: forgo the drive to Hāna. While the scenic trip and destination are beautiful—and in every guidebook and blog—it will consume the entire day. Hāna is just one slice of paradise on the east side of the island. Instead, make it a priority to spend time at Maui's picturesque beaches and climb to the higher elevations of Haleakalā.
The second tip is a reminder to be a flexible traveler. If something piques your interest, stop and check it out because you don't know what you'll find or who you might meet. So, wander into an interesting shop or stop at a farm stand along the road (especially if it's selling banana bread!). Here's a loose itinerary of where to stop, what to do and what to eat, with space for travel creativity.
Morning: Grab breakfast and hit the beach
Start the morning with breakfast near the beach because that is where you'll want to be later in the morning. Kīhei Caffe is a local favorite with locations in Kīhei and a new restaurant in Lahaina. From sweet buttermilk pancakes and Belgium waffles to savory pork fried rice and loco mocos, the eatery has satisfying dishes for every breakfast craving.
After breakfast, make your way to one of Maui's stunning beaches. The island is home to incredible reef systems and marine life that can be seen by snorkeling or above the surface on a stand-up paddle board. Morning hours are often ideal for being in the ocean. By the afternoon, the waves and wind pick up, making conditions more challenging and lounging on the beach less enjoyable. On the west side, check out Olowalu Beach or Kāʻanapali Beach. And on the south shore, visit Mākena State Park or Wailea Beach.
For those beginning their days in Pāʻia on Maui's north shore, stop by Pāʻia Bay Coffee or Better Things Café for a caffeine fix and more. Fresh pastries and breakfast are served at both cafés, which are also short distances away from Baldwin Beach Park and Hoʻokipa Beach Park.
Early afternoon: Eat, shop and explore the towns of Pāʻia and Makawao
Head to the colorful and lively town of Pāʻia for lunch. There's a great lineup of local restaurants. You can find crispy fish burgers at Pāʻia Fish Market, fresh ʻahi poke at Tobi's Shave Ice and wood-fired pizzas at Flatbread Company. And among the restaurants you can wander through boho-chic boutiques like Biasa Rose and rad surf shops such as Hi-Tech Surf Sports.
From Pāʻia, take a short drive up Baldwin Avenue to the paniolo (cowboy) town of Makawao. Here, local shops are filled with cute apparel, beautiful jewelry and island-inspired décor. Although small and quiet, the town provides an interesting glimpse into the history and lives of Hawaiʻi's paniolo.
Stop for a Snack
Locals in Hawaiʻi love their snacks and often head to convenience stores or even gas stations. While on Maui, make a pit-stop at Minute Stop for either a SPAM musubi, box of hot potato wedges or to try the famous fried chicken. The local business chain has locations across the island including Pāʻia, Makawao and Pukalani.
Late afternoon: Drive up to Kula
Make the gradual climb up the slopes of Haleakalā to Kula to experience the Valley Isle beyond its sunny beaches. Here, the air is cool and crisp, and if travelers are lucky, they'll catch the sea of purple jacaranda trees in bloom. Regardless of the month, visitors can take in sweeping views of the island.
While driving, make sure to pull off Kula Highway to Kula Country Farms. The charming farm is known for its strawberries and during the fall, its pumpkin patch. Year-round, the farm stand is stocked with locally made products including honey and jams.
The Aliʻi Kula Lavender Farm also rests in the hills of Haleakalā. Walking paths meander through the botanical gardens filled with dozens of varieties of lavender along with protea plants and hydrangea flowers. In the gift shop, make sure to sample lavender iced tea or locally brewed kombucha. The lavender scones are also delectable.
As the day fades, Kula is an idyllic place to witness Maui's sunsets. If you are already in Kula, take a sunset yoga class with Maui Goat Yoga. With the sunset as the backdrop, cuddle up with adorable goats while attempting downward dog.
If goat yoga doesn't sound appealing, Sun Yat-Sen Memorial Park and Harold W. Rice Memorial Park are both small but peaceful parks in Kula with spectacular views as the sun sets.
Evening: Dinner at Tiffany's
Forget breakfast, eat dinner at Tiffany's. The joint is a local favorite and Chef Sheldon Simeon and his wife Janice recently took ownership, refreshing the interior and menu. Diners can snack on colorful shrimp chimps with kimchi dip, order a bowl of hearty saimin and try the popular honey walnut shrimp. Enjoy creative local-style food to end a day on Maui.