The 5 Best Maui Beaches in 2021
Maui has so many amazing beaches and these are the best of the best, according to our 2021 Readers' Choice Awards.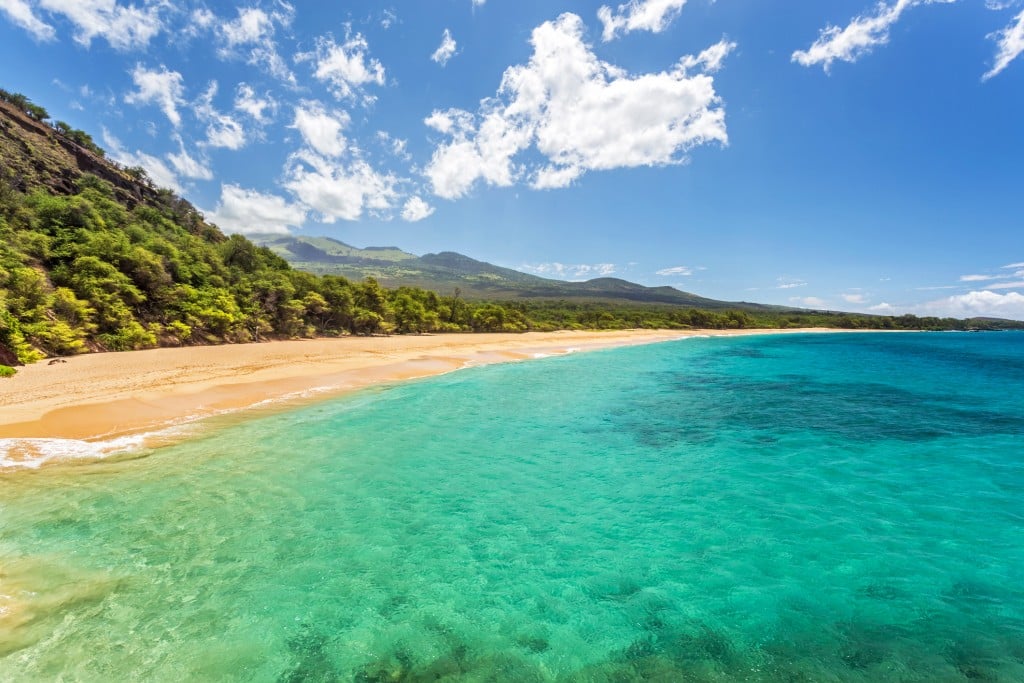 Nobody likes to choose favorites, especially when it comes to the beautiful beaches and bays of Maui. From the seemingly endless coastline of Kāʻanapali Bay to the crystal clear waters of Mākena Beach, deciding what beach on Maui is the best is no easy feat. Fortunately, our readers—who love Hawaiʻi's beaches—have done the hard work for us and voted on their five favorite Maui shores.
1. Kāʻanapali Beach
No doubt about it, people love Kāʻanapali Beach, as the idyllic coastline tops our list once again this year. If you're a believer in quality over quantity, or vice versa, don't worry—Kāʻanapali Beach has both. A mix of man-made comforts and natural splendor, the clear waters at Kāʻanapali Beach are perfect for snorkeling and diving, and its luxurious coastline extends for over a mile and borders some of the island's classiest resorts and hotels. A cement walkway runs parallel to the beach and features the occasional hammock, shopping kiosks and shaded bungalows. Be sure to catch the daily sunset lele kawa (cliff jumping) ceremony, which takes place on Puʻu Kekaʻa (aka Black Rock).
READ MORE: The Cultural Signficance of Cliff Jumping in Hawaiʻi
2. Mākena Beach (aka Big Beach)
Often referred to as Big Beach, mile-and-a-half long Mākena Beach earns its moniker. With golden sands as far as the eye can see, there's more than enough room to find a spot in the sand you can call your own. When waves are small, the beach makes for a great getaway destination, and you definitely won't have trouble finding a spot to lay your towel. When waves are big, bodysurfers head to Mākena for its heavy shorebreak—and novice swimmers should stay out of the water. If you're looking for a secret beach, just over the rocky hillside on the beach's northern point lies Little Beach, which also happens to be clothing optional.
3. Wailea Beach
Situated in front of two ultra-luxe resorts—the Four Seasons Resort Maui at Wailea and the Grand Wailea Maui, a Waldorf Astoria Resort—Wailea Beach fits the area's glamorous image, with pristine white sands, calm waters and views of Kahoʻolawe, Molokini and Lānaʻi. The beach attracts hotel guests and local families alike, and bathroom facilities and showers here are well maintained. The beach also features a sandy bottom until visitors swim further out—great for keiki or less confident swimmers—and patches of reef are home to colorful fish worth busting out the snorkeling gear for.
4. Kapalua Bay
Convenience is king at Kapalua Bay, where there's plenty of sandy real estate to lay down your towel, showers to help get the salt off and a public restroom. Perfect for families, Kapalua Bay also has a reef teeming with life, located on the north end of the beach along the rocky edge. Snorkeling with a buddy here is a must as the beach has no lifeguard on duty, and beachgoers should be aware of their surroundingsā
5. Nāpili Bay
A bit more low-key than the rest of this list, Nāpili Bay is perfect for people in search of world-class beaches without world-class crowds. Although the bay is in front of a resort area, crowds are far smaller here than at Kāʻanapali Beach. When the surf is mellow, the beach is great for snorkeling, and honu (Hawaiian green sea turtles) often show up at Nāpili Bay's reefs, just offshore.