Have Aloha Will Travel EP81: Eat Like a Local
Our co-hosts from Oʻahu and Maui dish on their favorite places to eat.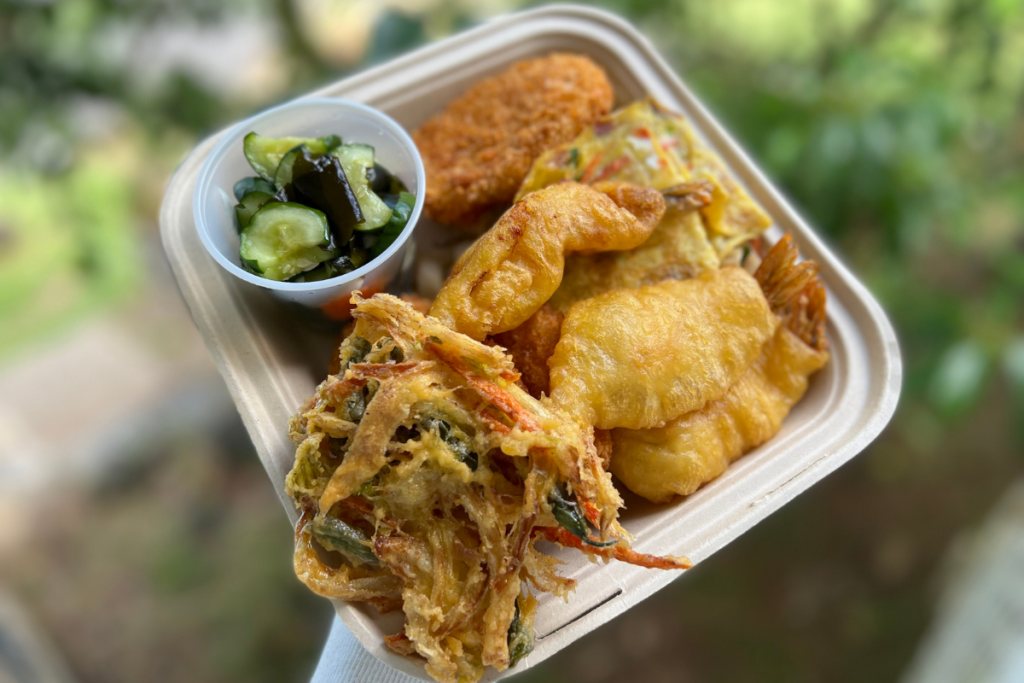 From convenient stores and gas stations to okazuya and farm-to-table restaurants, co-hosts Catherine Toth Fox and Grace Maeda share where they like to eat in the Islands. Both Cat and Grace admit they are creatures of habit and like what they like. Therefore, it is no surprise their favorite restaurants serve a fusion of cuisines they grew up eating in Hawaiʻi.  
You'll need to listen to the show to find out all the eateries the co-hosts recommend, but below you can find a few noteworthy restaurants on Oʻahu and Maui, as well as a recipe for the snack Cat is munching on. 
On Oʻahu, Cat's latest obsession is okazu, a Japanese term for small plates of various side dishes. At okazuya (restaurants that serve okazu), the options aren't limited to Japanese cuisine. From shrimp tempura and mochiko chicken to mac salad and pork adobo, you'll find an extensive spread of local favorites that generations have grown up eating in the Islands. Cat's go-to restaurants for okazu are Fukuya Delicatessen and Masa and Joyce Okazuya. And okazu is just one of Cat's old-school obsessions. Her love for nostalgic restaurants extends to saimin stands. If you're driving to the North Shore, make sure to stop in Wahiawa to visit Shige's Saimin Stand. The family-run shop makes their noodles on site. Also, on Cat's recommendation list is Rangoon Burmese Kitchen. If you haven't tried Burmese cuisine, you need to, because she says it's life changing.
For quick eats over on Maui, the family-run Pukalani Superette has a noteworthy hot bar of local favorites including chow fun and the store's popular chili chicken. The family-run grocery store also offers a tofu version, which has become a go-to meal for Grace. Also, for plant-based eaters looking to get their Spam musubi fix, Grace recommends Down to Earth for a vegan-friendly alternative of the Hawaiʻi staple. Regardless of being a passionate omnivore or a dedicated herbivore, many restaurants on Maui prioritize fresh, locally grown ingredients. Among Grace's favorites are Moku Roots and Freshies Maui. 
Got questions or comments for us? You can email us at media@hawaiimagazine.com. Follow us on social media@hawaiimagazine, and be sure to subscribe to our channel on SoundCloud, iTunes or Spotify. Also, be sure to check out our Shopify for HAWAIʻI Magazine products.