Our 50 Favorite Hawaii Hotels
Before you check in, check out our editors' and writers' picks of their favorite places to stay across the Hawaiian Islands.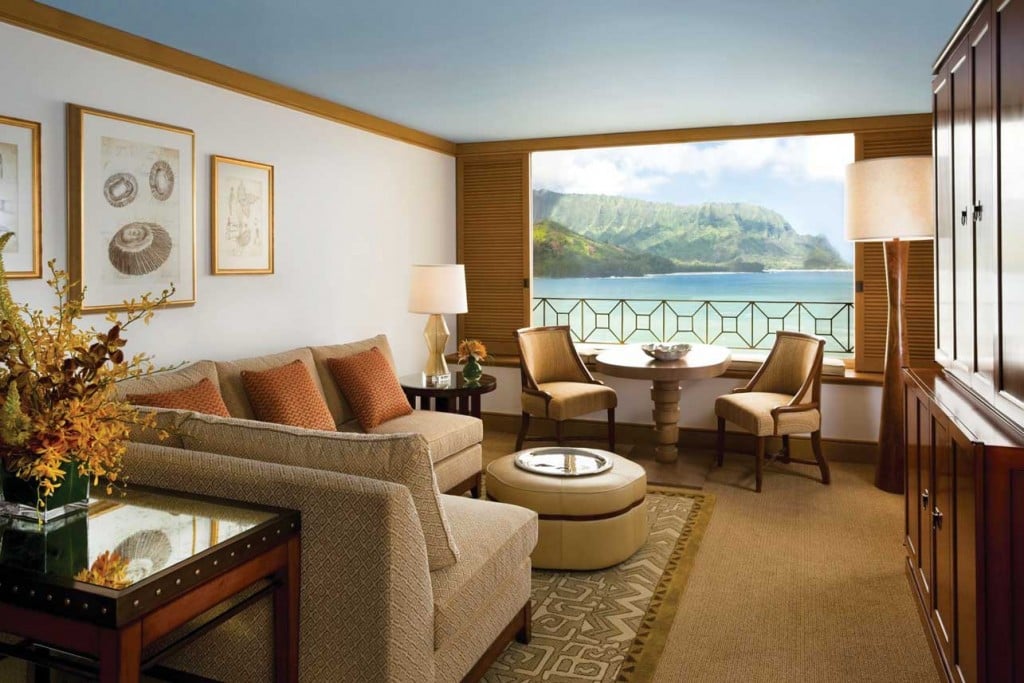 In this tried-and-true guide, we highlight the most memorable, the most special, the most aspirational resorts to stay this year. After a year's worth of checking into everything from the shiny new thing on the block to the enduring turn-of-the-century classic, this collection of properties falls under a special class of accommodations: the 50 hotels, grouped by island, that we have no hesitation recommending to friends, family, first- and 15th-time visitors.
Maui
Andaz Maui at Wailea Resort
3550 Wailea Alanui Dr., Wailea, Maui, (808) 573-1234, maui.andaz.hyatt.com
Fairmont Kea Lani
4100 Wailea Alanui Dr., Wailea, Maui, (808) 875-4100, fairmont.com/kea-lani-maui
Four Seasons Resort Maui at Wailea
3900 Wailea Alanui Dr., Wailea, Maui, (808) 874-8000, fourseasons.com/maui
Grand Wailea
3850 Wailea Alanui Dr., Wailea, Maui, (808) 875-1234, grandwailea.com
Kids and teens dream of pools like the ones at Maui's Grand Wailea. Read more…
Hyatt Regency Maui
200 Nohea Kai Dr., Lahaina, Maui, (808) 661-1234, maui.regency.hyatt.com
Kaanapali Beach Hotel
2525 Kaanapali Pkwy, Lahaina, Maui, (808) 661-0011, kbhmaui.com
Hotel Wailea
555 Kaukahi St., Wailea, Maui, (866) 850-5139, hotelwailea.com
Montage Kapalua Bay
1 Bay Dr., Lahaina, Maui, (808) 662-6600, montagehotels.com/kapaluabay
The tropical gardens surrounding Montage Kapalua Bay's multi-tiered, blue pools with waterfalls and a lagoon provide an alluring backdrop for a brilliantly designed outdoor space. Read more…
Napili Kai Beach Resort
5900 Lower Honoapiilani Rd., Lahaina,  Maui, (808) 669-6271,  napilikai.com
The Paia Inn
93 Hana Hwy., Paia, Maui, (808) 579-6000,  paiainn.com
The Ritz-Carlton, Kapalua
1 Ritz Carlton Dr., Lahaina,  Maui, (808) 669-6200,  ritzcarlton.com/en/hotels/kapalua-maui
Travaasa Hana
5031 Hana Hwy., Hana, Maui, (808) 359-2401, travaasa.com/hana
There are luxury resorts—and then there are all-inclusive, five-star luxury resorts. Read more…
The Westin Kaanapali Ocean Resort Villas
6 Kai Ala Dr., Lahaina, Maui, (808) 667-3200, starwoodhotels.com/westin
The Westin Maui Resort & Spa
2365 Kaanapali Pkwy., Lahaina,  Maui, (808) 667-2525, westinmaui.com
Oahu
Aulani, a Disney Resort and Spa
92-1185 Aliinui Dr., Kapolei, Oahu, (866) 443-4763, disneyaulani.com
Embassy Suites Waikiki Beach Walk
201 Beach Walk, Waikiki, Oahu, (808) 921-2345,  embassysuiteswaikiki.com
Four Seasons Resort Oahu at Ko Olina
92-1001 Olani St., Kapolei, Oahu, (808) 679-0079, fourseasons.com/oahu
Halekulani
2199 Kalia Rd., Waikiki, Oahu, (808) 923-2311, halekulani.com
Even with its check-all-the-boxes dedication to service—a personal property tour led by the concierge upon receiving your room key, a shoe-shining service to ready your footwear for a lavish dinner at La Mer—it's the Halekulani's comforting ambiance that's the most unexpected, a classic, lived-in feel, without feeling tired or overworked after all these decades. Read more…
Hokulani Waikiki by Hilton Grand Vacations
2181 Kalakaua Ave., Waikiki, Oahu, (808) 462-4000, hokulaniwaikiki.com
The Kahala Hotel & Resort
5000 Kahala Ave., Honolulu, Oahu,  (808) 739-8888, kahalaresort.com
Moana Surfrider
2365 Kalakaua Ave., Waikiki, Oahu, 808) 922-3111, moana-surfrider.com
Outrigger Waikiki Beach Resort
2335 Kalakaua Ave., Waikiki, Oahu, (808) 923-0711, outriggerwaikikihotel.com
The Ritz-Carlton Residences, Waikiki Beach
383 Kalaimoku St., Waikiki, Oahu, (808) 922-8111, ritzcarlton.com/en/residences/waikiki-beach
The Royal Hawaiian
2259 Kalakaua Ave., Waikiki, Oahu, (808) 923-7311, royal-hawaiian.com
The iconic Pink Palace of the Pacific is as beautiful as I imagined it would be. Fashioned in a Spanish-Moorish style with a pink stucco finish, it stands out in the crowd of hotels that have taken up residence all around it in Waikiki.  Read more…
Sheraton Waikiki Hotel
2255 Kalakaua Ave., Waikiki, Oahu, (808) 922-4422, sheraton-waikiki.com
The Surfjack Hotel & Swim Club
412 Lewers St., Waikiki, Oahu,  (808) 923-8882, surfjack.com
Aside from the mid-century modern architectural touches, The Surfjack Hotel & Swim Club on Kuhio Avenue stays inspired with regular Talk Story Sessions that invite movers and shakers in Hawaii's creative scene into its stylish space. Read more…
The Modern Honolulu
1775 Ala Moana Blvd., Waikiki, Oahu, (808) 943-5800, themodernhonolulu.com
The Modern Honolulu hosts similar get-togethers as The Surfjack, but with a more secluded feel, overlooking the Ala Moana Harbor on the outskirts of the city, where you can raise a toast (we recommend the deconstructed mai tai) to a chic sunset. Read more… 
Turtle Bay Resort
57-091 Kamehameha Hwy., Kahuku, Oahu,  (808) 293-6000, turtlebayresort.com
Kauai
Grand Hyatt Kauai Resort & Spa
1571 Poipu Rd., Koloa, Kauai, (808) 742-1234, kauai.grand.hyatt.com
Hanalei Bay Resort
5380 Honoiki Rd., Princeville, Kauai, (808) 826-6522, hanaleibayresort.com
Hilton Garden Inn Kauai
3-5920 Kuhio Hwy., Kapaa,  Kauai, (808) 823-6000, hiltongardeninn3.hilton.com
Kauai Marriott Resort
3610 Rice St., Lihue, Kauai, (808) 245-5050, marriotthawaii.com/kauai-marriott-resort
Kauai Shores
420 Papaloa Rd., Kapaa, Kauai, (808) 822-4951, kauaishoreshotel.com
Koa Kea Hotel & Resort
2251 Poipu Rd., Koloa, Kauai, (844) 236-3817, meritagecollection.com/koakea
The Palmwood
6867 Koolau Rd., Kilauea, Kauai, (808) 823-0752, thepalmwood.com
Sheraton Kauai Resort
2440 Hoonani Rd., Koloa, Kauai, (808) 742-1661, sheraton-kauai.com
The St. Regis Princeville Resort
5520 Ka Haku Rd., Princeville, Kauai, (808) 826-9644, stregisprinceville.com
I wasn't prepared for the amazing discovery I would find waiting for me inside Room 1102. Read more…
​Waimea Plantation Cottages
9400 Kaumualii Hwy., Waimea, Kauai, (808) 338-1625, coasthotels.com
Hawaii Island
The Fairmont Orchid
1 N. Kaniku Dr., Waimea, Hawaii Island, (808) 885-2000, fairmont.com/orchid-hawaii
Grand Naniloa Hotel 
93 Banyan Dr., Hilo, Hawaii Island, (808) 969-3333, grandnaniloahilo.com
Four Seasons Resort Hualalai
72-100 Kaupulehu Dr., Kailua-Kona, Hawaii Island, (808) 325-8000, fourseasons.com/hualalai
Hapuna Beach Prince Hotel
62-100 Kaunaoa Dr., Waimea, Hawaii Island,  (888) 977-4623, princeresortshawaii.com/hapuna-beach-prince-hotel
Hilton Waikoloa Village
69-425 Waikoloa Beach Dr., Waikoloa Village, Hawaii Island, (808) 886-1234, hiltonwaikoloavillage.com
Like most things on the Big Island, the Hilton Waikoloa Village's pool is sprawling. Read more…
Holualoa Inn
76-5932 Mamalahoa Hwy., Holualoa, Hawaii Island, (808) 324-1121, holualoainn.com
Mauna Kea Beach Hotel
62-100 Mauna Kea Beach Dr, Waimea, Hawaii Island, (808) 882-7222, princeresortshawaii.com/mauna-kea-beach-hotel
Mauna Lani Bay Hotel & Bungalows
68-1400 Mauna Lani Dr., Waimea, Hawaii Island, (808) 885-6622, maunalani.com
Befitting of the area, a resort surrounded by rich history and hardened lava, the outdoor spa at the Mauna Lani Bay Hotel & Bungalows resembles a Native Hawaiian village—a maze of pathways through some 3- to 6-foot-tall lava-rock walls. Read more…
The Palms Cliff House Inn
28-3514 Hawaii Belt Rd, Honomu, Hawaii Island, (808) 963-6076, palmscliffhouse.com
Sheraton Kona Resort & Spa at Keauhou Bay
78-128 Ehukai St, Kailua-Kona, Hawaii Island, (808) 930-4900, sheratonkona.com
Volcano House
1 Crater Rim Dr., Volcano,  Hawaii Island,  (866) 536-7972, hawaiivolcanohouse.com
Rust-colored with a clapboard exterior, baseboard radiators and cozy furniture, the Volcano House is more ski lodge than sunny resort, defying typical Hawaii hotel expectations. Yet its superlative location, overlooking the park's molten lava lake within Halemaumau Crater, is quintessentially Hawaiian. Read more…
Lanai
Four Seasons Resort Lanai
1 Manele Bay Rd., Lanai City, Lanai, (808) 565-2000, fourseasons.com/lanai
While it may be located on one of the remote corners of Hawaii, the Four Seasons Resort Lanai proves itself to be the most wired-in resort in the Islands. Read more…