Our Guide to Happy Hours on Oʻahu
An updated list of happy hours across the state—and it changes often.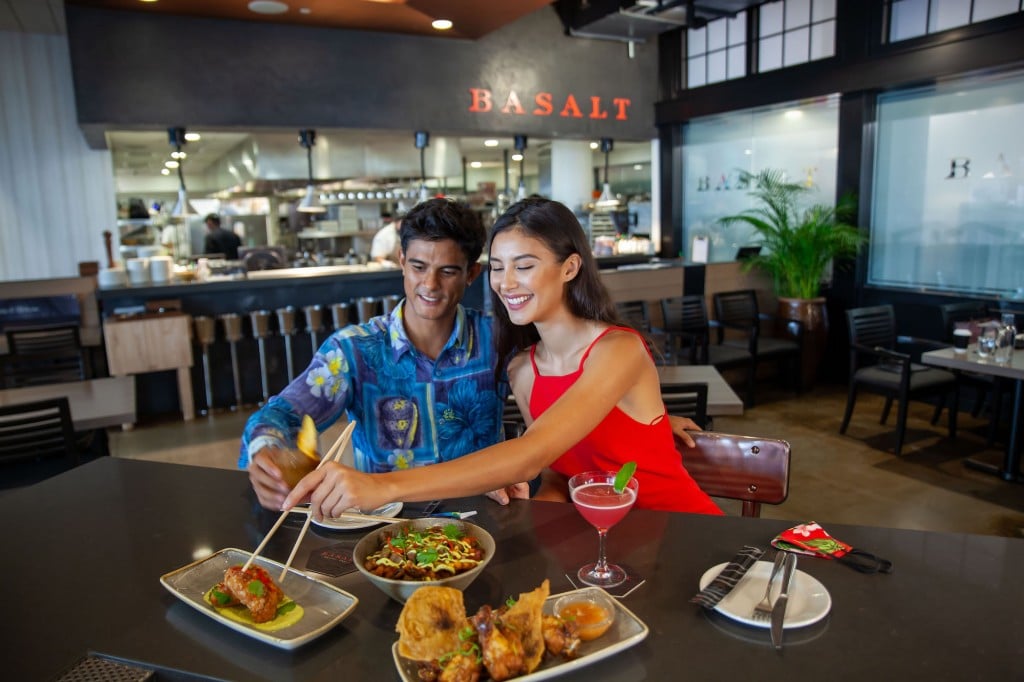 This is no way the end-all, be-all list of happy hours on Oʻahu. With hundreds of restaurants spanning the island, that would be nearly impossible—at least impossible for our small team to manage. (Doing the "research" isn't the problem!)
So we're listing popular (and some of our personal favorite) happy hours here—a list that will undoubtedly be updated, especially as COVID-19 restrictions change.
Cheers to that!
(Reminder: This list is just Oʻahu.)
53 By The Sea
View this post on Instagram
A popular date night spot—with views of Lēʻahi (aka Diamond Head) and surfers grabbing their last waves at sunset—53 By The Sea also boasts an upscale happy hour at its bar, T's, from 4 to 6 p.m. Wednesday through Sunday. Enjoy hamachi ceviche drizzled with soy, lime and sesame sauce and topped with red onions, jalapeño and crispy shallots; local goat cheese bruschetta with a house tomato jam; garlic chicken sliders on potato rolls; Parmesan-truffle fries; and the restaurant's signature spicy poke (cubed ʻahi) with jalapeño on rice crackers. Dishes range from $5 to $19. Drinks are discounted, too. 53 Ahui St., Honolulu, (808) 536-5353, 53bythesea.com
Appetito Craft Pizza & Wine Bar
View this post on Instagram
There's so much to choose from Appetito Waikīkī's happy hour menu: spicy meatballs, Tuscan hummus with toasted pita bread, charred shishito peppers, its popular portobello fries and, of course, the pizza, cooked in a
kiawe
wood-fire oven. New to the menu is something called "I Love Meat." For $12, get an Italian marinated tenderloin steak with fries and a zesty garlic sauce. Local draft beers are $5, wines by the glass are $5 and cocktails—we like the mai tai and lemoncello lemon drop—are $7. Happy hours runs from 3 to 6 p.m. daily and the 5,000-square-foot space in the lobby of the ʻOhana Waikīkī East Hotel is open air.
150 Kaʻiulani Ave, Waikīkī, (808) 922-1150, appetitowaikiki.com
Basalt Waikīkī
We're big fans of Basalt Waikīkī's charcoal buttermilk pancakes and prime rib loco moco. But the restaurant, tucked in Dukes Lane Market & Eatery, has a great happy hour, too. From 2 to 6 p.m. daily at the bar or lānai (patio), get discounts on handcrafted cocktails, draft beers and wine by the glass. On the menu are its succulent pork belly bao buns in a soft charcoal bun and topped with pickled veggies and a hoisin-Sriracha sauce, adobo chicken wings, Baja fish tacos with a chile slaw and a 4-ounce burger made with wagyu beef. All the food is under $10. Get three hours' free validation when you self-park in the Hyatt Centric (last driveway on Diamond Head side of Seaside Avenue, just before it meets Kūhiō Avenue). 2255 Kūhiō Ave., Waikīkī, (808) 923, 5689, basaltwaikiki.com
Dean & Deluca Hawaiʻi
We love the idea of a happy hour takeout box! Dean & Deluca offers a cheese and charcuterie set for $35, which includes a nice array of cheese and meats that go perfectly with a bottle of wine. (Which you can order here, too.) Order in advance; curbside pickup. The Ritz-Carlton Residences, Waikīkī Beach, 383 Kalaimoku St.. Waikīkī, (808) 729-9720, deandeluca-hawaii.com
Deck
If the view of Diamond Head wasn't enough to lure you here, it should be the happy hour menu. Running from 3 to 6 p.m. Wednesday through Sunday (daily except Tuesday starting on March 8), Deck's happy hour features a range of menu items, from salads to poke to salt-and-pepper-dusted fried calamari. We love the ʻahi katsu tacos with lilikoʻi (passionfruit) slaw, glazed chicken wings, Kunoa Ranch beef sliders with tomato jam and guava barbecue pūpū ribs (above) topped with fried garlic. Count on great drinks here, too, including locally crafted beers, wines by the glass and speciality cocktails. You can't go wrong with Deck's handcrafted mai tai and lilikoʻi margarita. Queen Kapiʻolani Hotel, 150 Kapahulu Ave., Waikīkī, (808) 931-4488, deckwaikiki.com
Doraku Sushi
View this post on Instagram
Everyday from 4 to 6 p.m., this popular sushi spot—with locations in Kakaʻako and Waikīkī—offers a variety of shareable dishes for under $10: ʻahi poke and beef tataki for $6 each; California rolls for $5 each; and small plates of garlic-chile wings, chicken lettuce wraps, steak and shishito pepper skewers, gyoza and rack of lamb for $6 each. Drinks are discounted, too. We recommend the lychee martini (above) or any of the sake options. Various locations, dorakusushi.com
Encore Saloon
A favorite watering hole in Downtown Honolulu, Encore Saloon does better than offer the usual Taco Tuesday—its happy hour, which runs from 2 to 5:30 p.m. daily (and all day Saturday), boasts discounted margaritas, slushies and draft beers. Tacos are $2.50. 10 N. Hotel St., Honolulu, (808) 367-1656, encoresaloon.com
Hideout at The Laylow
View this post on Instagram
This trendy spot in Waikīkī has an equally hip happy hour, from 5 to 6 p.m. daily. It's a bit pricier than some other happy hours—dishes on the food menu range from $10 to $15—but the food is quality: wagyu beef burger, kālua pork egg rolls, chicken satay, wonton poke tacos and crispy pork belly with Brussels sprouts. The drink menu boasts a nice array of locally crafted beers and spirits, but you need to order the special happy hour cocktail—the Laylow Hawaiian-Style Mai Tai featuring Old Lahaina rums and pineapple and lilikoʻi juices. 2299 Kūhiō Ave., Waikīkī, (808) 922-6600, laylowwaikiki.com
Off The Wall Craft Beer and Wine
Get 15% off beers and wine at this happy hour in Kakaʻako. But the real deal is on the food menu: Cubano sandwich with plantain chips for $9, chimichurri wings for $8 and the popular empanadas with Spanish-spiced local beef and potatoes are just $6. Staff will make pairing recommendations, too. 1170 ʻAuahi St., Suite 140, Honolulu, (808) 593-2337, offthewallhawaii.com
Redfish Poke Bar
View this post on Instagram
Foodland's poke restaurant in Kakaʻako launched a new happy hour recently—from 2 to 6 p.m. daily—with dishes starting at $5 and 25% off all drinks. Some of our favorites include the truffle fries, oysters on a half shell (just $2 each) and king crab dip. 685 Auahi St., Kaka'ako, (808) 532-6420, redfishpoke.com, @redfishpoke
Roy's Hawaiʻi Kai
Facing picturesque Maunalua Bay in Hawaiʻi Kai, Roy's offers more than just a great view with its sunset pau hana happy hour from 4:30 to 5:30 p.m. Monday through Friday. Get some of the award-winning restaurant's most popular dishes at a discount: crispy pork belly wraps, sushi ʻahi sushi roll, Szechuan baby pork ribs and Chinatown chicken spring rolls. Drink specials include a couple of craft cocktails, beers and wine by the glass. 6600 Kalaniana'ole Highway, Hawaiʻi Kai, (808) 396-7697, royshawaii.com
Sky Waikīkī
View this post on Instagram
Who doesn't love a happy hour that comes with a sunset view? Sky Waikīkī has got that at its daily happy hour from 4 to 5 p.m. Perched atop a 21-story building in Waikīkī, enjoy panoramic views while dining on fresh oysters, Hawaiian-style ʻahi poke, chicken liver pâté, sweet soy pepper wings and other daily specials. (Those lemon-lime seafood empanadas, above, look delish.) There are discounts on wines and beers, too, but we recommend one of Sky's slushy cocktails—Icy Mai Tai, anyone?—for $9.
2270 Kalākaua Ave., Waikīkī,
(808) 979-7590, skywaikiki.com
Izakaya, or Japanese taverns, are known for small plates and great drink selections. The happy hour at this izakaya at Ala Moana Center boasts dishes $5 and less—crispy chicken wings, cumin fries, oysters—and draft beers for $4. Happy hour runs from 2 to 6 p.m. Monday through Friday—and the mall will still be open after. (We don't judge drinking-and-shopping.) 1450 Ala Moana Blvd., Ala Moana Center, Honolulu, (808) 400-0506, tanakaramen.com