Our Love Letter to Love's Bakery, a Hawaiʻi Icon
The beloved Oʻahu bakery will close at the end of March after nearly 170 years.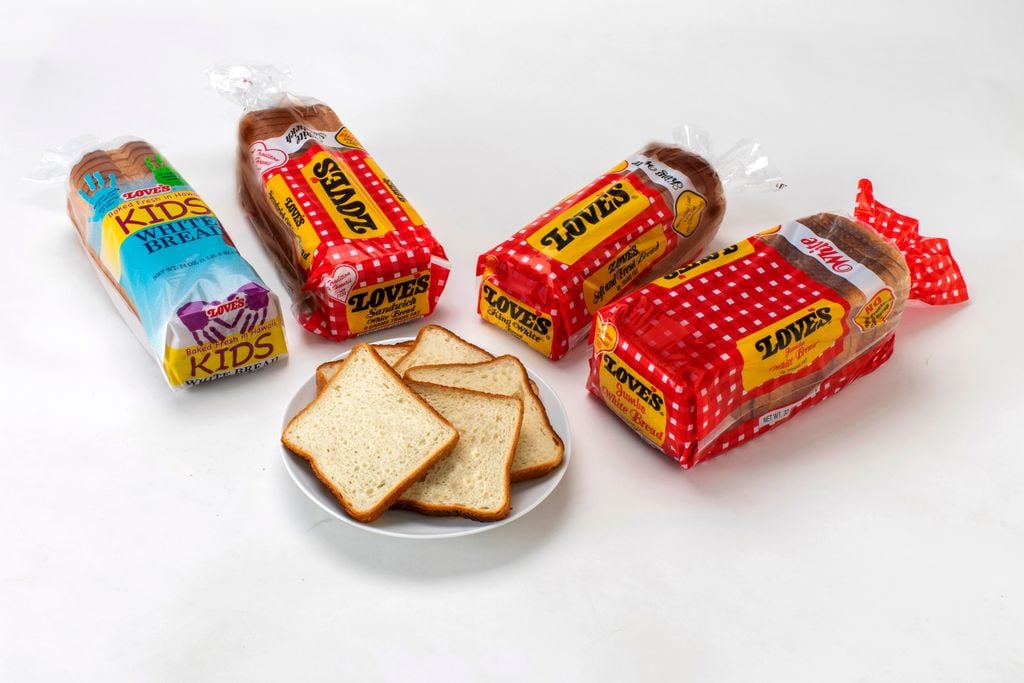 Most of us who grew up in Hawaiʻi have a special connection to Love's Bakery—even if we didn't know it at the time.
Founded in 1851, the local bakery—its products easily recognizable by its friendly yellow-and-red label and gingham checks—has been part of Hawaiʻi potlucks, picnics, lunch boxes and dinner tables for nearly 170 years. It churns out sandwich breads, bagels, English muffins, hamburger and hot dog buns—the stuff of my childhood memories.
I was devastated when, in April 2020, the bakery announced it was discontinuing its production of the iconic powdered-sugar Donettes. (Boxes flew off the shelves the day it was announced.) Once its best-selling product, the doughnuts slipped in sales.
And now the bakery, a staple of Hawaiʻi's food industry for over a century, will close at the end of the month due to growing COVID-19 pandemic-related losses. More than 230 employees will be laid off.
"We have worked diligently to cut expenses, to maintain our market share and to remedy our operational difficulties," the company said in a news release. "However, under the current business environment, we are no longer able to continue operations."
It's another heartbreaking closure. In November 2020, Alan Wong's Honolulu and Town—two beloved Oʻahu restaurants—closed due to the pandemic. Like Like Drive Inn, another longtime Oʻahu eatery, shuttered after nearly 70 years last year, too.
It's hard to imagine life without Love's Bakery—or that my 4-year-old son will never grow up eating PB&J sandwiches made from its super-soft bread.
So here's a look back at the bakery that has filled our lives with delicious memories:
Love's Biscuit & Bread Co. was founded in 1851 by a baker from Scotland named Robert Love, who opened business on Nuʻuanu Street (now Avenue) in Honolulu (above). Love arrived in Honolulu with his wife and three sons aboard the American ship Adirondack after an 80-day voyage from Sydney, Australia.
Less than a month after his arrival, Love got a license from the Ministry of Interior to operate a bakery and sell its products. The store originally specialized in "re-baking" bread from sailing ships that had become inedible and selling hard biscuits called hardtack. In 1923 Love's focused on wholesale only and, in 1924, the company opened a bread-making plant in ʻIwilei. In 1943 the operation moved to Kapahulu and remained there for 47 years. The company moved to Middle School in 1990.
Love's Bakery survived bubonic plague outbreaks in the early 1900s and two world wars.
Owned by the Love family until 1968, it was sold to ITT Continental Baking Co. before it was acquired by First Baking Co. of Japan in 1981.
In 2008 Love's Bakery once again became Hawaii-owned when a local management company purchased First Baking Co. At the time, its bread brands included Love's, Wonder Bread, Roman Meal, Milton's and Home Pride, and its pastry brands were Hostess, Little Debbie, Svenhard's Pastries, Weight Watchers and Mrs. Freshly's.
The company would have celebrated its 170th anniversary in July 2021.