Pacific Whale Foundation's "Maui Whale Fest" salutes Hawaii's 45-ton winter visitor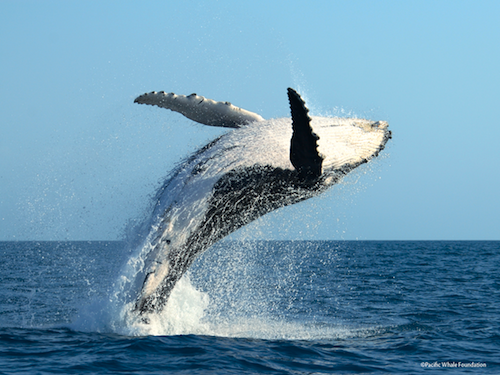 The annual Maui Whale Festival, which spans "peak season" for whale-watching from the island's shoreline, is getting under way this week and will continue through April.
Presented by the nonprofit Pacific Whale Foundation, the fest features more than one dozen signature events, free exhibits and talks, plus special "Trail of the Whale" locations at which professional naturalists are offering free information and guidance on watching whales from shore.
In a news release issued by the Pacific Whale Foundation, its executive director, Greg Kaufman, said: "An estimated 12,000 or more humpback whales come to Hawaii each winter; their preferred habitat is the area just off Maui, bordered by the neighboring islands of Molokai, Lanai and Kahoolawe."
Kaufman continued: "You can see whale spouts, breaches and splashes from Maui's shores." He added, "Because the whales come here to mate, give birth and care for their young, we also witness intriguing behaviors such as male competition pods, underwater singing and calves learning to breach."
This year's fest theme, "Be Whale Aware," serves as a reminder that all boaters, ship captains and recreational ocean users need to watch for whales and reduce vessel speeds to prevent collisions.
"We are fortunate to have a humpback whale population that's increasing at the rate of 7 percent per year," Kaufman said. "The result is that boaters need to be especially mindful of the whales as they navigate through Maui's nearshore ocean waters."
Hawaii's 2012-13 whale-watching season officially started in late August with the first sighting of a humpback whale in the waters near the Big Island's Kailua-Kona area.
To check out the Maui Whale Fest's schedule of events, click here or call Pacific Whale Foundation at (808) 249-8811 ext. 1. For details about daily activities, such as the Trail of the Whale: Free Information Stations at Papawai Point, Wailea Marriott resorts and spa, and Marriott's Maui Ocean Club on Kaanapali Beach, click here.
For more information about Pacific Whale Foundation, click here.