Pearl Harbor's Pacific Aviation Museum to stage "Biggest Little Airshow on Ford Island"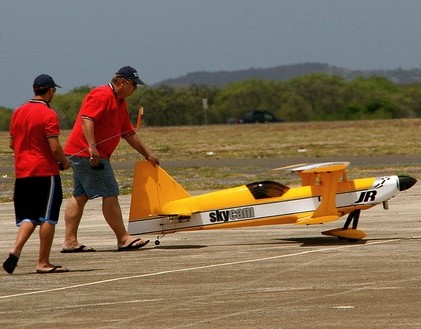 Pearl Harbor's Pacific Aviation Museum will salute the ongoing Centennial in Naval Aviation celebration this weekend with its fourth annual Biggest Little Airshow on Ford Island, which showcases both real and remote-control aircraft models.

The free event, set for Sat., Aug. 20 and Sun., Aug. 21, 10 a.m. to 4 p.m., will feature an estimated 100 aircraft on the tarmac. The remote-control airshow is slated to include acrobatics, dogfights and "warbird re-enactments."
Visitors will also be invited to tour Hangar 79, which still bears the bullet holes of the Dec. 7, 1941 attack, to see the new MiG Alley Korean War Exhibit, the P-40 Kittyhawk, helicopters and other aircraft. In addition, festivities will also include concerts and aerial "candy bombings" for the kids.
For the regular admission fee ($12 adult/$7 kids, local residents and military), visitors can also explore the museum's Hangar 37 and "fly for freedom" in the Combat Flight Simulators ($10 additionally). Click here for information about purchasing tickets online.
During the two-day event, visitors will be permitted to drive onto Oahu's Ford Island, park free at the museum, or board free shuttles to the museum at the Arizona Memorial's parking area, 9 a.m. to 4:30 p.m.
Here's the event's schedule lineup for both days.
• 9 a.m. — First shuttle will depart Arizona Memorial parking area for the museum. (Shuttles will run every 15 minutes throughout the day's festivities.)
• 10 a.m. — Color guard, military aircraft flyover opens the airshow.
• 11 a.m. — Aerial demonstrations involving remote- control aircraft (pictured, above and left) will get under way and continue until 4 p.m.
• 12:30 p.m. & 3:30 p.m. — "Candy bombers" flyover and drop for kids
• 12:30 p.m. — Concert
• 4 p.m. — Closing festivities. Last shuttle bus departs the museum for Arizona Memorial/Pearl Harbor Visitor Center parking area at 5 p.m.
For additional information about the museum or the event, click here.