People are taking photos of their aura in this Hawaii cave
Look toward the light inside this Big Island cave at Kalahuipuaa Historical Park and people say you might see your aura.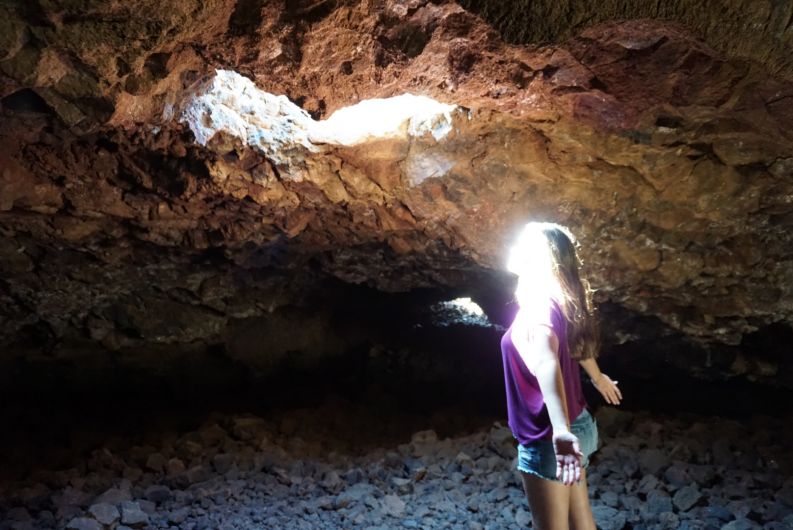 I'm standing in a large cave waiting for my friend to take a photo of my aura. This was once a shelter cave, no doubt used by Native Hawaiians to withstand the burning heat outside. That's fascinating enough, but the cave's unique feature—a round natural skylight in its roof—allows the sun's rays to beam down into the darkened space, creating a veil of light on the person standing below it—your aura, some call it.
People visit Kalahuipuaa Historical Park on the grounds of Mauna Lani Bay Hotel specifically to visit this cave and take a photo of their "aura," but the public park also provides a fascinating journey into Hawaiian history. On the way here, we passed petroglyphs, other smaller caves, stones used as a tool manufacturing area, a large sunken lava tube, and a section of the Ala Loa, the King's Trail, which connects with other ancient trails once used to traverse the island.
When we arrive to the entrance of this cave, we see a man taking a photo of another man underneath the light, his arms raised. I carefully step over the loose rocks of the cave floor and take his place, lifting my head to the blinding bright light. My friend, with her camera in-hand, directs me to turn this way and that. My eyes are closed, I can't see a thing, but I can feel the searing hot sun on my face.
The resulting photo captures a halo effect around my head, unlike anything I've seen taken of me before. Though I can't say I believe the light actually shows my aura, I have to admit that it does have a heavenly effect, making me sparkle brightly in the darkness.
Parking for the public park can be found across from the Mauna Lani Spa. Mauna Lani Hotel & Bungalows, 68-1400 Mauna Lani Dr., Kohala Coast, Hawaii Island, maunalani.com.